The Last Hotel, Royal Lyceum, Edinburgh |

reviews, news & interviews
The Last Hotel, Royal Lyceum, Edinburgh
The Last Hotel, Royal Lyceum, Edinburgh
Provocative new opera on assisted suicide from Enda Walsh and Donnacha Dennehy
Wednesday, 12 August 2015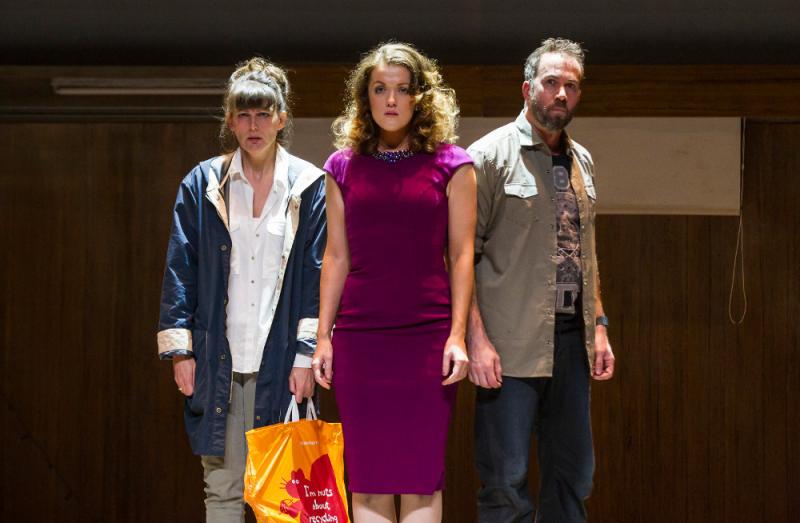 Katherine Manley, Claudia Boyle and Robin Adams in the bleakly comic 'The Last Hotel'
Irish playwright Enda Walsh has been a regular presence at recent Edinburgh festivals – or, to be more precise, at the Fringe, with provocative works of rich linguistic lyricism including The Walworth Farce in 2007 and The New Electric Ballroom in 2008. This year marks his first foray into the Edinburgh International Festival, and it's with a very different work.
The Last Hotel
, receiving its world premiere there, is Walsh's first opera libretto, a collaboration with Irish composer Donnacha Dennehy. It's a terse, aphoristic text that at times has shades of Beckett – probably fitting for a piece of music theatre on the theme of assisted suicide.
A trio of awkward companions arrives at an anonymous hotel, staffed by a hyperactive caretaker (a magnificent physical performance from regular Walsh collaborator Mikel Murfi, pictured below). Their banal conversations grow increasingly strained as they dodge the issue in front of them; they stage a chilling rehearsal involving a seal-tight plastic bag and a canister of gas; and they dance at a crummy disco before the inevitable act the following day.
It's a superb addition to the repertoire, rich, strange, darkly comic and thoroughly beguiling
It's bleak, dismal stuff, but what makes Walsh and Dennehy's opera so gripping is its volatile, alienating mix of the shocking and the bathetic. The woman who intends to end her life (sung with unnerving enthusiasm by a silver-toned Claudia Boyle) seems to lose consciousness with her head sealed inside a plastic bag, while elsewhere the man administering the gas (a powerful Robin Adams) sings in detail of the kitchen extension her fee will bring him. The woman callously rejects her children, while the trio weigh up the pros and cons of ferries versus planes.
Dennehy's music – kind of Nyman-meets-Andriessen – follows a similar formula throughout, of building rippling post-minimalist textures through combining melodic cells across his pit ensemble, which adds the distinctive sounds of pan pipes, accordion and electric guitar to conventional strings, woodwind and brass. Dennehy switches textures and harmonies to describe contrasting characters, or builds to huge climaxes simply by adding more layers to his clouds of counterpoint. It's simple, but highly effective – and made all the more alienating by the intrusion of warped pop music recordings (most memorably, B*Witched's 1997 shocker "C'est la vie" for the hotel's violent nightclub scene).
His vocal writing is for the most part grateful and lyrical, if unpredictable, and his final duet, sung by the woman from beyond the grave alongside her executioner's wife, reaches a kind of fractured ecstasy as both fantasise on simply no longer needing to care. Jamie Vartan's startling stage design places the action in a drab backstage or hospital area littered with crushed plastic cups and suitcases – possibly memories of the people who have been here before this trio. André de Ridder conducts Dennehy's own Crash Ensemble with swagger and enthusiasm, and they respond with a bright, urgent performance.
New Festival director Fergus Linehan has admitted it's an on-going financial challenge to bring large-scale staged opera to the Edinburgh International Festival, and that he's seeking new ways of satisfying the demand for it. On the strength of Walsh and Dennehy's challenging but hugely accomplished chamber opera, Linehan might just have found a new way forward. It's a superb addition to the repertoire, rich, strange, darkly comic and thoroughly beguiling.
What makes Walsh and Dennehy's opera so gripping is its volatile, alienating mix of the shocking and the bathetic
rating
Share this article