First Person: Doing The Walworth Farce |

reviews, news & interviews
First Person: Doing The Walworth Farce
First Person: Doing The Walworth Farce
Acclaimed comedy director introduces Enda Walsh's new farce starring three Gleesons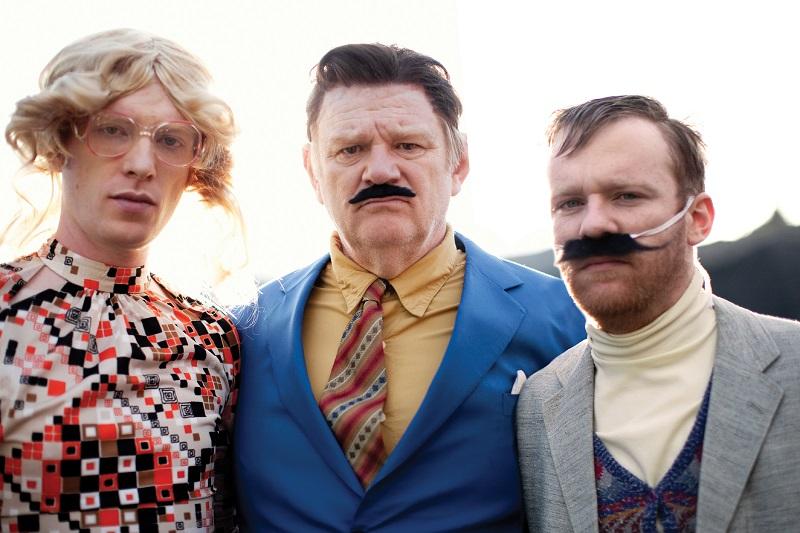 Irish jokers: Brendan Gleeson flanked by his sons Domhnall (left) and Brian
The (pronoun) Walworth (area in South London, near the Elephant and Castle) Farce (a comedy that aims at entertaining the audience through situations that are highly exaggerated, extravagant, and improbable: often incomprehensible plot-wise, they are also characterised by physical comedy, the use of deliberate absurdity, and stylised performances).
When Enda Walsh asked me out for a coffee in London last summer, little did I know that 18 months later I would be in Dublin coaxing pratfalls from all manner of Gleesons while having in-depth discussions about dysfunctional families... Or should that be coaxing dysfunctional manners from Gleesons while having an in-depth Dublin pratfall… Or do I mean having a Gleeson while Dublinising a dysfunctional pratfall of coaxed families?
It's a play with multiple personality disorder, and with many ancestors
You'll have to excuse me – I'm mid-rehearsal working on the craziest, most profoundly stupid, and most stupidly profound of contemporary comedies, and it's taking its toll. Having worked in theatrical comedy for some time, and written, been in or directed a few myself, I'm fully used to the crazy paving path that you have to walk down while rehearsing them: characters that don't follow any known rules, bespoke props that don't seem to work, and the mind-numbing pains taken to get even one physical gag working correctly.
But what seems to me completely new in what Enda has created in this play, and what is therefore scrambling the grey matter even more than usual in rehearsing it, is that he has violently mated at least one type of play with another. For sure, there is the farcical comedy of mad plot, absurdly drawn characters and physical mayhem. But behind this, and woven into the telling of the the farce, is a supposedly real-life situation based on a family desperately telling its own story in order to eke out survival in a hostile land. And that family is exploding.
So not only are we rehearsing the comedy of routines and gags and one-liners, we are also practising terrifying knife fights, talking through disturbing dialogue, and wondering about abusive parenting. Jeez! Normally you'd hire two completely different sets of actors, and get two different types of director to be able to cover all theses bases – but, like I said, normally you'd have two separate plays. So our fevered brains are trying to make the one side of the play go hand in hand with the other: to make the characters in the drama believable, and to make the characters in the farce unbelievably funny…(Sean Foley, pictured below).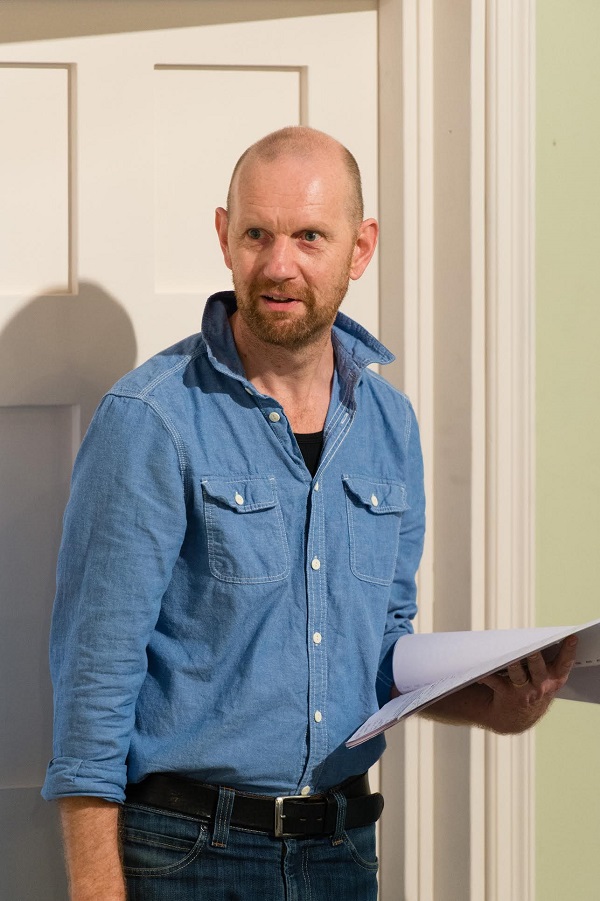 The job Enda so blithely described to me on that sunny morning is actually akin to playing four-dimensional chess against Bobby Fischer while underwater playing the violin – that is, impossible. For add to the trio of Gleesons (father Brendan and sons Domnhall and Brian are playing, well, a father and his two sons) a wonderfully talented young actress, Leona Allen, who is making her professional debut in the production; a smoking dog; sequences where one actor plays three characters; boys on strings; and regular rehearsal room shouts of "Where the feck is that sausage!", and you begin to understand the kind of mad theatrical maze we are currently trying to find our way out of.
Because in truth, The Walworth Farce can reasonably claim to be a farce, a satire on "Irishness", an immigrant's story, a searing psychological study of abuse, and a hilarious send-up of some of the obsessions of Irish playwriting. It's a play with multiple personality disorder, and with many ancestors – it's is a true, rude, healthy, glorious bastard of a play! But what I truly hope emerges from all our endeavours in weaving these many strands together is that we make it what it also undeniably and simply is – and what the best kind of theatre I think should always be – a Great Night Out.