Ripper Street, Series 3, BBC One |

reviews, news & interviews
Ripper Street, Series 3, BBC One
Ripper Street, Series 3, BBC One
Pungent Victorian crime drama returns to network television
The boys are back in town: (from left) Adam Rothenberg, Matthew Macfadyen and Jerome Flynn
Axed by the BBC at the end of 2013 after its second series, ostensibly because of poor viewing figures, Ripper Street found a new home on Amazon Prime, where the third series began streaming in November last year. With a fourth and fifth series already commissioned by Amazon, the BBC is making up for lost time by airing Series Three.
Perhaps the
Top Gear
bunch will be back on the Beeb yet.
Happily, the change of address has done Ripper Street no harm at all, and this powerful opener centred on a train robbery gone wrong in London's East End. Masked hijackers set out to steal a wad of US dollar bearer bonds being transported on the Bishopsgate goods line, but owing to bad luck and misinformation ended up causing a gruesome train crash on the Leman Street bridge. Fortuitously, this was a stone's throw from the police station where DI Edmund Reid (Matthew Macfadyen) was based. More fortuitously still, Reid's old comrade Bennet Drake (Jerome Flynn) happened to be travelling on the stricken train, though was unhurt. In addition, pioneering medic Captain Homer Jackson (Adam Rothenberg) just happened to be in the neighbourhood (below, Jerome Flynn rescues accident victim).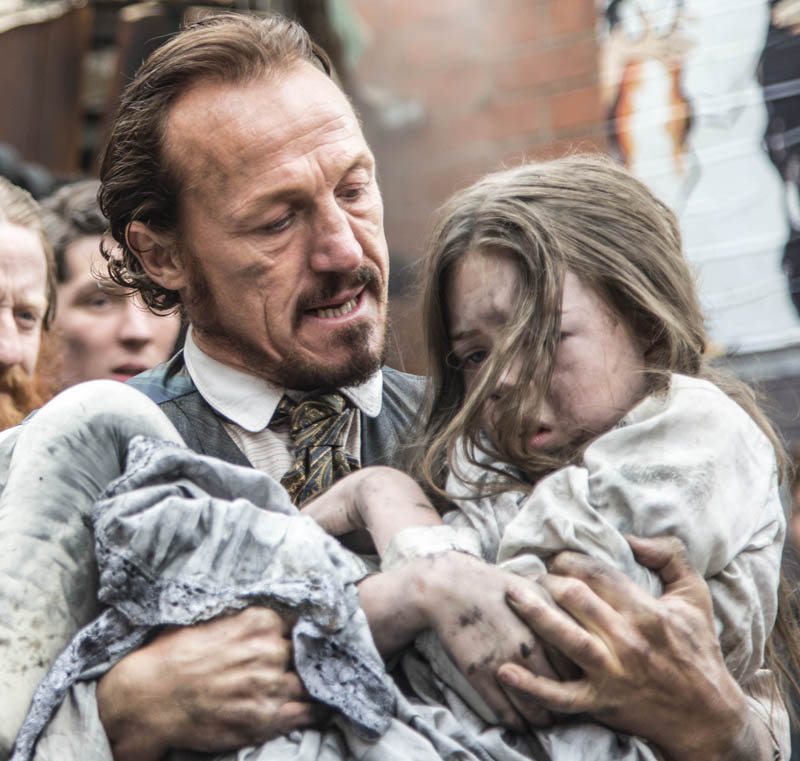 In the Ripper Street timeline, this lot hadn't been working together for four years, having been driven apart by a series of personal and professional crises. Reid, a widower who has never recovered from the loss of his young daughter, has immersed himself in building up his own archive of all known criminals in the Whitechapel area, "be they pimp or pornographer, confidence man or blackmailer". Anyway, dealing with the horrific aftermath of the train disaster pulled the old firm back together, and soon they were homing in on the perpetrators of the crime with Holmes-like forensic skills. True, Reid regards Jackson with the sort of contempt normally reserved for contagious diseases or payday lenders, but he's forced to accept that the Captain has unique talents. Drake, meanwhile, has been serving with the Manchester police and has made the rank of Inspector, developments which seem to have dragged him out of his former pit of suicidal loneliness.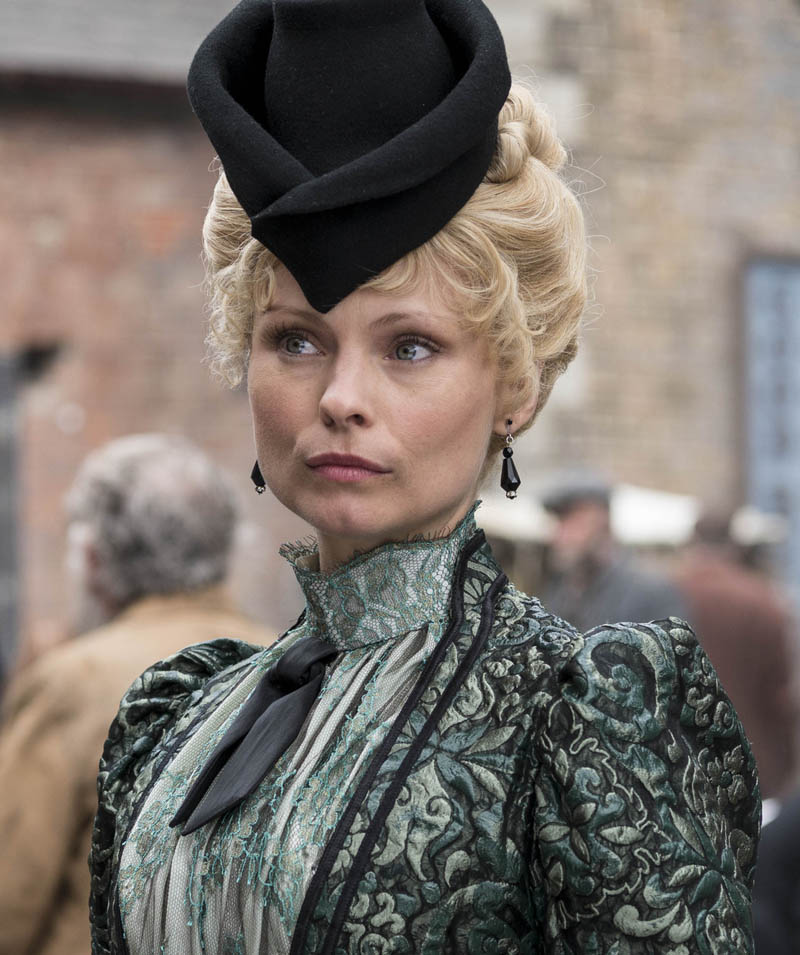 The intrigue was stirred by the involvement of former madame Long Susan (MyAnna Buring, pictured left), now freed from the crushing grip of the vile Silas Duggan and beginning a new life as a benefactress of the lost and the fallen in Whitechapel, via her Obsidian Clinic. As a local lady councillor put it, the Obsidian Estates, formerly "a bastion of iniquity", have been transformed into a beacon of "civic participation and progress".
Not so fast. Susan has a new sidekick, the solicitor Ronald Capshaw (John Heffernan), and we learn that Mr Capshaw and the stolen bonds are intimately connected. This is throwing Susan into paroxysms of guilt and remorse, and has cast a pall across her quest to reinvent herself as a paragon of the local community. Though her affair with Jackson is long over, she didn't hesitate to pick his brains about the police investigation into the railway heist, so we can infer that outrunning the heavy tread of the past is going to be no simple matter.
Reid regards Jackson with the sort of contempt normally reserved for contagious diseases or payday lenders
rating
Explore topics
Share this article