Albert Herring, Britten Theatre, Royal College of Music |

reviews, news & interviews
Albert Herring, Britten Theatre, Royal College of Music
Albert Herring, Britten Theatre, Royal College of Music
A joyous and brilliantly funny take on Britten's comic opera
The Loxford citizens hide secrets behind their 1950s respectability
Some of the best nights of opera to be had in London come courtesy of students. It's not something we talk enough about, possibly because, with four major music colleges in the city, the quality is so high that the performers can (and are) judged as professionals. The Royal College of Music's Albert Herring is up there with the best of them – an ensemble show bursting with character, detail, wit and an abundance of joy.
Britten's comic opera is blessed with one of the finest and funniest librettos – spoken character sketches as deft as the composer's own musical caricatures. The combination is heady, especially when staged with such affectionate care as Liam Steel here musters, transforming the RCM's Britten Theatre into a provincial Fifties fantasy, filled with ageing moral rectitude and youthful hijinks.
Designed by Anna Fleischle, the Loxford church hall is a symphony of MDF, lino and enthusiastically patterned soft-furnishings – it's all so familiar you can almost smell it (disinfectant, shoes and orange squash). But the real visual triumph is the Herrings's shop, revealed on the other side of a cleverly deployed revolve. Posters of fat-cheeked children and smiling housewives frame rows of bright tins and boxes, and overflowing hessian sacks of produce squat round the walls – the pastel-bright innocence of a world in which a Lenten ride in a dog-cart with your cousin is enough to stain your character.
Although performances alternate between two different casts, the constant across all nights of Albert Herring is the wonderful Janis Kelly, anchoring all around her as the magnificently unimpressed Lady Billows. She'd be luxury casting anywhere, but here she galvanises and energises her young co-stars, daring them to match her vivid vocal acting.
Doing her bidding with barely repressed bitterness is Polly Leech's Florence, gloriously glum and pruriently fascinated with the neighbourhood goings on. Leech's is a thick, sensuous mezzo, and its richness chafes deliciously against her repressed pronouncements, hinting at hidden inadmissibles that are shared by most of the inhabitants in Steel's picture-perfect community. All respectability in public, the mayor (beautifully sung by Joel Williams) attempts to solicit a young man on his way home, while Mrs Herring (Amy Lyddon) and even Lady Billows are exposed enjoying a strong addition to the fruit punch.
Julien Van Mellaerts's Mr Gedge seizes attention and simply won't let go. There's such detail in his oleaginous vicar, so ghastly-fond of Miss Wordsworth (a strong Natasha Day) that even in the crowded scenes of Act II he draws the eye, constantly inventive. He and Nicholas Morton's Sid share the baritone laurels – Morton a charismatic and watchable presence, but Van Mellaerts perhaps just edging it for vocal colouring.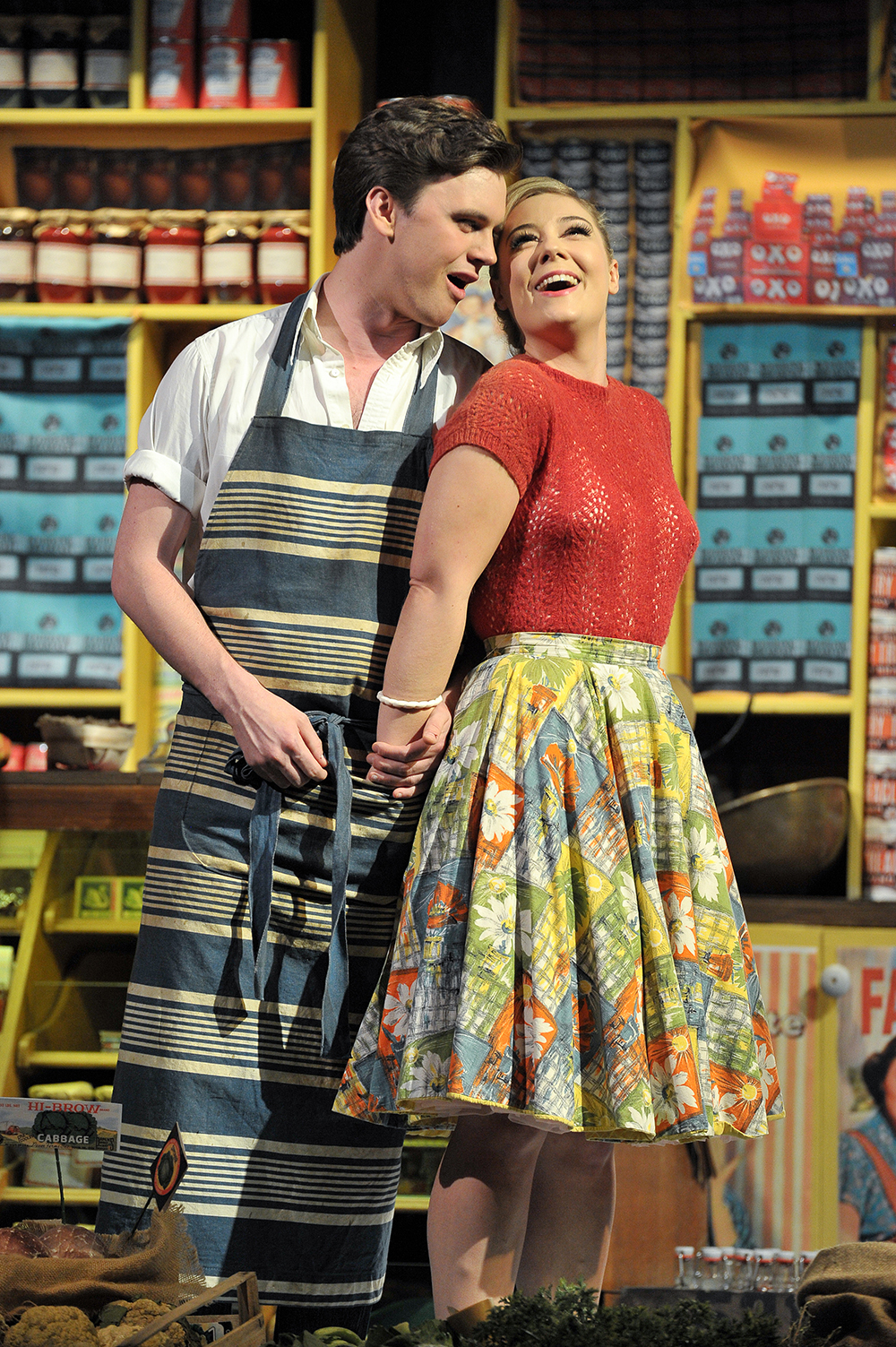 So striking in the Handel Festival's recent Giove in Argo, Angela Simkin makes a fine Nancy, all twirling high-ponytail and warmth, and together she and Morton (pictured left) deliver some of the loveliest musical moments of the evening. At the heart of the drama is Nick Pritchard's Albert, a performance that plays the long game. Sweetly timid (aided by a splendid pink pinny) and vocally restrained throughout Act I, Pritchard displays tremendous control, holding plenty back for his drunken Act II release. His is a lovely English tenor with a core of muscularity that gives promise of a Clayton-esque future, and beautifully showcased here in Britten's writing. Dramatically too this Albert is nicely judged, displaying no obvious camp beyond a brief exchange of glances with the leather-jacketed extra from West Side Story who haunts the shop. I won't spoil the final tableau involving these two, but Steel judges it perfectly.
The decision not to have surtitles works well for the most part, but it does mean that the denser ensembles (especially the fugue) lose their text, even in this small space. It's the tiniest of quibbles though. When the singing is this good, and the orchestral lines as clearly articulated as they are here under Michael Rosewell's direction, it's of small consequence. Yes, there have been more than enough Albert Herrings already this year, but this is a show well worth exceeding the quota for.