We Made It: Artist Joseph Popper |

reviews, news & interviews
We Made It: Artist Joseph Popper
We Made It: Artist Joseph Popper
Drones, space capsules and set-building as fine art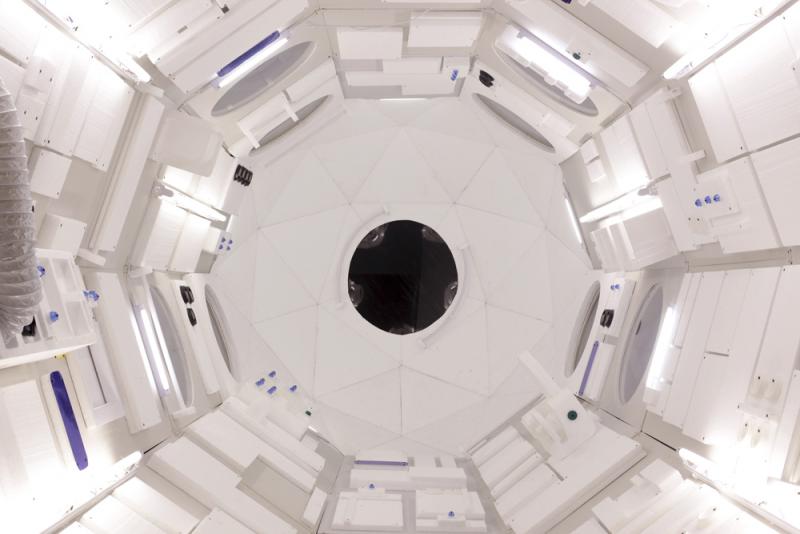 Joseph Popper's One Way Trip / Space Capsule
Joseph Popper is probably, so far, the We Made It interviewee operating most squarely within the world of fine art: his work is weighty with concept and highly immersive, and he operates within the world of galleries and commissions. But he very certainly belongs in this section.
His stage sets for "speculative scenarios and fictional experiences" are intricately crafted, meticulously constructed, based on the design principles and techniques of the set builders of 20th century cinema.
Recent work has included One Way Ticket (shown as part of The Baltic's They Used To Call It The Moon), while new piece currently showing in Hove The Same Face (pictured below) is an installation featuring a 1:1 scale model of a drone command centre, along with meticulously simulated model "footage" of aerial scenes including Brighton's The Grand Hotel as attacked by an IRA bomb in 1986. I spoke to him shortly after its installation to find out about his background.
JOE MUGGS: can you give us a quick rundown of how you came to be doing what you are now?
JOSEPH POPPER: Making art has been a part of my life from an early age. It is something I have and will always most enjoy doing and I have just kept on going with it. I went to study Fine Art at Chelsea before completing an MA in Design Interactions (a department dedicated to speculative and critical design) at the Royal College of Art. Exposure to these two different schools of thought, and ways of working, has certainly informed my approach as an artist: in terms of how I go about developing ideas and the type of themes and projects I am interested in. It was also at the RCA where my interest in the potential of filmmaking as a medium took hold. The camera and moving image remain the choice means I return to for producing work.
What were your most powerful influences growing up, both visually and more broadly?
Growing up, my parents and my art teachers at school were important influences. My parents encouraged me to draw, paint and make things from since I can remember. From then onwards I have always wanted to be doing something in and around art or design and I have been lucky to have had interesting and inspiring mentors throughout my education, from school to art college. It is hard to pick out particular early visual influences but when I first experimented with making video art in my A-levels I was very much into artist Bill Viola's work. I also had a Panamarenko poster on my wall for a while.
What do you think of modern set design, particularly given the increase in CGI worlds in film and even on stage?
The camera and moving image remain the choice means I return to for producing workI'm don't think I can answer that question simply because I do not seek to work with state-of-the-art or have had enough exposure to high-end film and stage production. I approach design for the sets I make from the lo-fi end of the spectrum. I am very interested by set design for film and the special effects which can be achieved "in-camera" by props, rigs and environments - CGI free. I am interested in the architecture of film production, the difference between what is in front of the camera lens and what is behind-the-scenes. For instance, I continue to be inspired by the making of 2001: A Space Odyssey, where they built 1:1 scale rotating sets to simulate life inside the space craft.
Do you think that categories of art, craft and manufacture seem to be dissolving? And where do you fit within those terms?
It is great that these categories are not so steadfast and that artists and designers can collaborate, appropriate or employ aspects or expertise from different fields to develop their work. I call myself an artist, often for simplicity's sake, but also because I think it best describes what I do and my motivations for doing so: making art and exhibiting my work.
Who are your favourite contemporary craftspeople or makers, and who are your artistic allies?
I don't have any favourite contemporary craftspeople or makers as such. My 'artistic' allies are my friends and those I have collaborated with and continue to do so on different projects. I am lucky to be amongst a lot of interesting artists and designers who I continue to learn from and be inspired by.
What are your immediate plans and grandest ambitions?
To keep going: to realise new, ambitious and interesting projects. To keep enjoying doing so.
The Same Face is showing until the 24th May
I am very interested in the special effects which can be achieved "in-camera" by props, rigs and environments
Explore topics
Share this article