Alice in Wonderland, BBCSO, Brönnimann, Barbican |

reviews, news & interviews
Alice in Wonderland, BBCSO, Brönnimann, Barbican
Alice in Wonderland, BBCSO, Brönnimann, Barbican
A curious tale gets a riotous musical telling
A game of cards: Alice (Rachele Gilmore) tries her hand at a new kind of croquet
The Southbank Centre's Women of the World Festival may have been the largest cultural event marking International Women's Day 2015, but it wasn't the most ambitious. Over at the Barbican two women were responsible for a multimedia opera staging whose spectacle, level of detail and sheer force of personnel involved was staggering.
Premiered in 2007, Unsuk Chin's Alice in Wonderland has already had more outings than most contemporary operas. You could attribute this to the endless appeal of Lewis Carroll's story, but it also has an awful lot to do with Chin's witty, sonically imaginative and disquieting score. For this new production, staged for brief runs in both Los Angeles and London, Chin's music is paired with the meticulous creativity of British director-designer Netia Jones to create a multimedia spectacle that transforms the sombre interior of the Barbican Hall into a riot of colour and sensation.
Jones takes Ralph Steadman's acid 1970s pen and ink illustrations of Alice as her touchstone
A giant screen, poised diagonally on one corner as though dropped from a great height, fills the back of the stage, propped up by a luckless red-suited flunky, while the floors are patterned in zany monochromes. Even the orchestral musicians themselves (placed centre stage) aren't exempt from Jones's touch, each sporting a number on the back of their tail coats. One crawls determinedly around on the floor as the audience enters. Searching for something? You learn quickly not to ask why, just to surrender to whatever unfolds.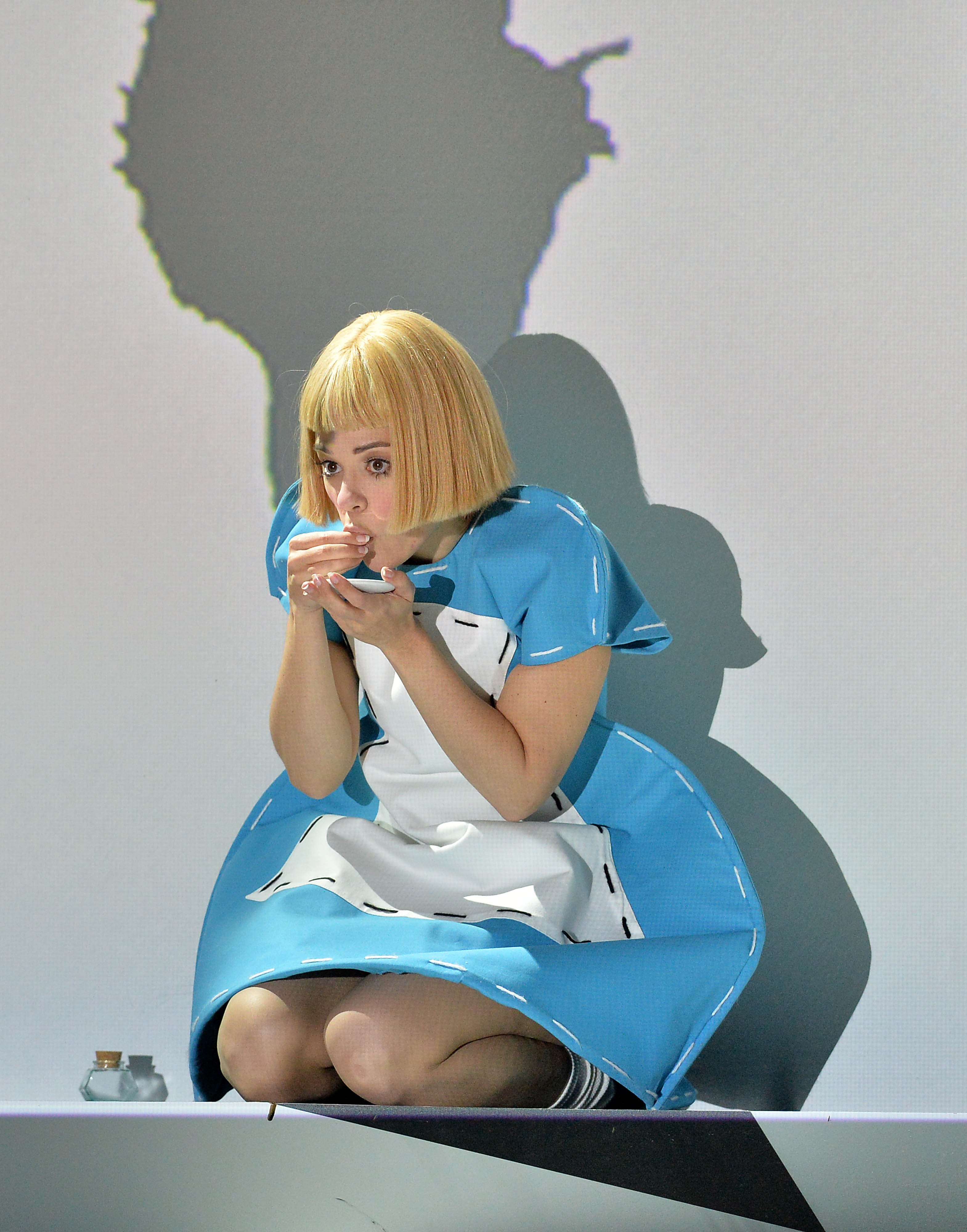 We are flung down the rabbit-hole with one of the rare moments of really bass-anchored writing in the whole opera, an almost inaudible tremor that judders through the orchestra, shaking us out of the everyday and into Chin's dreamworld. Jettisoning (mercifully) Carroll's rather affected framing narrative, Chin supplies her own – a dream sequence in which Alice (Rachele Gilmore, pictured right) wanders through a black and white landscape peopled with Beckett-like characters. From here on out things get, well, curiouser and curiouser.
Jones takes Ralph Steadman's acid 1970s pen and ink illustrations of Alice as her touchstone, bringing many to life as animations, and taking others as inspiration for costumes (brilliantly fashioned by Jemima Penny) and characters. Colours are primary, designs are remixed, trippy versions of traditional styles, exaggerated and distorted for comic effect. The Queen of Hearts (the suitably stentorian Jane Henschel) sports a ruff wide enough to take out anyone in a two-metre radius, while the Duchess (Jenni Bank) bulges and balloons in a costume that makes a mockery of a woman's curves. There's little of the cosy storybook here; the Mad Hatter and his companions wear something that comes very close to a straitjacket, while croquet-mallet flamingos bleed copiously on contact with the hedgehog balls.
It's all a good fit for Unsuk Chin's score, whose every bar announces her allegiance to Ligeti, her teacher. But while his strengths are her strengths – striking sonic soundscapes exploiting extremes of instrumental texture and register – his weaknesses are also hers. Such a narrative opera exposes the lack of dramatic momentum propelling Chin's music. She establishes a beautiful and vivid sequence of musical scenes, whether the coloratura Sprechstimme of the Cheshire Cat (Marie Arnet), the fluting countertenor White Rabbit (Andrew Watts) or the virtuosic grumblings and shriekings of the Caterpillar, voiced by a solo bass clarinet, but then struggles to create arcs within or connections between them.
Chin might get away with this if the work were trimmed back. After an initial burst of novelty and invention things do drag, especially in the courtroom scene, and could usefully have been tightened for this revival while the orchestration (reduced here, to fit the space) was being altered. There's also a disproportionate emphasis on high, almost electronic sonorities. A combination of vocal glissandi, coloratura sopranos and upper strings and woodwind find those same denatured musical vibrations we recognise from Ligeti, deploying them a little mercilessly. Even the double basses pluck so hard their notes become brightly snapping textures, or strike their strings col legno for another brittle, tinkling sound.
Though contending with some rather crude amplification which flattens all the voices out, the cast sell every bar. From the warm purity and agility of Gilmore's delivery, to Bank's maniacal, glittering Duchess and the wonderful boys of the Tiffin Choir, they give surreal without overworking it – a delicate balance, and one Jones herself also triumphs at. This trip down the musical rabbit-hole is not without its storm clouds, but its creative ingenuity and invention, visual and musical, still make the journey a vivid and an entertaining one.
ALICE'S ADVENTURES ON STAGE AND SCREEN
Alice, Scottish Ballet. It should be a capital crime to attempt an Alice ballet - off with their heads
Alice's Adventures in Wonderland, Royal Ballet. Even the best butter would not help this plot-less evening
Alice's Adventures Under Ground, Barbican. Gerald Barry's crazy velocity berserks both Alice books in rude style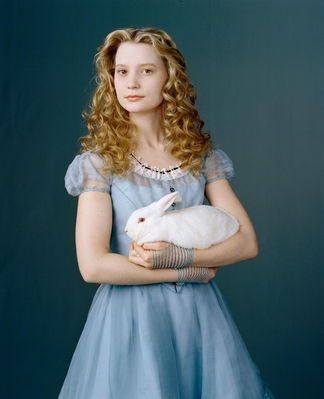 Alice in Wonderland. Tim Burton takes on the fantasy classic
Alice Through the Looking Glass. Mia Wasikowska (pictured), Helena Bonham Carter and Johnny Depp back in inventive if unfaithful Carroll sequel
Jan Švankmajer's Alice. The great Czech animator's remarkable first full-length film
wonder.land, National Theatre. Damon Albarn's Alice musical has fun graphics, but a banal and didactic storyline
Every bar announces Chin's allegiance to Ligeti, her teacher
rating
Explore topics
Share this article
Subscribe to theartsdesk.com
Thank you for continuing to read our work on theartsdesk.com. For unlimited access to every article in its entirety, including our archive of more than 10,000 pieces, we're asking for £3.95 per month or £30 per year. We feel it's a very good deal, and hope you do too.
To take an annual subscription now simply click here.
And if you're looking for that extra gift for a friend or family member, why not treat them to a theartsdesk.com gift subscription?