Nómada, Compañía Manuel Liñán, Sadler's Wells |

reviews, news & interviews
Nómada, Compañía Manuel Liñán, Sadler's Wells
Nómada, Compañía Manuel Liñán, Sadler's Wells
Style and showmanship aplenty from one of flamenco's innovators
Back to black: Manuel Liñán's company have serious style.
"Sprung from pure flamenco, Manuel Liñán exudes purity from himself and his dance - he is life, freshness and passion." Leaving aside the need for a better copywriter, or at least translator, what does this, the opening line of the flamenco performer's biography in the programme for the Sadler's Wells Flamenco Festival, tell us about him? That he's not afraid of making big claims, certainly. That he may have a teeny bit of a god complex ("sprung from"?
Like Athena from Zeus's head?). That he wants to establish beyond doubt his connection to a tradition, and his right to interpret it. But also that he really, really believes in the power of dance.
We may suspect hyperbole, but Nómada, the hugely engaging new show which Liñán (pictured right) has directed and choreographed, and in which he stars, substantiates quite a lot of the programme's claims. Passion, for example, radiates from this still-young dancer's every move. I don't mean the screwed-up face and frowny concentration of staged intensity, but the genuine energetic drive that keeps him coming on again and again for exhausting solos in which he drives himself relentlessly, sheets of sweat droplets spiralling off his head at every whip-sharp turn. The rock-star confidence is unmistakeable, and early in the show verges on being irritating: as Liñán's first solo, squaring up to a tight circle of the other men on stage with the posturing braggadocio of a fighting cock, dragged on and on I began to roll my eyes and think of the notoriously vain Michael Flatley. But that does Liñán an injustice: once he has finished the testosterone-fuelled face-off, he reprises, with utterly splendid guitarist Victor Márquez 'El Tomate', the lyrical, intimate, erotic, melancholy chair duet which was one of my highlights of last year's flamenco festival. The electric atmosphere of this duet - tender, lonely, and homoerotic - is what for me sets Liñán apart from other performers: for all his rapid fire footwork and big showy cadenzas, he's at heart a lyrical dancer, soft of arm and open of face, both seductive and ultimately likeable.

For all the programme may talk of purity, Liñán is a straight-up exponent of nuevo flamenco, inflecting the flamenco vocabulary of his show with the grammar of other dance and music genres. There's a Fosse/broadway-style crispness of showmanship in the opening ensemble number, for example - all tight black outfits and smoothly handled chairs - while I detected the soulful twang of bluegrass under the Spanish bubbling of the guitars, a kind of country 'n' western wistfulness in a section that had the look of a hoedown, a hint of jazz, and even something like the mood of a French street accordion. But it's not all old-time yearning: the sensibilities of rap pops up in a brilliant spoken-voice rhythm number narrated by the three female dancers (how I would have loved to know the words they spat out so ironically!), and there's beatboxing, bass, and a guitar singing out with Clapton-like rock cool. It's all stylishly woven together: unmistakeably flamenco, and yet humming with the creative joy of sampling and mixing.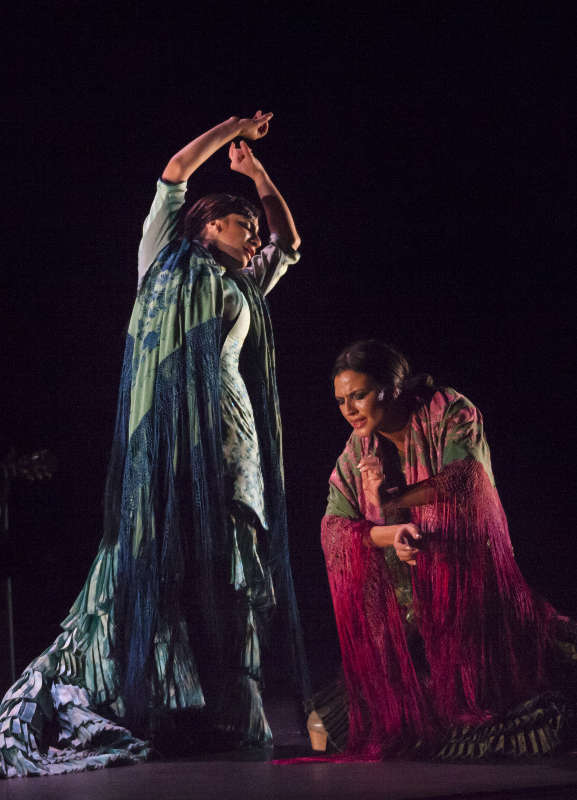 It's quite clear that Liñán's talent is far from confined to dancing: he's a skilful director with sound artistic instincts and a good eye for collaborators. His choreography for the five excellent dancers who share the stage with him has serious flair, and - credit to the dancers themselves - there's an delightful air of honest enjoyment in their smooth execution of it. The designers too, Yaiza Pinillos for costume and Olga García for lighting, have done a tremendous job. Tight, black, subtly lace- and glitter-speckled catsuits for the male dancers, Tom Ford-sharp dress suits for the singers, gold silk corsets and, later, chartreuse and azure cheongsam style batas de cola (pictured above left) for the women - all are set off by warm, low lighting that makes frequent use of boxes and outlines, richly filling the set-less stage with shape and structure. Liñán's own final costume, a bata de cola skirt in pine green held up by braces and an enormous coral satin fringed shawl, is a very fine thing - Liñán could give Eddie Izzard a run for his money in the transvestite style stakes.

If I were rewriting Liñán's programme note copy, I'd put it in much more exciting terms than purity and passion: what we're talking about here is a priceless ability to combine classy showmanship and stylish design with fizzing invention and honest-to-goodness charisma. Bring him back next year, Sadler's, and for more than one night - this is the kind of flamenco everyone should see.
The Sadler's Wells Flamenco Festival finished on 1 March. Flamenco returns to the Wells in June with Paco Peña's Flamencura and Israel Galván and Akram Khan's TOROBAKA.
For all his rapid fire footwork and big showy cadenzas, he's at heart a lyrical dancer
rating
Explore topics
Share this article