Eva Yerbabuena/Ballet Flamenco de Andalucía, Sadler's Wells |

reviews, news & interviews
Eva Yerbabuena/Ballet Flamenco de Andalucía, Sadler's Wells
Eva Yerbabuena/Ballet Flamenco de Andalucía, Sadler's Wells
Grimly majestic femininity steals the show at annual Spanish showcase
Tuesday, 24 February 2015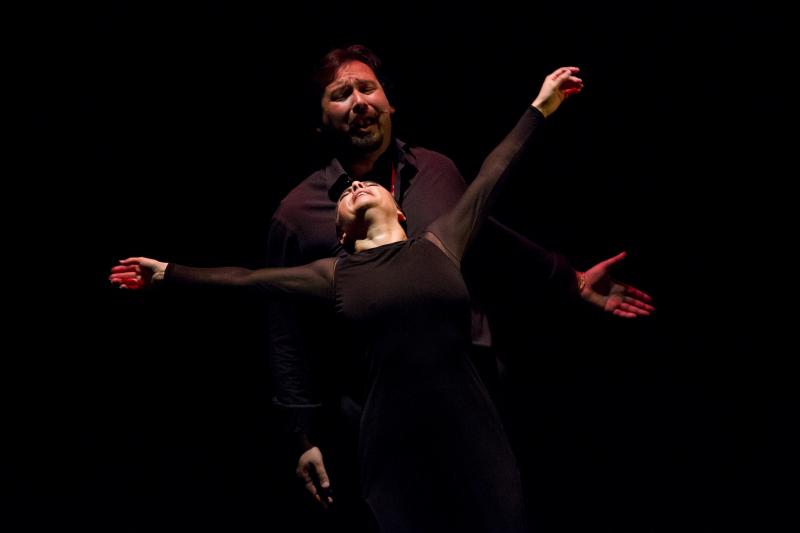 No frills flamenco: Eva Yerbabuena and José Valencia
The Sadler's Wells Flamenco Festival is cunningly scheduled for that particularly dreary fortnight in late February when winter has been going on forever, spring is still just out of reach, and half term brings the dismal realisation that we're only just halfway through the school year and summer holidays are still at least five months away.
When you're longing to be somewhere else, there's nothing like flamenco, a raw, gritty music-and-dance form born among the dispossessed of southern Spain.
It's come a long way since then, of course, and the flamenco stars imported by Sadler's Wells are no "gypsies" from the Granadan hinterland but professional artists embedded in a highly developed disciplinary tradition which has flourished and diversified in response to international influences over the last decades. A tourist brochure vocabulary of "authenticity", "folk culture" and (oh dear) "gypsy soul" won't serve here: flamenco doesn't give itself up that easily. For one thing, it's brimming with poetry – in its song lyrics – that remains almost entirely opaque to the non-Hispanophone spectator, who will get only a very partial experience of the art form if no translation is provided (and, frustratingly, they rarely are).

Valencia's hands reach out delicately to spin us a storyEva Yerbabuena is one of those performers who come close to overcoming the language barrier through sheer force of personality. A grimly magnetic woman, in the first minutes of her show ¡Ay! last night she had me scribbling comparisons with both Queen Victoria and Picasso's Weeping Woman, as she stalked, haughty and black-clad, in and out of a harsh spotlight that etched her face in cubist shadows. Whatever José Valencia was singing at her can't have been happy: tense and trembling, Yerbabuena moved with the sudden, metallic sharpness of a twanged guitar string, collapsing into brittle, contorted shapes. This uncompromising bleakness set the tone for the whole show, which consists of seven vignettes or sections, whose cryptic titles ("From Sideways", "Nana and Coffee") are our only verbal clue to the content of the songs.
Yerbabuena uses her mesmerising stage presence to hypnotise even when she is doing little but revolve her torso slowly, windmill-like, in a skew-whiff chair, or climbing the same chair like a ladder, as if reaching for the unreachable. And when she does dance it's almost disdainful; she doesn't even always bother to lift her black dress to display the feet we can hear drumming out blistering rhythms. A later sequence in which the three male singers surround her with the air of lewd hecklers is remarkable precisely for the casual indifference with which Yerbabuena performs for them, throwing out her hips and planting her feet wide apart, all the while daring them, with an expression of cold fury, to get any pleasure from it. She's a handsome woman, but she rarely allows us to see it: light usually comes from the sides or above, hitting her face at an angle that leaves her expression a jumble of dark lines, like a charcoal sketch. It's almost a relief when she exits and leaves the stage to the musicians: in fact, one of the show's most straightforwardly engaging moments is a song sung by Valencia (accompanied by the very fine guitarist Paco Jarana). Valencia's whole heavy-set frame is alive with the song: open-faced and with a dancer's grace he gives it to us in gesture as well as music, his hands reaching out delicately to spin a story that his sheer expressiveness brings almost within reach. He and Yerbabuena (whose final dance solos are virtuosically intense) make it quite clear that costumes, sets, and frills of all kinds are only secondary (or even dispensable) requirements when you have in your soul a direct line to the aching pulse of human existence.


Ballet Flamenco de Andalucía's show on Friday night, Images: 20 Years was a different sort of proposition altogether: an ensemble show of polished theatricality made up of excerpts from the company's back cataloque restaged by new director Rafaela Carrasco, in general balancing finely on the line between striking and hackneyed. The opening number, "Del Maestro" (pictured above), featured chair-dancing of precision synchronicity, all the more impressive for the technical challenge to the dancers of doing complex foot-percussion while sitting down (it takes serious core control and hip flexor strength to drum both heels on the floor when seated – try it). The shirts and braces costumes even managed to avoid looking too like A Chorus Line; indeed, Ms Carrasco in the solo role is the antithesis of an identikit Busby Berkeley babe, a tough, womanly figure whose ample thighs and hips remind us that flamenco is one of those rare and wonderful dance forms in which it's a positive virtue not to be a slender stripling in her twenties.
It's this same aura of confident womanhood as possessed by a different soloist (whose name I could not work out from the limited programme information) that helped lift the next scene beyond its clichéd premise of lanterns, moonlight, and a not-quite-perfect romance, though it must be said that David Coria's testosterone-drenched good looks also beguiled the eyes. The rest was less memorable – though Carrasco's solo in an enormous white traje (skirt) stood out, as did that of another female soloist in hot pink. She took us into a mesmerising vortex of rhythm and ruffles with a charisma that was only fleetingly echoed in the final segment's evocation of railway porters dance-jamming, 30s-style on mercifully robust wooden suitcases.
Accomplished and effective though the Andalusians' design and execution was, the whole show left me far colder than the difficult, dark, raw 90 minutes in Eva Yerbabuena's uncompromising presence. The beauty of the fortnight-long festival, of course, is that both flavours of flamenco, and many others besides, were on offer to help us banish our English February blues – if only by replacing them with even deeper blues of an Iberian flavour.
Frills are only a secondary requirement when you have a direct line to the aching pulse of human existence
rating
Explore topics
Share this article