We Made It: The Bogányi Piano |

reviews, news & interviews
We Made It: The Bogányi Piano
We Made It: The Bogányi Piano
Acoustics and sculpture merge in the strange sci-fi structure of this new piano
The beauty of carbon fibre: the Bogányi Piano
A concert grand piano is a compendium of trees. Traditionally, the piano case is made of laminated layers of maple and mahogany. Then you've got your pine bracing, beech legs, pine keybed with more beech and maple, a pin-block made of rock maple, beech and a tough African hardwood called boobinga.
The piano's pièce de resistance is the soundboard, which resonates the sound produced when the hammer strikes the strings. It is made of spruce, an extremely light wood with a long grain, which offers exceptional transmission of sound vibration.
Unfortunately those older pianos are simply too brittle to withstand the barrage of a modern concert performanceThe concert grand has long since been perfected as an instrument played by professional soloists. But in terms of technological advancement, has the piano run out of road? Is there no way the sound can ever be improved? That is the possibility which has gnawed away at Hungarian concert pianist Gergely Bogányi for years.
"The imagination of a musician is always at a higher level than the actual sound," he explains. "The notes coming out of pianos were always different to the ones in my head." His great compatriot Franz Liszt was always worrying away about improving sound quality, so it was a great surprise to Bogányi when he had a chance to play on Liszt's piano, which is housed in a museum in Budapest. "I was quite shocked. That was the sound was much warmer and a more human sound than the modern pianos." It was much closer to the sound he heard in his imagination when playing. But unfortunately those older pianos are simply too brittle to withstand the barrage of a modern concert performance.
Then about ten years ago Bogányi started talking in earnest to a piano technician. Their conversations focussed entirely on the notion of reinventing the soundboard, that part of the instrument which Bogányi describes as "the soul of the piano". Being a fan of sports cars and, hearing that carbon fibre is increasingly used in high-performances fast cars, Bogányi gave voice to a hunch: "why couldn't we use it on the piano?"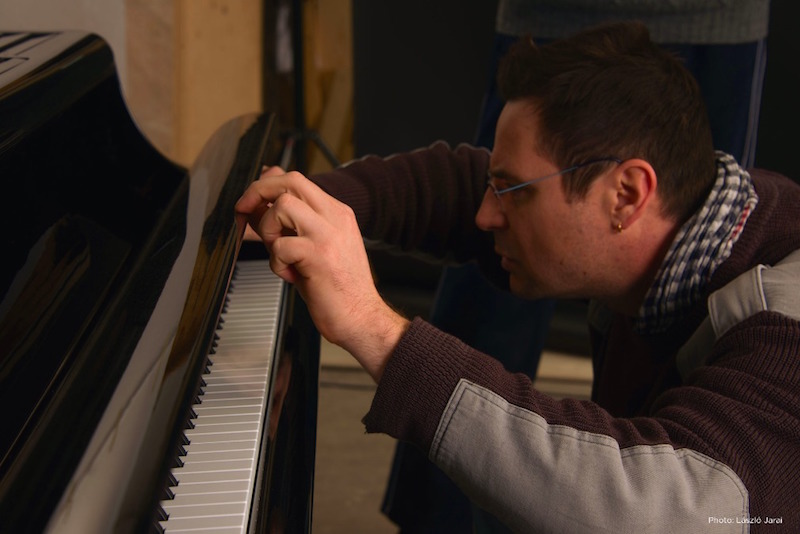 After some years of research and development in a small workshop north of Budapest, they came up with a carbon-fibre soundboard which was only two millimetres thick. "It was exactly the same shape, but not the same thickness," says Bogányi. "That's where all the money and time went." According to all tests they conducted the carbon-fibre was "better" than its wooden counterpart. But what exactly was meant by better? "It was holding the tone longer, or it was giving a richer sound."
Bogányi was theoretically convinced, but needed to hear the soundboard attached to a real concert grand. So he surrendered up his own piano, which was entirely disassembled and fitted with its revolutionary replacement. The difference was that the new soundboard was sprung in such a way that itwas physically detached from the rest of the instrument, the idea being to allow for much freer resonance. (It's also very robust. "You can play everywhere," says Bogányi. "Even in a sauna.")
As this development also proved encouraging, they moved on to the next level, which was large-scale research at the University of Budapest BME involving physicists and mathematicians. Their job was to help design a new base for the piano. All grand pianos stand on three legs, creating a space in which sound dissipates. The idea for the new piano was to stand on two legs, and the job of the rear or left leg – the one further away from the audience – is to act as a reflector, ushering the sound out towards the auditorium. Visually it is also intended to add a spiritual dimension, claims Bogányi. "The three-legged piano is very much of the earth," he says. "With two legs it is as if it is floating in the air."
They need not worry about buying a thoroughbred that needs kid-glove treatmentThe rest of the piano is more or less the same as a regulation concert grand. The action – those moving parts including the keyboard, hammers and strings – was manufactured to their specification but without major innovations by Renner, a German company which supplies all major pianos. The only quirk was the addition of two extra keys at either end of the keyboard.
In all between 150 and 200 people made a contribution to the piano's creation, led by a constructor, a designer, a piano technician and Bogányi himself. The first prototype – which takes its name from the pianist whose brainchild it is - was finished in August 2014 after a period of 18 months, and launched in Budapest in January 2015. Its international debut will be at the World Expo in Milan. The first piano we have made will go to the World Expo in Milan. If there are buyers who wish to commission their own, they need not worry about buying a thoroughbred that needs to kid-glove treatment. That's the beauty of carbon fibre.
Can Bogányi put into words the sensation of hearing his fantasy turned into an aural reality? "No," he says. "It is indescribable." As for other pianists, does he think it'll catch on? "I don't have any illusions about pianists. But I have privately shown the piano already to some pianists who are active concert players, some famous, some not. To my great surprise I heard really miraculous words. A few of them even said that it is something they've always desired."
So, watch this space. Or maybe listen to it.
In all between 150 and 200 people made a contribution to the piano's creation
Explore topics
Share this article