The Nutcracker, Scottish Ballet, Edinburgh Festival Theatre |

reviews, news & interviews
The Nutcracker, Scottish Ballet, Edinburgh Festival Theatre
The Nutcracker, Scottish Ballet, Edinburgh Festival Theatre
Sumptuous redesign transforms old favourite into a safe new classic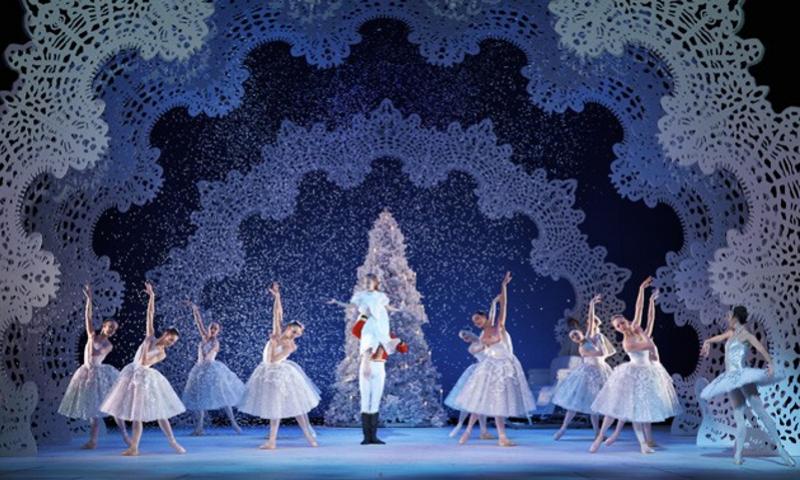 Strictly no scares: the Land of Ice and Snow is as sweet as everything else in Peter Darrell's redesigned production
Every Nutcracker has its day, and every day has its Nutcracker.
But sometimes history repeats itself, and so it was that I found myself last night in Edinburgh's Festival Theatre, scene of my own childhood encounters with ballet, preparing to watch Peter Darrell's
Nutcracker
, the very same production that I and thousands of other Scottish children were raised on between 1973 and winter 1996-7, when the (by then rather battered-looking) Christmas favourite by the company's founder was last performed.
The company was Nutcracker-less for the next few years, a turbulent time in which it struggled to get the funding or the artistic direction it needed. When Ashley Page was appointed Artistic Director in 2002, the company's return to stable artistic and financial footing was signalled with – what else?– a new Nutcracker in the winter of 2003. With offbeat designs by Anthony McDonald and a Hoffman-ized, much more grown-up story arc, Page's production was the right thing for Scottish Ballet at the time, making up in design, humour and inventive choreography what the company could no longer provide in white act wattage and Petipa/Ivanov precision.

But Page and Scottish Ballet parted ways in bad blood two years ago, making repeat stagings of his ballets unlikely. And his decade with the company transformed them, not only bringing dancing standards back up to international level, but reinvigorating the company spirit. Page's successor Christopher Hampson has inherited a confident company, and nothing signals that better than this year's return to a traditional Nutcracker with all the trimmings – and an ambitious long December run in Edinburgh (whose Festival Theatre is a much better dance venue than the cramped Theatre Royal in the company's home city of Glasgow).

Reviving the Darrell production is a canny move, making a surefire appeal to the Scottish population's nostalgia and saving money on choreography that could then be spent on getting a really good designer: Lez Brotherston, veteran collaborator of one of dance's best story-conjurors, Matthew Bourne. Brotherston has redesigned everything while staying faithful to the original production's conceits: so we get a Victorian drawing room (pictured below), arched white tracery over the Land of Ice and Snow (main picture), and a bauble-hung backdrop to the Kingdom of the Sweets, but the actual colours and shapes are all different (the tracery lacier, the baubles shinier, a Christmas tree in place of a lollipop).

I admit I was considerably smaller when I last saw Darrell's production so I may be misremembering its size, but I think Brotherston's designs have shrunk the scale of the stage somewhat, enclosing the action within a series of arches that cleverly frame it in a kind of magical snowglobe, but that also restrict movement. The two big ensemble dances, the Snowflakes and the Waltz of the Flowers, look crowded with just 10 and 12 dancers respectively: this is smart design for touring, of course, but when the Sugar Plum Fairy is more or less falling backwards in order to get in all the diagonal turns in one of her Act II variations, and any dancer who has to make a circle of the stage struggles with the sharpness of the angle, the space has perhaps been shrunk too far.

The whole production is resolutely sugary Brotherston's designs are both sumptuous and classic: a fine kind of Christmas wish-fulfillment. Victorian gentlemen wear wonderfully lustrous gold braid and buttons, while their children are adorable in ruffled dresses and Little Lord Fauntleroy suits; the Nutcracker Prince is resplendent in crimson, white and gold, while Drosselmeyer's stern face, jutting eyebrows and cloak that's shiny on the inside make him a Doctor Who-like magician – unpredictable, a little stern, but benign (no scary Childcatcher vibe here).

In fact, despite Brotherston's liberal use of black and midnight blue costumes, the whole production is resolutely sugary, and unlikely to scare even the smallest child. Clara is played throughout by a cherubic little girl (Amy Pollock), so her particiption in the second act is purely to watch in delight; there's no hint of a desire to grow up. The first act rats are played by children and are so unthreatening that the "battle" between them and the soldiers looks ridiculously contrived, while Remi Andreoni's King Rat bites the dust far too soon (I was enjoying his big jumps, and his amazingly fluffy rat breeches). Nor has any attempt been made to spice up the story: the production relies – successfully, I'd say – on good design and likeable characters to smooth the transition between a narrative-heavy first half and an entirely danced second.

As often happens, the Prologue feels rather slow, as children at a picture-book party receive their presents, and their parents dance a few desultory country dances. Darrell's choreography for Drosselmeyer's dancing dolls (here living "Entertainers") is rather awkward, and black tights, shoes and gloves do Bethany Kingsley-Garner and Luciana Ravizzi no favours. But all is vastly improved in the Land of Ice and Snow, where the whirling Snowflake dance is a charming symphony of waving arms, and Ravizzi gives a credible account of Darrell's Snow Queen pas de deux, with Erik Cavallari as the Nutcracker Prince supplying steady partnering to get her through a couple of Darrell's less inspired lifts.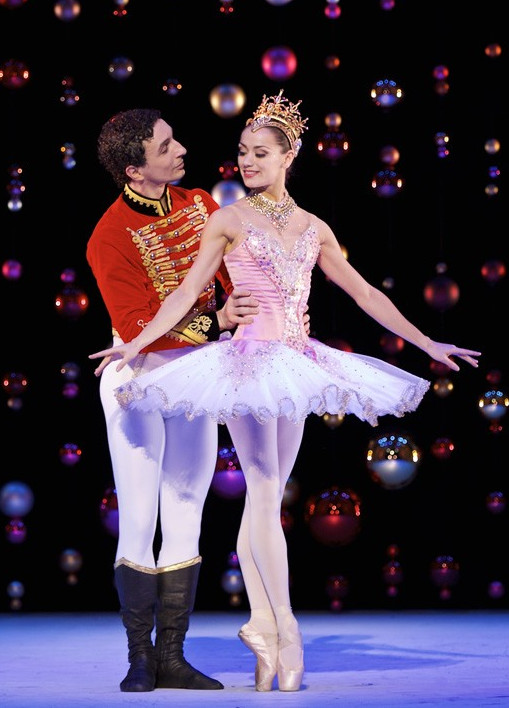 Kingsley-Garner as the Sugar Plum Fairy had the better task of performing the stunning Ivanov pas de deux in Act II, the only part of the original St Petersburg choreography to be preserved. Sensibly, it hasn't been tampered with here, and though I was at first not convinced by Kingsley-Garner, whose head and neck carriage are hardly poetic, she actually pulled off a wholly assured, regal performance, which had the large Festival Theatre audience palpably transfixed. The likeable Cavallari (pictured right with Sophie Martin), though rather wobbly in his own variations, made a good Nutcracker throughout: a rock-steady partner to the ballerinas, and very sweet with little Clara.

Amid the generally very enjoyable dancing of Act II, plaudits must go to Eve Mutso in the Arabian Dance, who despite rather average choreography (too much affected hopping) still outclassed every other soloist for charisma. Thomas Edwards made crisp work of a difficult sailor dance (the rarely-performed English variation), and the French variation (the Dance of the Mirlitons) was brilliantly executed by three French dancers, Laura Joffre, Claire Souet and Constance Devernay, who in their pink wigs and frothy cabaret corsets were as sweet and arch as a fondant fancy. The Scottish Ballet Orchestra under Richard Honner's baton showed Tchaikovsky off in fine colours, and managed to imbue the variations with character even at the drastically slowed pace the dancers needed.
The "it was just a dream" ending is handled with charm and a rather brilliant little coup de théatre, which leaves the audience going out on a genuine high – and, I would have thought, with every intention of booking again for this Christmas cracker when next it rolls around. Though I loved Page's weird and witty Nutcracker, I too was (re-)enchanted by Darrell's beautifully-judged fairytale. As a vehicle to bring the joys of proper classical ballet to a new generation of Scots, this new-old production is practically perfect.
Brotherston's designs are both sumptuous and classic: a fine kind of Christmas wish-fulfillment
rating
Explore topics
Share this article