Imagine Colm Tóibín: His Mother's Son, BBC One |

reviews, news & interviews
Imagine... Colm Tóibín: His Mother's Son, BBC One
Imagine... Colm Tóibín: His Mother's Son, BBC One
Rivers of grief and creative accomplishment in the Irish writer's life and work
Wednesday, 03 December 2014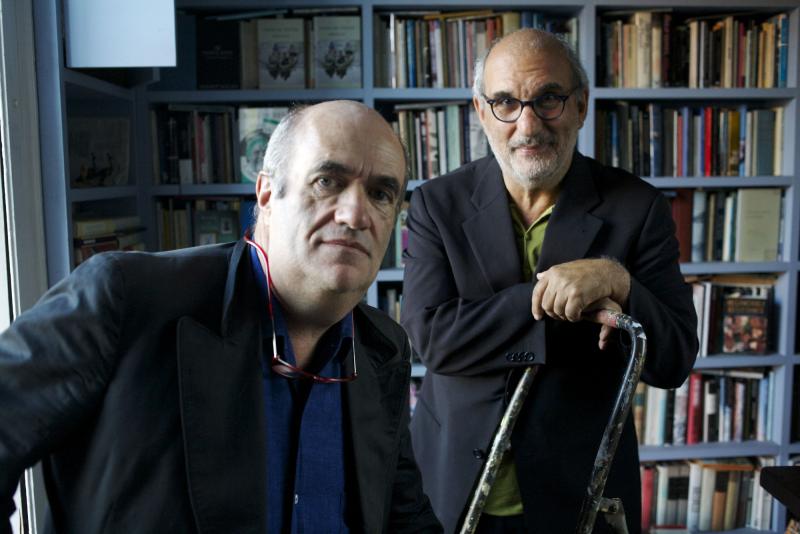 Colm Tóibín in his Dublin home, with Alan Yentob (rear)
Watching this edition of Imagine… on Colm Tóibín, it was impossible not to be reminded of Graham Greene's dictum about childhood being the bank balance of the writer. The key event in Tóibín's childhood came at the age of eight, when his father's serious illness saw Colm and his brother sent away to live with an aunt, and a sense of acute abandonment set in that saw him develop a stutter.
His most recent novel,
Nora Webster
, was about just that kind of bewildering silence of a mother after the death of a father.
The rivers of grief flow richly through Tóibín's work. "I've never known happiness to help prose style… or the general weather of a novel," he said somewhat laconically here. Nick Hornby, who adapted Tóibín's novel Brooklyn for the cinema (Domhnall Gleeson and Saoirse Ronan in a scene from John Crowley's forthcoming film, pictured, below right) appeared, acclaiming the writer's ability to express "pain in simple sentences". For all that, Tóibín seemed in more than good humour in his encounters with Alan Yentob (though being in the psychiatrist's chair to the latter might be something from which many of us would choose to run). At the beginning of one of their set-pieces, he even chipped in with a nicely meta, "How're we doing, mister?", sounding tolerant in the middle of what was presumably a very long few days spent in the production's company.
It was all about 'the fierce chaos of a mother's grief'
Tóibín did mention that he'd been through some psychiatry – almost accidentally, given that the husband of a colleague worked in that field: it was as if his grief and troubles were visible on his sleeve. Understandably when the image of the child Colm, on the day of his father's death, shouting "Will you put your arm round me?" remains so incredibly powerful. Though Tóibín said that the talking cures "never really caught on", something must have helped.
One release from the pressures of Ireland was clearly his departure for Barcelona at the age of 20 in 1975, the day after his university finals; he's made that city a second home ever since, more than confirmed by the number of locals whom he was seen embracing warmly on meeting. Back in Ireland the only times we saw him in any sort of company were in the relative anonymity of a book launch, and on the streets of Enniscorthy, the town of his birth, which also provided exterior shooting locations for the film of Brooklyn; evidently he was something of a local hero there, too.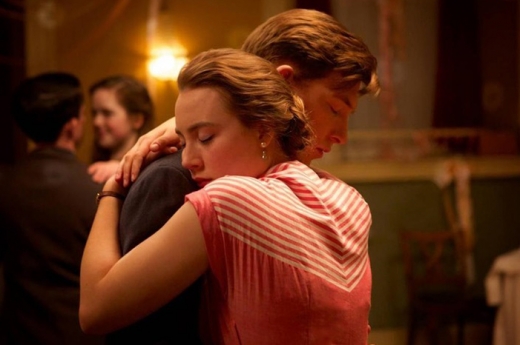 Though it wasn't stressed in the film, we assumed that in some way that early departure for Spain helped Tóibín come to terms with his homosexuality; he only came out, formally, in his thirties in 1989, though the medium of one of his newspaper columns (homosexuality would remain illegal in Ireland for another four years). He spent two years of his late education in a seminary, a liberal one where issues like contraception and abortion were discussed, but never homosexuality, though it was clearly present there (court cases many years later would confirm that, and Tóibín himself tackled the issue in A Priest in the Family). A conundrum of the priesthood at the time – Tóibín admitted that he nearly entered the Church – was that the two identities almost overlapped.
And issues with the Church came back in a big way with his 2012 novel, The Testament of Mary, later adapted for a solo stage show which Fiona Shaw performed in New York and London. Its perspective on the life and fate of Christ through his mother's very human perspective – "it was not worth it" – angered believers, and Shaw recalled the loud protests outside the New York theatre where it was being performed (the production closed early, on the very day when its Tony Award nominations were announced). Like Nora Webster that followed, it was all about "the fierce chaos of a mother's grief".
Colette Camden's film was briskly paced – always a good thing with the Imagine... strand – and nicely shot (those seaside scenes of the writer's childhood, especially) and scored. Yentob's third interviewee, the writer Anne Enright, was wonderfully forthright, wondering why the world always offloads its emotional issues onto Ireland and her writers. Tóibín's own voice reading his work, firm, a little distant, occasionally a touch camp, couldn't be bettered. It was a piece of television that did, unusually for the medium, succeed in conveying something about the process of literary creation, the generation from experience to the result on the page. No weighty conclusions, though. How could there be for a writer who, when asked what he might be tackling next, replied in the film's closing moments: "One subject, mild grief off the east coast of Ireland…. Silence rather than full disclosure."