Giovanni Battista Moroni, Royal Academy
Giovanni Battista Moroni, Royal Academy
Renaissance Italy's forgotten master of the fleeting moment
Wednesday, 29 October 2014
Giovanni Battista Moroni, A Gentleman in Adoration before the Baptism of Christ, c.1555-60
Written in the 16th century, Giorgio Vasari's Lives of the Artists continues to underpin our understanding of the Renaissance, and its author is blamed, often with some justification, for a multitude of art historical anomalies. But there can be little doubt that Vasari's omission of Giovanni Battista Moroni, a fine painter of portraits and religious subjects, has been instrumental in the disappearance of this artist from the Renaissance halls of fame.
Celebrated in his own lifetime, Moroni's reputation dwindled after his death but revived in the 19th century, when his work was collected avidly in this country, with the National Gallery housing the biggest collection of his work outside Italy.
Vasari neglected Moroni for the devastatingly banal reason that he never visited Bergamo in the northern Italian region of Lombardy, where Moroni spent much of his life. In fact, aside from an extended stay in Trent, Moroni never ventured beyond Lombardy. As a consequence, his work forms a self-contained whole, offering a coherent if not comprehensive picture of Bergamo's high society at a particularly colourful moment in time.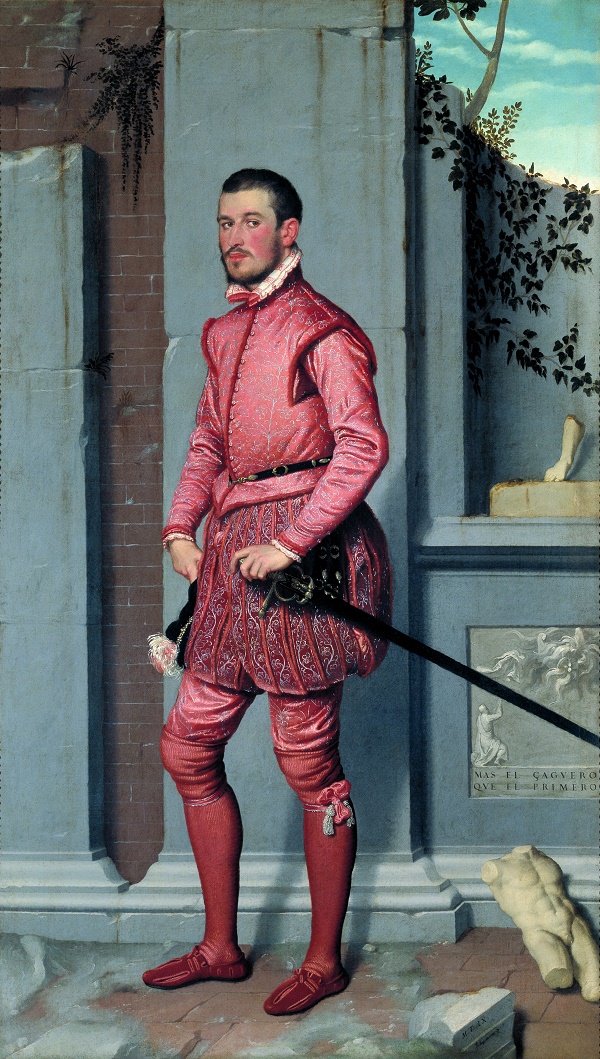 A room devoted to full length, aristocratic portraits has been superbly hung, with protagonists from both sides of a bitter feud between two of Bergamo's ruling families, the Albanis and Brembatis, squaring up to each other across a space that bristles with tension. There seems to be some doubt as to how much Moroni was influenced by his contemporary, Titian, but surely in its naturalistic capture of a fleeting moment, Moroni's Portrait of Giovanni Gerolamo Grumelli, 1560 (pictured left), is as strong an indication as any that Moroni had seen the work of the Venetian.
A member of the Brembati clan, Grumelli is all testosterone and dirty swagger. He avoids our gaze, but there is nothing bashful about him; with his hand on his sword and his face flushed pink, Grumelli looks like a tomcat disturbed while he patrols his territory – momentarily stock still, he waits, ready to pounce. Directly opposite, and in a similarly provocative pose, is the elegant Portrait of Faustino Avogadro, c.1555-60, who, married to an Albani, was no friend of Grumelli's. Pieces of armour are strewn carelessly about him, and he leans on one arm with an air of affected disdain.
Moroni's ability to convey personality with what, instinctively, you feel must be honesty, while honouring the idiom of state portraiture, is superbly demonstrated in this room. The hang exaggerates the aggrandising purpose of these paintings, which, mirroring each other in composition, vie with one another in paint and canvas as much as they most certainly did in life.
When the feud escalated, with a member of the Brembati clan murdered in a Bergamo church, the swingeing curbs imposed upon the local aristocracy ultimately served to benefit Moroni's painting. Moving back to his hometown of Albino, Moroni applied his naturalistic approach to more modest head and shoulder portraits of ordinary people. In a series of portraits made in the late 1550s, monochrome backgrounds and dark, minimally rendered clothes emphasise the startling naturalism of these characterful faces, as in Portrait of a Man with a Red Beard, c.1558-59 (Pictured below).
Moroni's naturalism often leads him to be compared with his fellow Lombard, Caravaggio, who shocked audiences with his refusal to flatter and idealise. Moroni predated Caravaggio by a good generation or two, but his sympathetic, but surely uncomfortably honest approach to portraiture was popular nevertheless, and commissioned by an increasingly genteel clientele. His later portraits are less austere than these small heads, but he retains in them a wonderful immediacy, his trademark the sense that the subject, disturbed while absorbed in an activity, has just that moment looked up, or turned to face us.
Moroni's later portraits hark back to the large format of his Bergamo days, while retaining the intense focus on the face that really developed in his smaller pictures. By this stage, it seems that he was operating almost like a modern portrait photographer, with sitters coming to his studio and being presented with the same props, and sitting in the same chair.
While it is the portraiture that will have you transfixed, Moroni's religious works underscore the curious way that, despite his provincial existence, Moroni was himself far from provincial. His altarpieces and devotional images, like much of his portraiture, reflect his engagement with contemporary events, not least the momentous changes occurring within the Catholic church (see main picture).
Moroni's only trip beyond his home region of Lombardy was during the Council of Trent, when the Catholic Church thrashed out its response to the Protestant Reformation. His altarpieces and devotional works, many of which are here, are imbued with the spirit of the Counter-Reformation, underlining fundamental Catholic tenets that were challenged by Protestant thinkers, but embracing a toning down of religious imagery, with a renewed focus on individual piety.
Monochrome backgrounds and dark, minimally rendered clothes emphasise the startling naturalism of these characterful faces
Share this article