Building the Picture, National Gallery |

reviews, news & interviews
Building the Picture, National Gallery
Building the Picture, National Gallery
It wasn't all about Madonnas. Italian Renaissance artists also knew how to paint architecture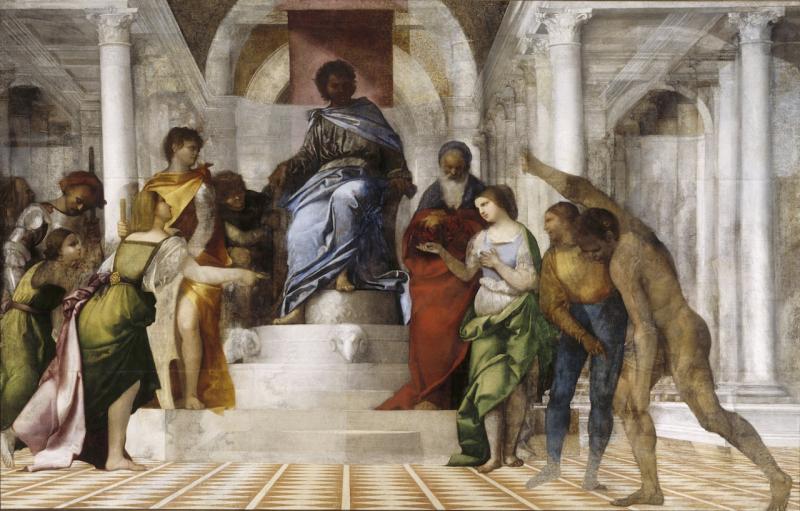 Sebastian del Piombo, The Judgement of Soloman, about 1506-11
Viewed through an arch designed to evoke a dimly lit chapel, Lorenzo Costa and Gianfrancesco Maineri's The Virgin and Child with Saints, 1498-1500, is strikingly legible (pictured below right). The Virgin sits on a marble throne beneath a richly decorated arch, the throne's fictive architecture covered with panels depicting Biblical scenes, the infant Christ standing precariously on his mother's knee. By mimicking the poor lighting conditions for which this altarpiece was designed, painted architectural features are revealed as so much more than mere scenery, serving instead to punctuate pictorial space while directing and focusing the viewer's gaze.
And Costa and Maineri push the point still further; the narrative panels set into the Virgin's throne representing painted, mosaic and sculpted stone surfaces are a tour de force demonstration that in the right hands, a single panel could fulfil the role of the complex, multi-panelled altarpieces that had prevailed for so long.
There is no need for any lengthy text on the wall here; Costa and Maineri's magnificent altarpiece demands that we forget about architecture as a backdrop to a narrative, and think of it instead as a protagonist in its own right. In just 35 pictures, this exhibition is a trenchant essay on the ways in which Italian Renaissance painters used architecture to define and articulate space, tie a painting to its setting, emphasise and punctuate narrative and determine with ever greater precision the emotional effect of a painting on its viewers.
In Sassetta's Saint Francis renounces His Earthly Father, about 1440, an elaborate building is used to heighten the emotional drama of the story, while emphasising the division between sacred and profane spaces. A naked Saint Francis stands by the Bishop of Assisi inside a loggia, while his clothes, removed symbolically to indicate the renunciation of his previous life, lie at the feet of his father who stands helplessly outside, shut out by his son in a scene that reverberates with the pain of separation.
While Sassetta's architecture was for the most part imagined, an added impetus could sometimes be achieved by drawing on familiar surroundings. In Florence, Sandro Botticelli and Domenico Veneziano both increased the narrative power of paintings involving the local Saint Zenobius by setting the action in recognisably Florentine streets. Veneziano's Saint Zenobius Bishop of Florence restores to life a widow's son killed in Borgo degli Albizzi, Florence, about 1442-8 (pictured below), shows the saint reviving a dead child, and uses architecture to locate the narrative in the streets around the church of San Pier Maggiore, a decision calculated to build dramatic tension. The buildings themselves affect the mood of the painting, and they crowd in on the figures to generate an atmosphere of anxiety and claustrophobia.
Sebastiano del Piombo's The Judgement of Solomon, about 1506-11 (main picture), is an extraordinary example of a painter using architecture to suggest and control space, a strategy that helps to define the emotional pitch of the work. It is a vast and intriguing painting and had it ever been finished, its marble columns and arches would have enhanced its palatial setting, with real space merging with and extending into pictorial space. But seen head on, there is something odd about it. The figures are a little flat, the perspective seems strangely compressed, Solomon's admittedly unfinished face is obscured by shadow.
The clue is in the painting's asymmetry, which hints that we should look at it from the right. And in fact, seen from this viewpoint, the painting resolves fully into three dimensions, the floor tiles opening out into diamonds, and Solomon's face appearing more legible. By placing us to the right, del Piombo absorbs us into the drama of the painting, giving us a privileged role in the events taking place before us. We are not placed directly in front of Solomon as lowly subjects brought before the king, instead our view is slightly more familiar, as if we are part of his court. In the story this painting depicts, Solomon has to decide which of two women is a baby's true mother. The viewer, stood to the right of the painting, stands on the side of the rightful mother – not only are we given a privileged viewpoint, we are also cast as wise, righteous and just.
It must surely be to the curators' credit that they have resisted telling visitors where to put themselves to view this painting and instead, a clever bit of hanging means we stumble across the best viewing position ourselves. Letting the pictures speak for themselves is a great strength of this exhibition, a fruit of the National Gallery's current focus on its own collections, which encourages both scholars and the public to look at familiar paintings afresh. There is a welcome sense of the National Gallery trying to engage with the public, an important factor, one imagines, behind the publication of a free, online catalogue instead of a book.
Letting the pictures speak for themselves is a great strength of this exhibition, a fruit of the National Gallery's current focus on its own collections
Explore topics
Share this article
Subscribe to theartsdesk.com
Thank you for continuing to read our work on theartsdesk.com. For unlimited access to every article in its entirety, including our archive of more than 10,000 pieces, we're asking for £3.95 per month or £30 per year. We feel it's a very good deal, and hope you do too.
To take an annual subscription now simply click here.
And if you're looking for that extra gift for a friend or family member, why not treat them to a theartsdesk.com gift subscription?