Dogfight, Southwark Playhouse |

reviews, news & interviews
Dogfight, Southwark Playhouse
Dogfight, Southwark Playhouse
This irresolute jarhead musical is a lover, not a fighter
Meet-brute: Rose (Laura Jane Matthewson) and Birdlace's (Jamie Muscato) sweet coupling has unpalatable beginnings
It is no mean feat to turn an audience against idealistic, painfully young marines heading for the nightmarish hell of Vietnam, but Dogfight comes perilously close to achieving that undesirable goal in the manner of their introduction. The band of brothers have just one night of freedom in San Francisco before deployment, and how do they wish to spend it?
Competing to see which of them can recruit the least attractive date in a so-called "dogfight", with the winner – if there can really be a winner in such a contest – pocketing a wad of cash.
On the Town
it is not.
In fairness to Peter Duchan, book writer for this 2012 Off Broadway musical, the alienating premise is not his invention; that dubious honour belongs to the 1991 movie of the same name. Nevertheless, Duchan's singular structure does little to alleviate the problem, devoting an hour to the arduous inciting incident but just 10 minutes to the central love story's complex resolution, a major character dilemma and – oh, yes – the entire Vietnam War and its cultural and psychological repercussions. The Reduced Shakespeare Company should be quaking in their ruffs.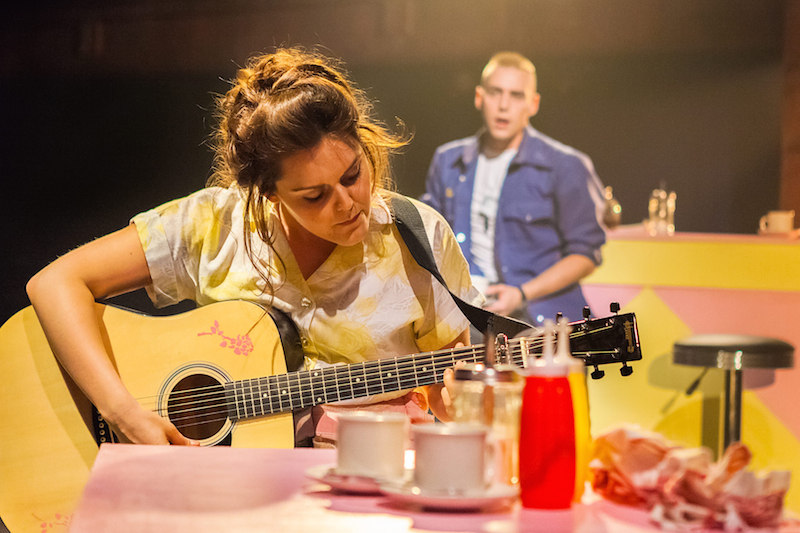 What saves the show from ignominy is its beguilingly artless romance, which is more than a little reminiscent of the winsome Once, but nicely realised here in Matt Ryan's fluid staging. Committed soldier Eddie Birdlace (subtly assured Jamie Muscato, below and right with Laura Jane Matthewson) has his worldview upended by waitress/aspiring folk singer Rose (appealingly natural newcomer Matthewson): their tentative coupling is not so much seduction as awakening. Woody Guthrie-loving Rose is an early prototype for the peaceful protest movement, setting up a strong clash with Birdlace's naïve belief that respecting traditional values will lead to his return as a celebrated war hero. That the action takes place on the eve of JFK's assassination further cements the decent, if surface-level, rumination on America's social upheaval and loss of innocence.
Birdlace's dawning realisation leads to him reject the misogynistic ritual, but not before we – and Rose – have been subjected to an appalling display of testosterone-fuelled venality. Ryan's production might earn our respect and increase its contemporary relevance if it were to unflinchingly interrogate such behaviour; instead, it presents collective cruelty as spirited frat-boy hijinks, refusing to address the underlying darkness. Birdlace's conflicted loyalties are similarly shortchanged, with an unsatisfying, all-too-swift decision to stand by his unit.
That puts the onus on Benj Pasek and Justin Paul's score to add essential depth, and their affable stylistic pick 'n' mix does occasionally succeed, despite sound balance issues that mean some of the lyrics are frustratingly muffled. Soulful Matthewson's poignant "Pretty Funny" and the acoustic "Give Way" impress; Muscato finds new intensity with elegy "Come Back"; and the lovers are endearingly awkward crooning "First Date, Last Night". However, it's belter Rebecca Trehearn (criminally underused, as are most of the supporting players) who provides the musical highlight with a powerful rendition of the coruscating title number. More of that fierce commitment throughout would provide a striking artistic interpretation of this pivotal period; instead, Dogfight, though refreshingly sincere, is all bark and no bite.
What saves the show from ignominy is its beguilingly artless romance
rating
Explore topics
Share this article