Johnny Got His Gun, Southwark Playhouse
Johnny Got His Gun, Southwark Playhouse
Visceral American anti-war play gets a timely London premiere
His mind racing, his body inert: Jack Holden as Joe
"Johnny get your gun" was a popular American recruiting call in the late Nineteenth and early Twentieth centuries and, according to the Irish-American song "When Johnny comes marching home, Hurrah, Hurrah", there should be celebration for him after battle. The Johnny of this story, Joe Bonham, an ordinary "Joe", got his gun alright, but there is no happy ending for him.
Aged 20, one day in September 1918, he is saved from an exploding shell but reduced to a silent, faceless torso, lacking all four limbs and the ability to hear, see or speak. In the 120-seat Little studio,
Johnny Got His Gun
provides a gripping and - surprisingly, perhaps - not simply depressing experience.
The name of Dalton Trumbo, author of the novel on which the play is based, appears on posters for this production as part of the title. One of the "Hollywood 10" who went to prison rather than testify to the House Un-American Activities Committee during anti-Communist paranoia in 1947, he was blacklisted until the early 1960s. He nevertheless eventually won two Oscars for screenplays and was acknowledged as the script-writer for Spartacus. Trumbo's National Book Award-winning novel, Johnny Got His Gun, was published just as Britain went to war in 1939.
We are drawn into the nightmare but sympathy is not enough
A film based on the book appeared in 1971 and it was adapted for the stage by Bradley Rand Smith more than thirty years ago when it won an Obie Award off-Broadway. This production (by Metal Rabbit) marks the play's UK premiere, and coming in this centenary year of the outbreak of the First World War, it is as timely as ever.
Smith, director David Mercatali and Jack Holden, in a stunning performance as Joe, combine to celebrate life, to present the positive aspects of ordinary existence as much as the waste of war. This is no sentimental weepie. Joe begins as an idealist in love with his girl and wanting to do the right thing for America by joining up as a volunteer. He ends longing to die, a prisoner in his body without even a name. We are drawn into the nightmare but sympathy is not enough. Joe is angry; if he can't die - euthanasia being "against regulations" - he'd like to be an exhibit in a glass box shown to the populace to undermine any notions of the glory of war.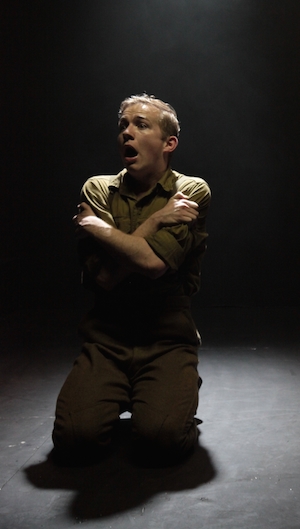 Alone on stage for 70 minutes, with no more than a chair and mood-changing lighting by Christopher Nairne to help him, Holden inhabits Joe utterly as he speaks his thoughts aloud. He is equally compelling when he moves freely, remembering small-town life, fishing with his father and squabbling over girlfriends, as he is when furious at his helplessness, inert and - until he hits on the idea of banging his head to convey Morse code - incommunicado. Occasionally Holden slips in a swift, colourful cameo too - a moustachioed colonel or a British Tommy.
The writing is as lyrical when Joe recalls his mother making jam, humming in the kitchen, or the pleasure of lying on his back in the local Colorado river as it is brutal in the descriptions of death in the trenches. His lost senses, especially sight and smell, play a powerful role in these memories. Simple domesticity, family affection and the countryside provide powerful arguments for peace. Joe's fury reaches a crescendo - unexpressed to those around him but vividly clear to us - when the top brass, all equipped with the correct number of limbs, pin a medal on his ruined body. Highly recommended.
Joe is angry; if he can't die, he'd like to be an exhibit in a glass box shown to the populace to undermine any notions of the glory of war
rating
Explore topics
Share this article