Edinburgh Fringe 2014: Cuckooed/ The Carousel/ Julie Burchill: Absolute Cult/ So It Goes |

reviews, news & interviews
Edinburgh Fringe 2014: Cuckooed/ The Carousel/ Julie Burchill: Absolute Cult/ So It Goes
Edinburgh Fringe 2014: Cuckooed/ The Carousel/ Julie Burchill: Absolute Cult/ So It Goes
More from the world's biggest and best arts festival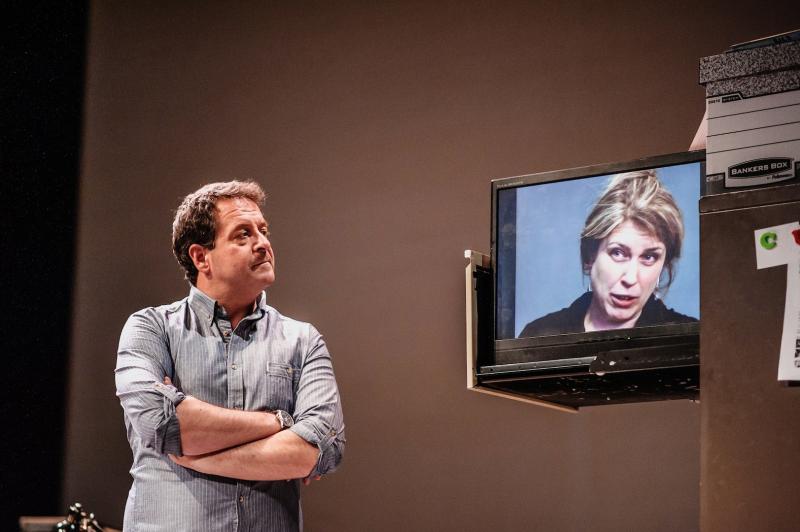 Mark Thomas delivers a faultless monologue about political activism, friendship and betrayal in 'Cuckooed'
Cuckooed, Traverse Theatre *****
Mark Thomas's new show is in the theatre section of the Fringe brochure, but this hour, full of laughs and witty lines as it is, could easily be under the heading of comedy. Indeed, Thomas once made his living as a stand-up, even if his career has long defied any pigeonholing; professional irritant, activist and satirist are just a few job titles that could apply.
Cuckooed is a masterful piece of storytelling and in an engrossing hour in which Thomas tells of how he – a master prankster – was duped by "Martin", a former comrade in Campaign Against Arms Trade. Martin is never fully identified, but the two men became great friends over the several years they campaigned together, and he was the man who held Thomas's hand after his first arrest on a protest. But Martin, as was later found out, was being paid by BAE Systems and was systemically sending information from the campaign to the UK's largest weapons manufacturer from the campaign via a middleman.
Thomas tells the story more in sorrow than anger, although that's supplied in video inserts by other campaigners - one of whom made Martin godfather to one of their children - and all of whom feel utterly betrayed by him. Thomas says at the top of the show: "I am a very good liar, but everything I'm telling you today is true," and what follows is a cogent examination of our willingness to trust people and then, when they are exposed as liars and traitors, our difficulty in processing their betrayal.
Emma Callander directs a neatly constructed and riveting hour that also touches on the limits of friendship and gets great comedy out of what Thomas calls his "revenge fucks" - when, distraught after he finally accepted that Martin was an infiltrator, he duped arms traders and torturers into admitting their guilt. Revenge can sometimes best be a dish served hot.
Cuckooed is at Traverse Theatre until 24 August
The Carousel, Traverse Theatre ***
Jennifer Tremblay's monologue – about three generations of a Canadian family - requires a lot of the listener as it has a complicated and tricksy structure, and sudden shifts of time and place. The language is often overwrought and, to add to the confusion, characters are only occasionally identified by name, more usually as "my child", "my mother", "grandmother", and so on.
But Maureen Beattie is full of passion and energy as she plays mother, grandmother, even young sons, as the central character calls on her dead grandmother to elicit long-buried family secrets. Skilfully directed by Muriel Romanes, Beattie gives an enthralling and accomplished performance, while special mention must go to John Byrne's exquisite panelled backdrop, full of detail such as family photographs, childhood objects and Catholic imagery.
The Carousel is at Traverse Theatre until 24 August
Julie Burchill: Absolute Cult, Gilded Balloon ***
Tim Fountain was responsible for part one of the Julie Burchill story – Julie Burchill Is Away, in 2004 – which was written with the help of the journalist and controversialist. Now he revisits the subject, this time apparently without her co-operation.
Goodness knows that Burchill's life – an avowed penchant for Champagne and cocaine, multiple abortions, three husbands (so far, at least) and a dalliance with lesbianism – has been full. In Julie Burchill: Absolute Cult we get all that and more – rants at editors, frequent mentions of her media pals and her drug dealer – as Fountain charts a typical Burchill day. She snorts coke off a Morrissey album cover - "I like his music but he's so boring" - is late delivering her copy and is deciding whether she'll appear in Celebrity Big Brother.
Lizzie Roper, a very fine actress, gives a measured and sympathetic performance (complete with squeaky Bristol accent), and there are some zinging lines – whether the author's or Burchill's one doesn't know – in the 60 minutes, which pass agreeably enough.
But there's little insight into why Burchill – aka the queen of spleen - is who and what she is, and why such a gifted writer divides opinion so. And despite Roper's best efforts, it's impossible to care much about such a narcissist who, according to Fountain, doesn't care what people think.
Julie Burchill: Absolute Cult is at Gilded Balloon until 25 August
So It Goes, Underbelly ****
In the seven years since her dad died, when she was 17, Hannah Ross has been unable to speak it. But with the help of fellow actor David Ralfe (both pictured right), she has devised a show that tells the story of his life, about how he loved running and philosophy, of his early death and her love for him, and it's an original and touching piece of theatre.
The hour is almost entirely wordless; instead the two actors perform a sort of dumbshow with props and physical theatre, and use miniature whiteboards to write their dialogue, neatly encapsulating how difficult talking about loss can be,
The device can be a little irritating to start with, as one is keen to know the next thing that comes out of their mouths, as it were, but gradually this lends a flow of its own; and in Moss's brutally frank assessment of her own feelings it imbues the words with even greater power. The ending is predictable but no less moving for that.
So It Goes is at Underbelly until 24 August
Cuckooed is a masterful piece of storytelling and an engrossing hour
Explore topics
Share this article