Edinburgh Fringe: Tiffany Stevenson/ Fair Trade/ Gutted: A Revenger's Musical |

Comedy reviews, news & interviews
Edinburgh Fringe: Tiffany Stevenson/ Fair Trade/ Gutted: A Revenger's Musical
More from the world's biggest and best arts festival
Wednesday, 11 August 2010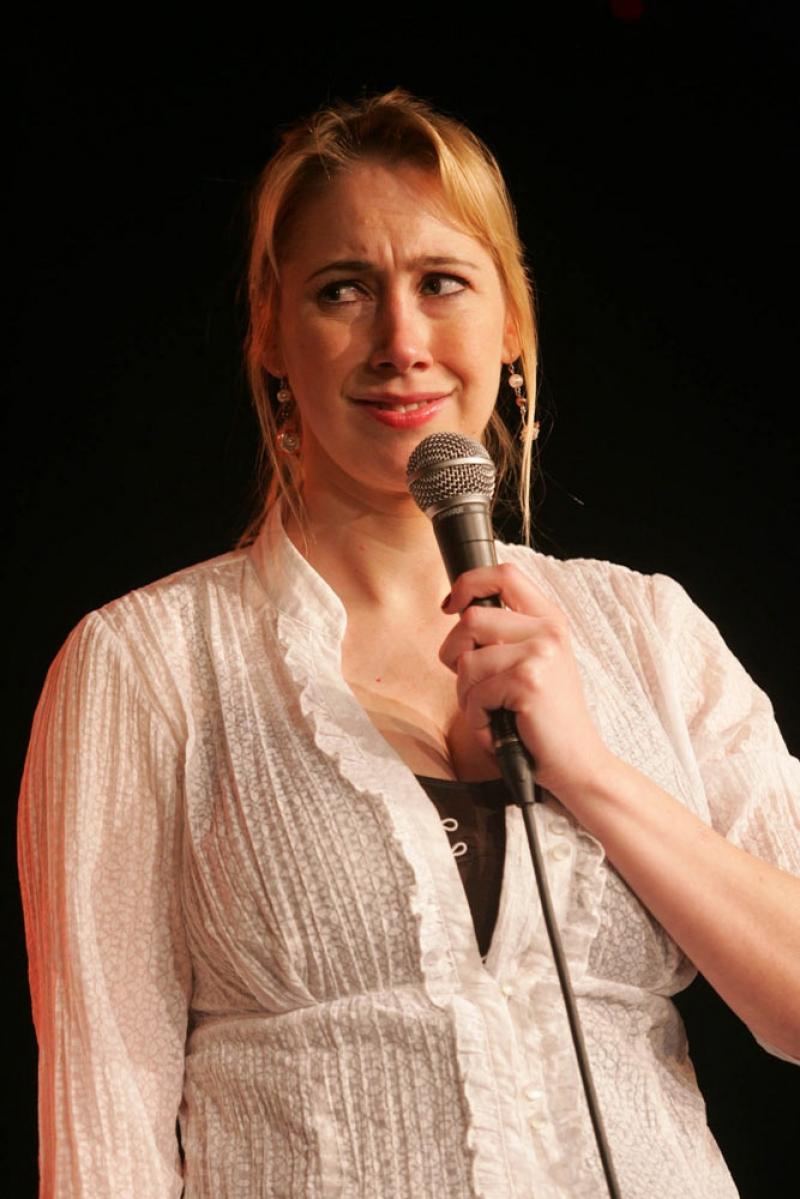 Tiffany Stevenson: her new show is about mums, celebs and bastards - what a combo
After making her Edinburgh debut last year, Tiffany Stevenson returns with another cracking show,
Dictators
. Ostensibly it's about Mao, Hitler, Pol Pot, et al, but in reality she cleverly  manages to do a show about the mother-daughter relationship and our obsession with celebrity in the guise of a political theme. Mums, celebs and bastards on the same bill - it's a stroke of genius.
Tiffany Stevenson, The Stand ****
Stevenson is hugely likeable and self-deprecating; before she wrote this show, she tells us, "the Cultural Revolution was a pot of yoghurt to me". But the serious stuff is very well researched - not many laughs out of millions murdered, so best to get the facts right - although she manages the odd sly joke. Referring to Mugabe's death count, she says, "currently at 20,000, but I think he has more in him". She has lovely turns of phrase, and even her running gag about anal sex, which she introduces at the top of the show, doesn't actually use the words "anal" or "sex", and provides a great payoff later in the hour.
Her mother is included in her top-five dictators list because, even though Stevenson is in her early thirties, of course she is still trying to run her life. And because she caused the death of two pet goldfish in her teens (due to overuse of hairspray for the dreadful perm she sported at the time), Stevenson is regarded by her mum as unfit to own a pet. But weirdly it doesn't stop her constant questions about when her daughter is going to have children.
Also included in the top-five list of dictators is
OK!
magazine, and Stevenson skewers their twisted take on female beauty and their obsession with nano-celebrities. It's an easy target, but an important one, and their death count is a clever joke, too - it's their lurid memorial issues to dead celebrities, including Jade Goody before she had actually breathed her last.
Dictators
is witty and inventive, full of well-constructed jokes, and Stevenson proves herself a comedic writer of great subtlety and originality.
Until 29 August
Veronica Lee
Emma Thompson Presents: Fair Trade, Pleasance Dome ***
Emma Thompson, the Oscar-winning actress who has produced this play and put her name above the title, says that
Fair Trade
, written by Shelley Davenport and Anna Holbek with Kate Ferguson, boasts one of the best scripts she has seen in years. And while it is good, tracing the predictable trajectory from optimism to despair, it suggests that she must also receive a lot of dross. With the help of verbatim accounts by victims, the drama tells the all too familiar story of two women – one Albanian, one from Darfur – who come to Britain for a better life only to become slaves in the vice business.
Elena (Holbek) is forced to work all hours to pay off a Sisyphean £25,000 debt, while Samai (Sarah Amankwah) is raped by a man who is all smiles when he eases her through immigration, but then rapes her and locks her away. While the narrative is at times painfully earnest, the production, by Shatterbox Theatre, is richly imaginative. The cast play immigration officers, prostitutes, pimps and stag-do punters. In one memorable scene that evokes both Dickens and
Spartacus
, drowsy, drugged women are auctioned off like cattle to the highest bidder. In another almost balletic set-piece, male actors playing customers rotate around a makeshift Soho bed, repeatedly undoing and doing up their belts.

Fair Trade
does not bring anything new to the table, but it does reiterate the fact that the sex industry is a brutal and brutalising business, as hard to crush as a cockroach infestation. This is a story with – pun unintended – no happy ending.
Until 30 August
Bruce Dessau
Gutted: A Revenger's Tragedy, Assembly ***
Twenty years ago, Sorrow's parents were murdered and now she has left her orphanage to wreak revenge on the man who killed them, the supremely idiotic scion of the Bewley family.
Kind Hearts and Coronets
-style, she bumps off his relatives in increasingly comic ways (slipping on butter, stabbed by a stuffed swordfish) to get the Bewley inheritance. That's the gist of this lively and darkly comic musical, written by comedian Danielle Ward and Martin White (of 2007's
Psister Psycho
fame), and performed entirely by comics. It does have the whiff of an end-of-term jape, but the songs are tuneful and the jokes plentiful enough to overlook the odd clunking bit of exposition or arms-by-side acting.
Helen George is magnificent as Sorrow and the Penny Dreadfuls, as an otherworldly trio who encourage her nefarious deeds, do their shtick extremely well. Among the cast (many of whom have surprisingly good voices) who give it their all are Colin Hoult, Sara Pascoe and Lizzie Roper. It's not Sondheim, but enjoyable enough none the less.
Until 29 August
Veronica Lee
Subscribe to theartsdesk.com
Thank you for continuing to read our work on theartsdesk.com. For unlimited access to every article in its entirety, including our archive of more than 7,000 pieces, we're asking for £2.95 per month or £25 per year. We feel it's a very good deal, and hope you do too.
To take an annual subscription now simply click here.
And if you're looking for that extra gift for a friend or family member, why not treat them to a theartsdesk.com gift subscription?