theartsdesk Q&A: Artist/Dramatist John Byrne |

Theatre reviews, news & interviews
theartsdesk Q&A: Artist/Dramatist John Byrne
The Scottish polymath discusses Slab Boys, Swinton, Sean Penn - and Tutti Frutti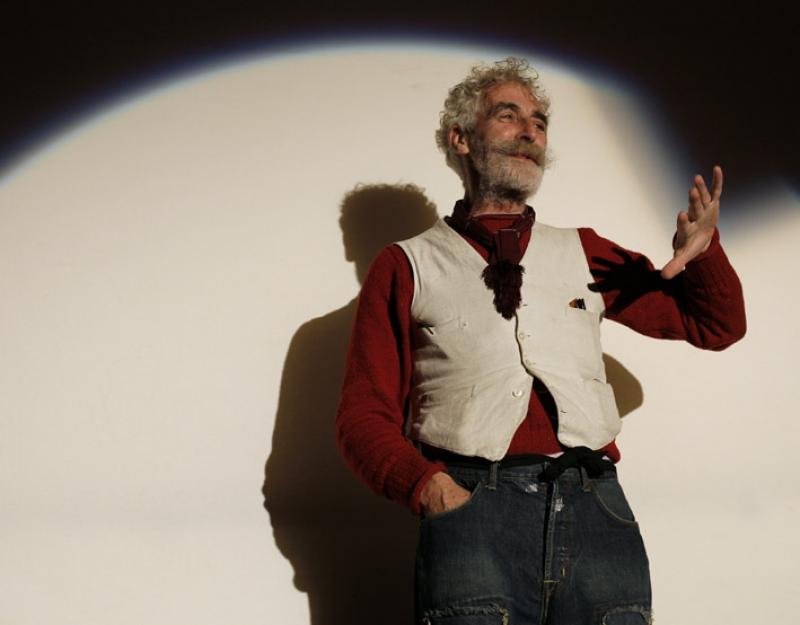 John Byrne: 'I wouldn't want to reveal anything. That's the whole point.'
"I'm very hard to categorise," says John Byrne (b 1940), tugging at his magnificent moustache. A restless, defiant, shape-shifting polymath who was an exponent of multimedia long before computers ruled the world, Byrne's singular career is perhaps doomed to gentle underappreciation simply because he can do so much so well. "If you're hard to categorise they don't like that." He peers into his coffee as though looking for something. "Whoever 'they' are."
Raised in the "Dickensian" gloom of Paisley's Ferguslie Park estate in a family shaped by his mother's severe mental illness, Byrne graduated from Glasgow School of Art in the early 1960s and slowly made a name for himself as first a painter, then a playwright, then a television writer. A more recent incarnation, as one half of a so-called celebrity couple, means that to his dismay he now registers on the red-tops' radar.
His bold portraits of Billy Connolly (pictured below right), Robbie Coltrane and his former partner, actress Tilda Swinton, hang in Scotland's National Portrait Gallery. His Slab Boys Trilogy - Slab Boys (1978), Cutting a Rug (1979) and Still Life (1982) - based on his own experiences working in a Paisley carpet factory, is being celebrated next week in a one-off discussion at the Traverse in Edinburgh. It has been named by the National Library of Scotland as one of the 12 key works of the last 40 years.


Byrne's defining creation, certainly in the popular consciousness, is the BBC TV series Tutti Frutti, the blackly comic story of fading rock'n'roll band The Majestics. Written in a coal shed in Fife, it aired in 1987 and launched the careers of Robbie Coltrane and Emma Thompson. It finally received a DVD release in 2009 following two decades snagged in red tape, during which time it turned into an almost mythical piece of lost television.

Now 71, Byrne continues to work hard. He recently adapted Chekhov's The Cherry Orchard, with a Scottish twist, for the Lyceum in Edinburgh and his children's book, Benoit and Duncan, was published earlier this month. In recent years these achievements have been shadowed by feverish – and false - tabloid conjecture about the "polyamorous" nature of the relationship between Byrne, Swinton and her current boyfriend, German artist Sandro Kopp.
"It's like being reduced to a cartoon character," he growls, amiably enough. After he and Swinton split romantically in the mid-Noughties, Byrne stayed in Nairn, the couple's hometown in north-east Scotland, to continue parenting their twin children, Honor and Xavier. He now lives permanently in Edinburgh with his partner Jeanine, described today as "my sweetheart".

Talking to theartsdesk in the cafe-bar of the Filmhouse cinema, up close Byrne is an enticingly Beckettian creature. He sports a red school "Prefect" badge on his waistcoat, under which seems to lie endless layers of vests and shirts, topped off with a vibrant orange scarf knotted tightly around his throat. His big, useful hands, smudged slightly with red paint, encircle his coffee cup and his voice can only be described as "smoked", its depth leavened by a great, gurgling laugh. The eyes are hawk-like and his sole remaining tooth is hidden by spectacular baccy-stained plumage. He is a wonderful, very Scottish mix of vulnerability, reserve, charm, intelligence, a vague sense of latent menace and cheerful eccentricity.
Watch a scene from Tutti Frutti:
GRAEME THOMSON: Beyond the bare biographical facts, every artist's story begins with a leap of perception. When did the realisation dawn that you were an artist?
JOHN BYRNE: Oh God, I honestly can't remember, it was so early. You'd be too self-conscious at that age to articulate it. You might say it but you'd look slightly shifty. As early as I can remember an artist was someone who drew and painted and that's all I wanted to do. At the same time as describing that ambition to myself I also wrote little spoofs from the newspaper. I never thought, oh I'm going to be a playwright – no. They were entirely for my own amusement. They were parochial things taken from the Paisley Express, little spoofs about children who were disfigured already but then were miraculously cured by a chip-pan fire. Dark and funny.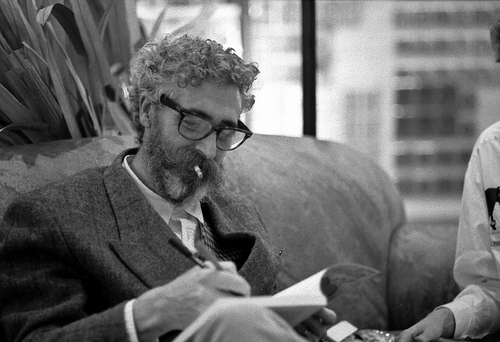 I had a very clear idea of what being an artist meant. People nowadays say they're artists and you go, "But you can't draw to save your life." And they say: "Ah, but I'm not that kind of artist. I don't draw." I saw a print recently at a studio in Glasgow. It said: "Drawing by so-and-so. Conceived by someone else." I'm not going to name names or describe it because they'll know who they are, but you get this clown who is obviously not that bright saying, "I want you to draw this thingy because I can't do it." Conceived by! Can you imagine a joiner doing that?

It emerged decades later that your mother's illness stemmed from years of sexual abuse by her father. Do you look back now and see a difficult childhood or were you relatively happy at the time?
I was recently returned a photograph of me when I was about eight and my brother is about 10 and my mother is behind us outside my grandmother's house in Cardonald and – yeah – I was happy as a bee. I really was. It was an interesting childhood.

In what sense?
In every sense! It was laden with drama. Laden with it. I realised when I was in my teens that it was the drama that made it so enjoyable: the police coming to the house, chases down the road, people getting their windows put in – all from my mother's illness. It was all very entertaining in hindsight, but they were very gyppy times. I knew it from the inside, from going to see her in hospital, taking her clothes away, finding her in a room like a cell with a bare mattress on the floor. It was Dickensian, it really was, but it was a relief to leave her there. We used to go for a pint in The Jolly Beggar, me, my brother and my father, and not talk about it. Just sit there. But I remember distinctly saying to myself, "This is just wonderful." I must have known that this was all the material I needed. It felt so great to be growing up in this place.
The only way in was through japery and tomfoolery, at the back of which was a serious desire to have my work shown in the London galleries
But it must have also been heartbreaking to observe?
Well it was, and I had another way of life to compare it with. My brother and I would stay with uncles and aunties in Govan and Hillington [in Glasgow]. I thought these places were like the land of Noël Coward. People wore dressing gowns! We didn't even have pyjamas. I've since met people from Hillington who sound totally Glasgow, with quite rough accents, and I still think, surely not! It doesn't tally, because when I was eight, nine, 10, 11, I thought these places were like Mayfair. It was quite comical. It felt like a big world then. Little did I realise that the world would get smaller for me. It seemed vast and now it seems much smaller. I can access that vastness but it's a conscious effort to do that, whereas when I was in it it just happened. You become more self-conscious as you get older.


I wouldn't want to reveal anything. The artistic truth is absolutely true, as opposed to the bare truth, which is just exposing yourself
Explore topics
Share this article
Subscribe to theartsdesk.com
Thank you for continuing to read our work on theartsdesk.com. For unlimited access to every article in its entirety, including our archive of more than 10,000 pieces, we're asking for £2.95 per month or £25 per year. We feel it's a very good deal, and hope you do too.
To take an annual subscription now simply click here.
And if you're looking for that extra gift for a friend or family member, why not treat them to a theartsdesk.com gift subscription?