theartsdesk in Paris: San Francisco Ballet 2 |

reviews, news & interviews
theartsdesk in Paris: San Francisco Ballet 2
theartsdesk in Paris: San Francisco Ballet 2
New work by Liam Scarlett stands above offerings from Wheeldon, Morris and Liang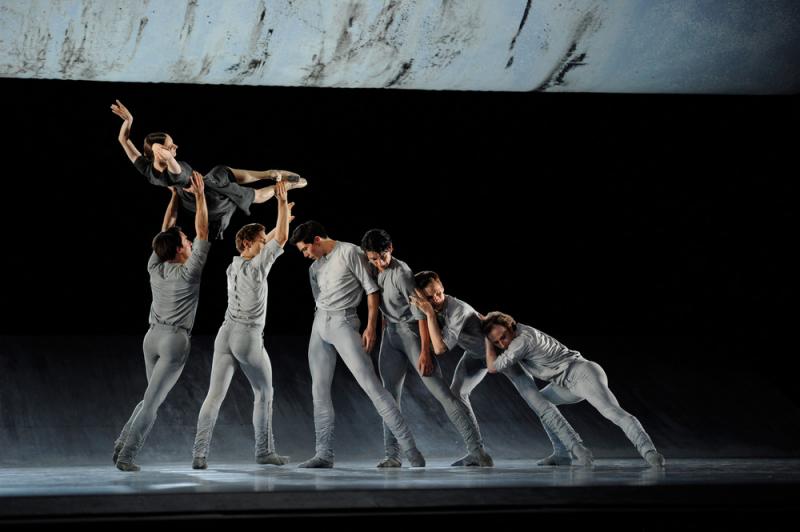 The barn dance at the end of the world: Maria Kochetkova and artists of San Francisco Ballet in Liam Scarlett's new 'Hummingbird'
Having a strong company style is usually no bad thing, especially if – as with San Francisco Ballet – the main component of it is a commitment to excellence. It has been impressive watching the gritty energy with which, night after night, the American visitors to Paris dish up meaty triple bills (most pieces coming in at 35 minutes or longer) and serve them with éclat.
Polish and professionalism like this help dancers keep going through a gruelling tour, and ensure audiences go away happy. But you can have too much of a good thing.
In my case, the good thing was lyrical contemporary ballets made for the company in the last decade. Seen in quick succession on Wednesday and Thursday nights, Helgi Tomasson's Caprice (2014), Edwaard Liang's Symphonic Dances (2012), and Christopher Wheeldon's Within the Golden Hour (2008) are very similar: storyless chains of pas de deux and group dances in jewel-toned costumes and warm light. I might like one set of costumes more (Caprice has the tennis dresses of the gods; Golden Hour Tarzan/Aladdin/mermaid mash-up unitards, pictured above right), or prefer Wheeldon's Bosso/Vivaldi score to Tomasson's Saint-Saëns, or find Liang's lyrical handling of always-tricky waltz time more convincing than Wheeldon's kitschy pastiche - but none of them grabbed me by the throat and forced me to pick sides, to breathe fast, to care. I'm not sure whether the dancers cared much either; of course they're far too professional to do anything less than their best, physically, but the sparkle of passion and wit that Mathilde Froustey and Frances Chung, say, exhibited in Balanchine's Agon was absent from their performances in Caprice and Symphonic Dances respectively.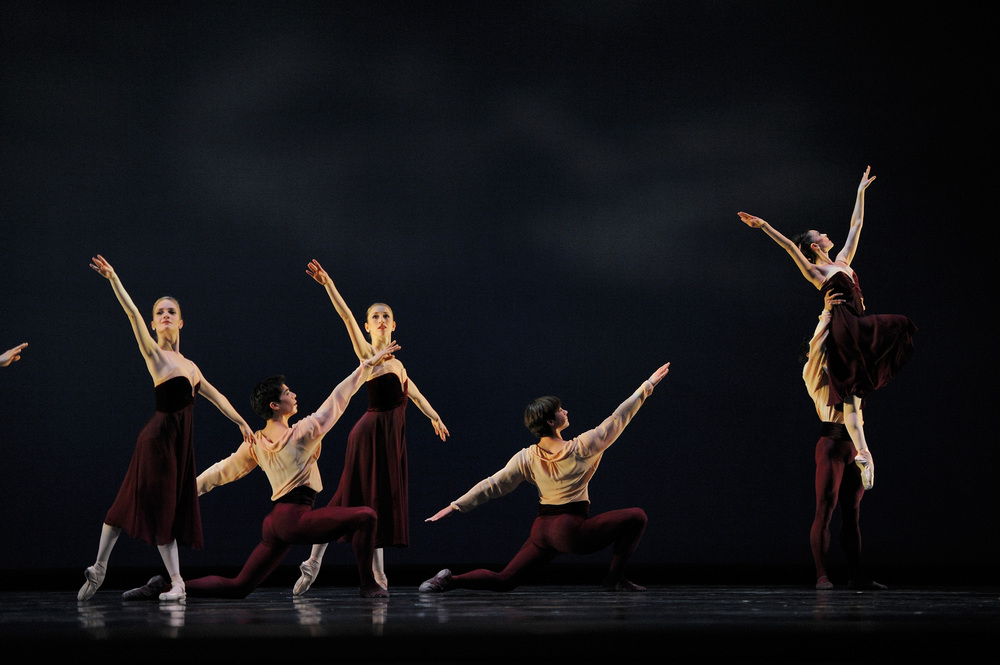 With its plum velvet costumes (pictured left) and lack of story, Mark Morris's 1984 Maelstrom inhabits some of the same, tasteful, territory as the other three (the whirlpool as hot tub, rather than ship-eating, salt-spitting sea terror). But I appreciated the thoughtful quality of its choreography, which matches a Beethoven score (Trio No. 5, op. 70) with the clockwork rhythmicality of ballet exercises. Morris has a gift for choosing just the right gestures – a knee turned in, an ankle flexed, pointes stuttering out to an open fourth – to keep the close correspondence between musical beats and steps on the side of spare simplicity, rather than metronomic tedium. Tedium was averted, too, in the frequent passages featuring Sasha de Sola and Ellen Rose Hummel together, because both dancers seemed so engaged. Little, blonde Sola has every chin-tilt, every wrist-droop perfectly pitched, while equally the diminutive dark-haired Hummel always lifts her chin just a fraction higher and flings her arms out wider. Oddly riveting, their consistently different interpretations are an object lesson in the visual appeal of a little asymmetry every now and then, and in the mental appeal of dancers who exhibit decision and conviction on stage.
The great excitements of the last two programmes at the Théâtre du Châtelet were the outliers, the oldest and the newest pieces on display. Closing on Thursday night, Jerome Robbins's Glass Pieces (1983) might have lost a little energy since Tuesday, but it's still a hypnotic work, and the warm energy of the last ('Akhnaten') section would send any audience out on a high.
What sent me out on a high, however, was Liam Scarlett's new Hummingbird, which received its European première on Wednesday night (having opened in San Francisco at the end of April this year). It's not clear what hummingbirds have to do with Philip Glass's Tirol Concerto, or John Macfarlane's silvery, lunar landscape set, but Scarlett builds from these ingredients a fabulous, compelling visual and emotional world.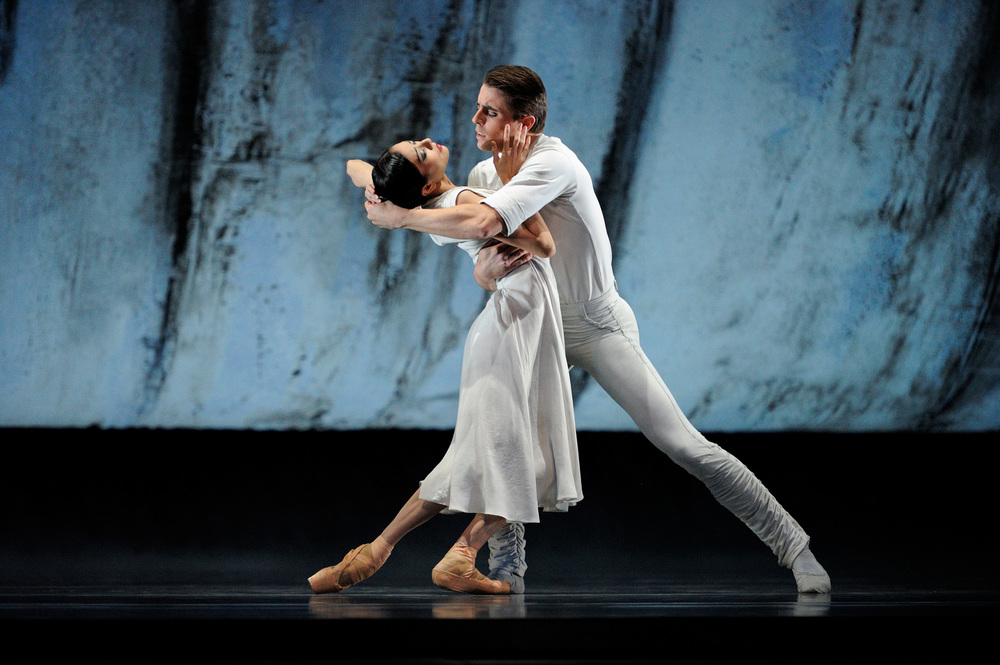 There's a mid-century American flavour in the costumes (comfortable cotton dresses, tights like jeans, open-necked shirts), even in the steps (a little swing dance, a little do-si-do), but the setl is otherworldly, dominated by a ramp and a hanging sail under which the dancers enter and exit (the wings turned horizontal). The relationships on display recall A Streetcar Named Desire: Frances Chung is a Stella figure, charismatic, sensual and only playing at roughness with Gennadi Nedvigin, while exquisite Yuan Yuan Tan reads like poor, forlorn Blanche. An air of age, melancholy and loss pervades her entire duet with Luke Ingham (pictured above right). Maria Kochetkova doesn't fit into the plot, but she and Jaime Garcia Castilla are joyful figures in this barn dance at the end of the universe. Scarlett's pieces can be dark to the point of blackness, but here he animates his intelligent, classical-contemporary choreography with moments of humour and sheer delight – Kochetkova on a 'slide' of male backs (main picture) – as well as the heart-in-mouth drama of Tan and Ingham's duet. Though there's no plot as such, Hummingbird buzzes with human stories: memories, losses, encounters, and the feelings of the dancers themselves, who were unquestionably performing with heart and soul fully engaged. It's stirring stuff, and beautiful.
San Francisco Ballet are always beautiful, and I'd always make time to catch them, whatever city they're in, but the more they can shake and stir, the better!
Scarlett animates his intelligent, classical-contemporary choreography with moments of sheer delight
rating
Share this article