Viscera/Infra/Fool's Paradise, Royal Ballet |

reviews, news & interviews
Viscera/Infra/Fool's Paradise, Royal Ballet
Viscera/Infra/Fool's Paradise, Royal Ballet
Two premieres and a revival make an invigoratingly sharp evening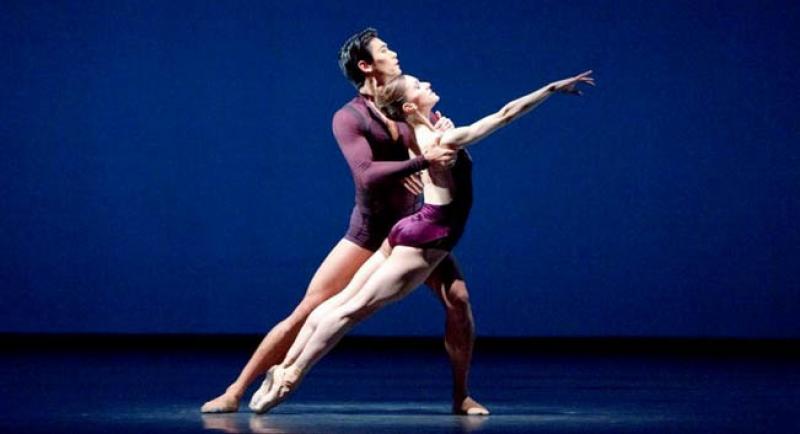 Hauntingly familiar: Marianela Nuñez and Ryoichi Hirano in Liam Scarlett's new Viscera
A new Liam Scarlett ballet has become an event, even as, in this case, Scarlett's home company, the Royal Ballet, is recreating a work he choreographed last January for Miami City Ballet – the young choreographer's first international commission.
In Viscera, Scarlett continues to pay homage to his choreographic masters – previously he has tipped his hat to Ashton and MacMillan. For Miami, directed for so many decades by George Balanchine's great muse Edward Villella, he not unnaturally looks to the American genius. His choice of music – a piano concerto by Lowell Liebermann – sets the tone, with an opening of velocity not unlike Balanchine's Symphony in Three Movements.
Balanchine-style too is the construction, two corps-based outer movements, bookending the adagio centre, which is given over to a couple (the liquid Marianela Nuñez and Ryoichi Hirano, main picture, above), and the appearance – a leotard ballet, in front of a coloured scrim.
While the speed, the attack, the sky-high six-o'clock battements are homage as well, the attention to the upper body, the quirky counterpoised torsos, are entirely Scarlett's own, developing from his Ashton training into an invigoratingly original style of his own.
As we have come to expect with Scarlett, Viscera is filled with striking moments where what had seemed a safe, recognised pattern suddenly becomes unfamiliar, like a dream where time stretches and the faces of friends become Other, as when the corps women, dressed in black, turn away from the soloists, circling, like birds of prey. Or when Scarlett uses his classically centred background in combination with the more energised American style to create a central pas de deux of hauntingly familiar strangeness.
Wayne McGregor's Infra, a grey-and-black hymn to city streetlife, performed under a bobbing Julian Opie light-piece above, gives back less, on repeated viewings. The most resonant image is one of the simplest, with the six couples each isolated in a window-shaped patch of light, together and alone. The Royal's dancers clearly love McGregor's stretched, hitched, quasi-pornographic style, with particular honours going to Edward Watson, Eric Underwood (pictured above with Melissa Hamilton) and Sarah Lamb. It just seems, ultimately, like it might be more fun to perform than to watch. (Although honour makes me confess to being in a minority; the audience roared its approval.)
To me Infra appears merely the lemon-sorbet palate-cleanser between Scarlett and Christopher Wheeldon's Fool's Paradise (below left), which was choreographed originally for his own short-lived Morphoses company, and is now mounted on the Royal for the first time.
The risk Wheeldon runs is always that of appearing too pretty, and Fool's Paradise skates pretty near to the edge, with pinky-goldeny-white ribboned costumes by fashion designer Narciso Rodriguez, a swooping, swoony, filmic score from Joby Talbot, and even gold confetti showering down through lighting designer Panny Jacobus' equally golden haze.
Mimicking the score, Wheeldon's sumptuous waterfall flow of pas de deux and trois allows his choreography to fall into poses rather than movement – you can almost hear the camera clicking. Yet just when it all seems to be surface, a moment of stark architecture unfolds, or a simple, almost naïve movement – the lovely shimmying sideways skip performed by a couple, say – shows that Wheeldon can cut through the sugar to reveal the hard core beneath.
Moments where a safe, recognized pattern suddenly becomes unfamiliar, like a dream where time stretches
Share this article