Carousel, Arcola Theatre |

reviews, news & interviews
Carousel, Arcola Theatre
Carousel, Arcola Theatre
Rodgers and Hammerstein classic sings out with renewed vigour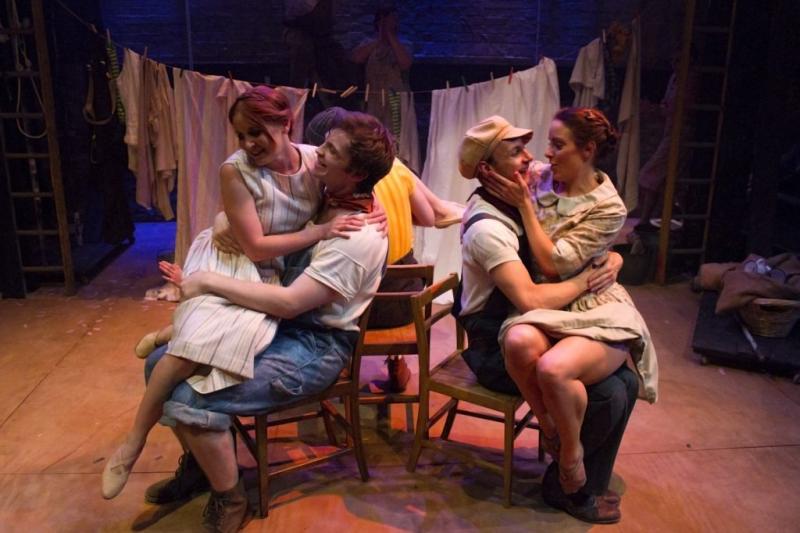 Heaven-sent? The cast of `Carousel', revived anew at the Arcola Theatre
How do you solve a problem like a musical? Rodgers and Hammerstein's ambitious Carousel seems tailor-made for expansive venues like the National Theatre, where Nicholas Hytner memorably revived this show in 1992: diminutive spaces need not apply. But conventional wisdom gets a robust refutation from Morphic Graffiti's reimagining of the 1943 classic at east London's intimate Arcola, proving that, with creative thinking, small venues can pack a mighty punch.
This emerging company's dynamic interpretation also goes some way toward resolving the tension between the show-stopping numbers and the bleak, sometimes wilfully strange story in which they are couched. Luke Fredericks' refreshingly naturalistic staging shifts the coastal action from the 1870s to Depression-era 1930s, thereby upping the stakes for carnival barker Billy Bigelow (Tim Rogers), who turns to crime in a misguided attempt to provide for his family, and providing a grittier context for his doomed romance with millworker Julie Jordan (Gemma Sutton, pictured below). While some songs still bring proceedings to a grinding halt, they do at least grow more organically out of the drama, and Fredericks creates a largely convincing psychological framework for a tale whose reach extends up to the heavens.
Unresolved issues arise when the naturalism bumps up against Billy's redemptive celestial jaunt, and the glossing-over of domestic violence -– Julie, you may remember, lets slip that Billy beats her – jars when such attention has been paid to emotional nuance. Despite some bold leaps, Fredericks is still tethered to the original, as becomes all too clear across nearly three sweltering hours. A few incisive cuts and/or a well-placed fan would be welcome.
And yet, the vibrant troupe mainly distracts from any discomfort in their rigorous commitment to evoking the charms and challenges of life in this New England fishing village, not to mention the colourful escapism of the circus. Excellent support comes from Stewart Charlesworth's ingenious set, a talented five-piece band (with harpist Alex Thomas a standout), and Lee Proud's meaty, expressive choreography – a remarkable feat given so little floor space. Proud creates a propulsive, earthy vocabulary that nonetheless makes room for a beautifully evocative dream ballet; the only drawback, in fact, is an energetic cast sometimes bustin' out a bit too much all over the audience.
Sutton's understated, richly detailed Julie makes a compelling journey from naive lover to world-weary parent, her controlled soprano growing in strength, and she shares a nice chemistry with Rogers (pictured left), who fails to match her vocal prowess but brings a raw charisma to Billy and real empathy to his passionate "Soliloquy". As Julie's brassy friend Carrie and her fisherman-suitor, Enoch, Vicki Lee Taylor and Joel Montague couple superb comic timing with a heartfelt delivery, while Richard Kent and Amanda Minihan shine as Jigger and Nettie, respectively.
This Carousel cannot claim to be flawless, and the rough-and-ready approach may alarm purists, but its vivid immediacy is unquestionably striking, from the joyful wit of the rousing ensemble numbers to moments of well-earned pathos. An exciting experiment, the production suggests that a constricted space is no impediment to satisfying musical theatre.
The rough-and-ready approach may alarm purists, but its vivid immediacy is unquestionably striking
rating
Share this article