Reissue CDs Weekly: Dead Moon |

reviews, news & interviews
Reissue CDs Weekly: Dead Moon
Reissue CDs Weekly: Dead Moon
Clackamas, Oregon's seminal rock trio still sound timeless as they hit the shops again
Dead Moon: Toody (left), Andrew Loomis (centre) and Fred Cole (right) exude an independent-minded, unfettered joy on stage in 1989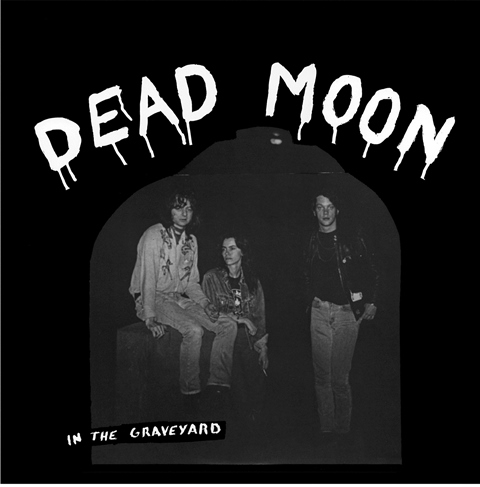 Dead Moon: In the Graveyard, Unknown Passage, Defiance
After a few notes of barbed-wire, bent-string guitar, a descending riff kicks in. It's a relative of the uptempo version of "Hey Joe". The voice starts. It's high-pitched, as if Led Zeppelin's Robert Plant had only Love's Arthur Lee and The 13th Floor Elevator's Roky Erickson as an influence. The lyrics are hard to make out but touch on mean days and a girl who turns the singer cold. He might as well be dead and in a graveyard. The momentum is tempered by a break borrowed from The Elevators' "You're Gonna Miss me". The production is flat with no overdubs.
This slice of primal, timeless rock is "Graveyard", the opening track on Dead Moon's debut album, In the Graveyard. Over their first three albums Fred Cole's Clackamas, Oregon-based Dead Moon delivered 30 wired, wonderful, life-affirming and irresistible tracks where tension and melody were symbiotic. Their peak moment is probably "Walking on my Grave" (listen to it overleaf), from third album Defiance. This trio of essential reissues by one of America's great bands is cause to revel again in this trio's fantastic music: Cole (guitar, vocals), his wife Toody (bass, vocals) and Andrew Loomis (drums on all-but two tracks).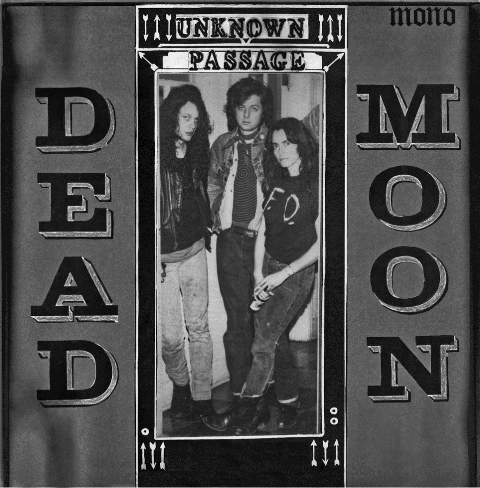 In the Graveyard (1988), Unknown Passage (1989) and Defiance (1990) are reissued as no-frills digi-packs, without liner notes or extra tracks – there probably weren't any of the latter going spare as each album was, along with its related singles, recorded to order. The production is mono and the albums were originally mastered for pressing by Cole himself on 1950's equipment which had been used for The Kingsmens's epoch-defining "Louie Louie". The home-made approach was continued by each being issued on Cole's own imprint, Tombstone Records.
An audience was quickly found, especially in Germany where import copies of In the Graveyard were, in independent terms, a strong seller. There was a ready market amongst those craving rock with an edge and also familiar with Cole's past.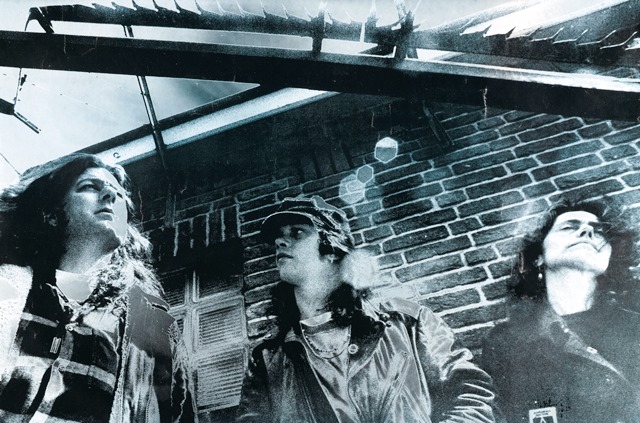 The three albums are part of a continuum. If there were a prize for dogged persistence in the face of mainstream indifference, Cole (pictured right, seen left) would have been awarded it long ago – maybe even in the aftermath of punk's arrival when his band The King Bees happened to support The Ramones. He realised he wasn't alone in his vision of what rock should be but, nonetheless, The King Bees' 1978 single "Hot Pistol" didn't make any waves.
Cole has been at it since 1964, when his first single with the band The Lords was issued on a Las Vegas label. After they fell apart, he formed the decidedly non-flower power Weeds whose sole 45 in 1966 was the crunching, punky "It's Your Time". The name was too similar to Los Angeles band The Seeds, so a change to The Lollipop Shoppe followed. Despite the wimpy handle, their only album was a hard-edged, migraine-afflicted cousin to Arthur Lee's Love.
Exposure on bills with The Doors and Janis Joplin did not make The Lollipop Shoppe famous. After their split, his marriage to Toody Connor (she learnt bass to play alongside him – they were married 47 years ago yesterday) and brushes with draft dodging, Cole and Toody moved to Oregon, ran musical equipment shops and formed a string of bands, some of which tackled country due his disenchantment with how rock was shaping up. He also distanced himself from the punk scene as it became increasingly macho. When he and Toody tackled rock, it was always no-frills and nervy but permeated with the visceral drive of punk. His most recent band was Pierced Arrows. He is the type of person institutions like The Grammys and The Rock 'n' Roll Hall of Fame ought to be honouring, alongside the usual predictable raft of corporate shoe-ins.
His dedication is similar to that to The Flamin' Groovies' Cyril Jordan, another long-term keeper of the flame of straight-ahead rock. His only counterpart in his adopted Pacific Northwest home is the equally wilful Greg Sage, whose band Wipers (their ex drummer Andrew Loomis was in Dead Moon) was massively influential on what would become grunge. Cole was also as integral to the shift in America's music that occurred 1988 to 1991 – the early Kings of Leon obviously shamelessly borrowed wholesale from Dead Moon – yet there was no significant place for him and Dead Moon in the feeding frenzy that followed, which is probably why these seminal, unfiltered albums stand apart, still sound fresh and exude an independent-minded, unfettered joy. Their reissue is also made poignant as Cole was released from hospital afer heart surgery earlier this week. theartsdesk wishes this determined man the best.
Overleaf: Listen to "Walking on my Grave" from Dead Moon's Defiance and watch the trailer for the documentary Unknown Passage: The Dead Moon Story
Listen to "Walking on my Grave" from Dead Moon's Defiance
Watch the trailer for the documentary Unknown Passage: The Dead Moon Story
Dead Moon's Fred Cole should be honoured by The Grammys and The Rock 'n' Roll Hall of Fame alongside the usual predictable raft of corporate shoe-ins
Share this article