Reissue CDs Weekly: Nirvana |

reviews, news & interviews
Reissue CDs Weekly: Nirvana
Reissue CDs Weekly: Nirvana
Overegged anniversary edition of 'In Utero' yields few fresh gems
Sunday, 22 September 2013
Nirvana in 1993: blissfully unware of the 'Super Deluxe Editions' to come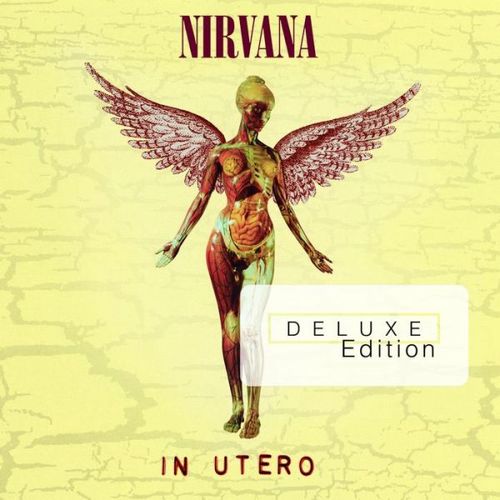 Nirvana: In Utero
Next April marks 20 years since Kurt Cobain took his own life. Paving the way for that tragic anniversary is a reissue of 1993's In Utero, the album which unintentionally became the band's musical epitaph. Their third, it was written and recorded after Nevermind (1991) had pushed Nirvana to world-wide success. The pressures surrounding the creation of In Utero must have been immense and are utterly unimaginable to anyone outside the band or not close to it.
Yet In Utero was and is an incredible album: the full-bore affiliation of Cobain's ear for a pop melody and his fascination with punk, rock and dissonance. It was, he said at the time, the closest Nirvana had come to the sound in his head. Musically and lyrically searingly direct, it followed the stop-gap, demand-for-product-fulfilling compilation Incesticide. In Utero's "Milk It", although about more than marketing, declared, "I am my own parasite, I don't need a host to live", signalled Cobain's views on where Nirvana had arrived. Self-laceration was never far. The album's opener "Serve the Servants" began with the lines "Teenage angst has paid off well, now I'm bored and old".
In Utero was intended to be rougher and tougher than Nevermind. The band's chosen producer – although he has never claimed that as his job title – was Steve Albini, formerly of the teeth-scrapingly abrasive Big Black. He was well-versed in capturing the live dynamics of a band in the studio. Nirvana got who they wanted, but their label also got what it wanted. The album featured 12 tracks, two of which – "Heart-Shaped Box" and "All Apologies" – became singles. Both were remixed by label-favoured producer Scott Litt to make them less sonically uncompromising and consequently more marketable. The album, when released, featured the Litt versions of both cuts.
Bonus cuts ruin the integrity of what was intended as a stand-alone statement
It's therefore richly ironic that this 20th-anniversary In Utero not only gives Albini's original, spikier, versions of "Heart-Shaped Box" and "All Apologies" their first outings but also sports a raft of newly created mixes. Furthermore, this most focused of albums is now a sprawling, multi-disc product.
The new In Utero comes in four formats. A Super Deluxe Edition includes four discs: three CDs and a DVD; a Deluxe Edition of 2 CDs, the first pair from the previous; a Vinyl Deluxe Edition, turning the Deluxe Edition CDs into three albums; and a stand-alone version of the DVD from the Super Deluxe Edition. The DVD is the complete MTV Live & Loud concert, filmed in Seattle on 13 December 1993, which is supplemented by rehearsals for it and mostly fantastic footage from European TV appearances. Disc Three of the Super Deluxe Edition is a wholly superfluous audio-only version of the Live & Loud concert.
As for the album itself, it forms the first dozen tracks of Disc One. The rest of the disc is bonus cuts, ruining the integrity of what was intended as a stand-alone statement – the best plan is pausing the CD after what Nirvana actually wanted you to hear. Then there are the bonuses, some of which merit attention.
Overleaf: read how history has been rewritten and watch the trailer for the In Utero reissue

Surprisingly, stuff remained on the shelf – especially so considering the presence of the 2004 archive-emptying box set With the Lights Out. On Disc Two here, "Forgotten Tune" is a previously unheard instrumental recorded in April 1992 that, although not fully formed, points the way to In Utero. The track following it, "Jam" from November 1992, is less interesting. More fascinating is David Grohl's 1990 demo of "Marigold" which, when completed, ended up on the B-side of "Heart-Shaped Box". It reveals Grohl's nascent talent as a songwriter and shows how he was utterly right for Nirvana – this is a find.
Less essential are the demo (mostly instrumental) versions of the In Utero material which appear on Disc Two. Nonetheless, an early "Scentless Apprentice" underlines that those who knew best what Nirvana should sound like were the band's members.
The most fascinating inclusion is a four-page letter from producer Steve Albini
The most fascinating inclusion is not the supplementary music, Cobain's hand-written lyrics or the very short yet tiresome reminiscence from Bobcat Goldthwait (the package has no liner notes or essay) in the smart book. It's a four-page letter from Albini addressed to all three band members dated 17 November 1992. In it, he laid out the plan of attack for what would become In Utero: "to bang out a record in a couple of days with high quality but minimal 'production' [his quotes] and no interference from front-office bulletheads." He went on: "I'm only interested in working on records that legitimately reflect the band's own perception of their music and existence."
After going through a point-by-point outline of his approach to recording, explaining why Pachyderm in Minnesota is his studio of choice, discussing money and signing off, Albini added a PS: "If a record takes more than a week to make, someone's fucking up." In the end, In Utero was recorded 14–24 February 1993, leading to the inevitable conclusion that someone did, indeed, fuck up.
Which neatly leads to the "2013 mix" of the album on Disc Two. A very hard listen to this new Albini overhaul reveals a greater depth to the sound spectrum than the original album: more presence on the drums, a greater contrast between volume extremes in the vocals and a combination of less toppy guitar with an enhanced role for distortion, whether from feedback or overdriven amps. Apart from the new extreme in the vocals, it focuses on the body of the instruments. It's more tummy rattling than before. As to whether it offers anything new or a brings a fresh perspective on the album? No. It's pointless. Waste no time on it.
Such monkeying with history goes even further. The B-sides and comp tracks "I Hate Myself and Want to Die", "Moist Vagina" and "Sappy" are not heard in their original form, but only as new 2013 mixes. The original versions of "Gallons of Rubbing Alcohol Flow Through the Strip" and "Marigold" make the grade however.
What all this revisionism is about is impossible to determine. No reason was given in the press material and beyond noting that these were new mixes in the final package's annotation, no explanation is offered there.
Go for the 2CD version if you must. But take care.
Watch the trailer for the In Utero reissue
It's richly ironic that this most focused of albums is now a sprawling, multi-disc product
Share this article