Mr Burns, Almeida Theatre |

reviews, news & interviews
Mr Burns, Almeida Theatre
Mr Burns, Almeida Theatre
A startling vision of a post-apocalyptic world dominated by The Simpsons
The cast performs a musical number in a replica of Marge Simpson's car
In creating Mr Burns, Anne Washburn was trying to answer a question overlooked by most purveyors of dystopian fictions: what would happen to pop culture after an apocalypse? The physical and emotional challenges of life after civilisation have been endlessly explored, but very little attention has been paid to the fate of the ever-evolving collection of stories that we carry inside our heads.
As its title hints, this play deals with one particular set of stories: plots from The Simpsons, Matt Groening's landmark animated sitcom about a dysfunctional American family, which first aired in 1987. Divided into three acts - set in "the very near future", "7 years after that", and "75 years after that" - Mr Burns contains an oral history of the show, albeit a twisted, unreliable one.
Is it too ironic, too down-with-the-kids, to make for appealing drama?
If you grew up devouring re-runs of The Simpsons, you will instantly recognise the trading of quotes and impressions that goes on around the fire in the first act from every school break-time and teenage house party you ever attended. The characters, survivors of an unspecified nuclear disaster, huddle around a fire, retelling the plot of "Cape Feare", an episode from the show's fifth series in which deranged clown Sideshow Bob plots and attempts the murder of Bart Simpson.
The choice of episode is crucial, for "Cape Feare" is itself a palimpsest of cultural allusions - it's an extended parody of Martin Scorsese's 1991 remake of the original 1962 film Cape Fear, as well as referencing a number of film characters such as A Nightmare on Elm Street's Freddy Krueger and Robert Mitchum's serial killer priest from The Night of the Hunter. It also contains snatches of Gilbert and Sullivan's operettas The Mikado and HMS Pinafore, which Washburn's characters sing to each other with great relish. In fact, the original music by Orlando Gough and Michael Henry, which by the end forms a kind of operetta featuring snatches of everything from Daft Punk's "Get Lucky" to Ricky Martin's "Livin' la Vida Loca" to - appropriately enough - Britney Spears' "Toxic", is one of the best bits of the production.
It would be wrong to suggest that Mr Burns is merely a nostalgia vehicle, though. Rather, Washburn uses the familiarity of the Simpsons material to emphasise how precarious life in this post-apocalyptic world is. When a newcomer joins the group in Act I, the group goes through a heartbreakingly formal ritual of repeating the names of loved ones to him in the hope that he has word of them. Seven years later in Act II, Simpsons quotes have become a commodity in the new economy, traded and purchased and stolen. Even the half-remembered commercials during episodes have become something to lovingly recreate (as by Demetri Goritsas and Wunmi Mosaku, pictured right). This lays bare the desperation to cling onto any pre-disaster memory, no matter how banal.
The stumbling block for Mr Burns was always going to be the specific nature of its references - is it too ironic, too down-with-the-kids, to make for appealing drama? Certainly, for the non-Simpsons-devotees in the audience, elements like Adrian der Gregorian's excellent Sideshow Bob impression or the rakes left strategically on the stage during the interval won't add much. But after 25 years and over 500 episodes that have penetrated deep into our comedy and our language, it's not hard to imagine that The Simpsons would be the one thing to survive the arbitrary brutality of an apocalypse. If you're looking for grand insights into the human condition, there are few to be had here. As Homer Simpson once said: "It's just a bunch of stuff that happened."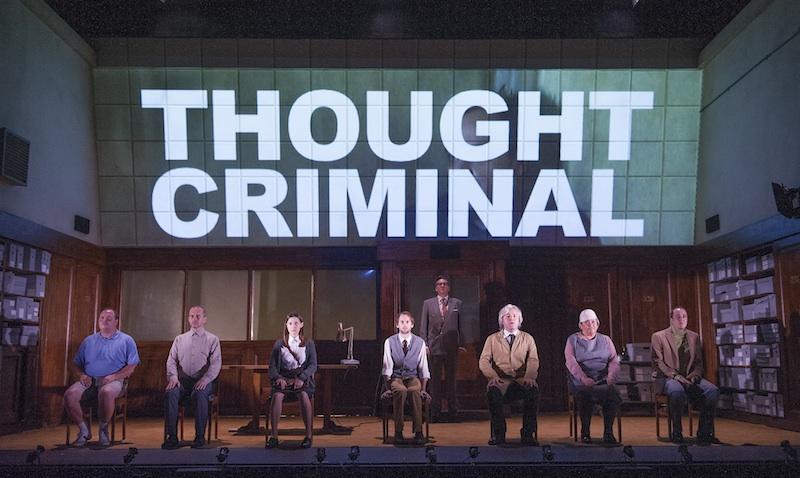 ROBERT ICKE: HIS CAREER SO FAR
Boys. Ella Hickson's new play is fuelled by testosterone but floats on nuance
1984 (pictured by Tristram Kenton) Headlong's adaptation of George Orwell's novel is a theatrical coup
Oresteia. Lia Williams stands firm on the bones of Aeschylus in uncertain makeover
Uncle Vanya. Robert Icke's lengthy revival/reappraisal is largely a knockout
The Red Barn. David Hare's latest is a superb adaptation of a Simenon thriller
Mary Stuart. Juliet Stevenson and Lia Williams electrify as four Schiller queens
Hamlet Predictably unpredictable performance from Andrew Scott subject to Icke's slow-burn clarity
The original music is one of the best bits of the production
rating
Explore topics
Share this article