British Folk Art, Tate Britain |

reviews, news & interviews
British Folk Art, Tate Britain
British Folk Art, Tate Britain
A glorious array of fabulous things without pretension, side or subtext
A display of 19th-century trade signs
I agreed with some reluctance to review British Folk Art, since I anticipated an overdose of quaint charm, naive whimsy and endearing eccentricity. You know the kind of thing – fire screens embroidered with overblown flowers and paintings of fat porkers, faithful dogs or stallions galloping like rocking horses.
I needn't have worried; some naive paintings are included along with embroidery samplers and patchwork quilts, but predictable items like these are offset by a stunning array of ship's figureheads and trade signs including a cobbler's boot (pictured below), a locksmith's padlock and key, a hat maker's top hat, an apothecary's pestle and mortar, and a goldbeater brandishing a hammer – powerful presences that quash any upwelling of gooey sentimentality.
I also learned some interesting facts: the three golden balls indicating a pawnbroker's shop are derived from the family crest of the Medicis, the banking dynasty famous for their patronage of Renaissance art, while the bear indicating a barber's shop refers to the bear grease pomade used on clients' hair. Why tobacconists advertised their trade with carved wooden figures such as highlanders, blackamoors or North American Indians remains a mystery, though.
Alongside these sculptural marvels are painted signs for shops, inns and services. Most extraordinary is a delicate, banner-shaped design by Mr Richards, demonstrating his expertise in making fine pictures from hair. George Smart, a tailor working near Tunbridge Wells in the early 19th century, ran a flourishing sideline in collages of local characters, such as the postman and a bonneted goosewoman, made from bits of paper and scraps of cloth.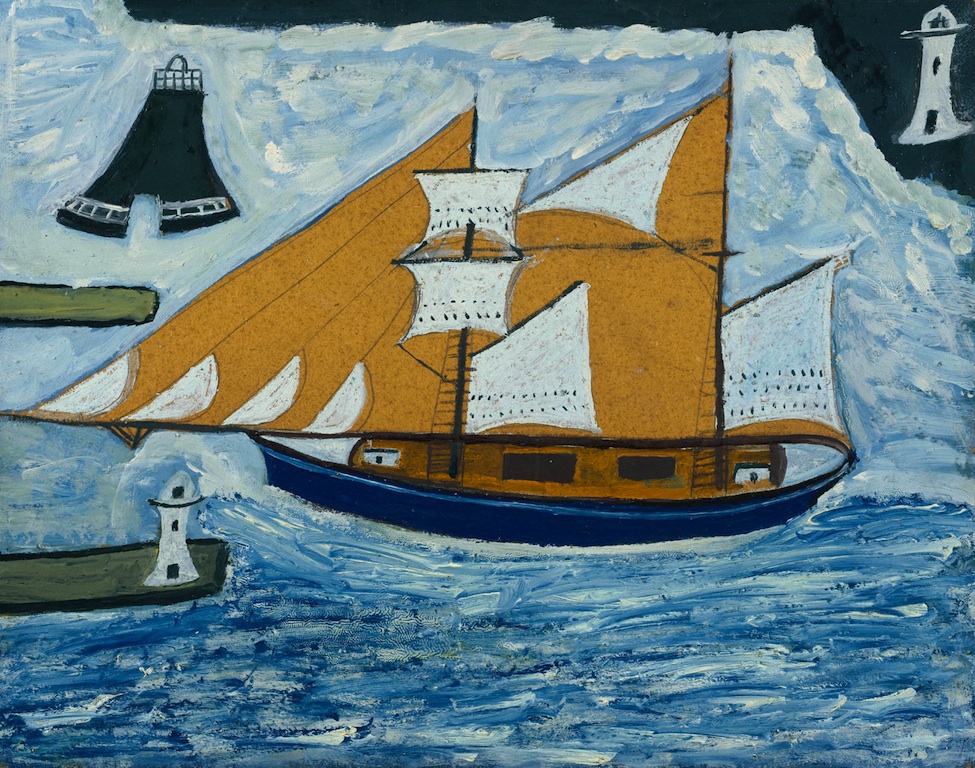 One of the most interesting revelations is that Alfred Wallis, the St Ives rag and bone merchant "discovered" in 1928 by Ben Nicholson and Christopher Wood, was in no way unique. His paintings of ships (pictured above: The Blue Ship,1934; © Tate) were avidly collected and promoted by the modernist art coterie; Barbara Hepworth and Adrian Stokes gave examples to the Tate, while Nicholson ensured Wallis was represented in the Museum of Modern Art, New York.
Work by this celebrated "primitive" is shown alongside paintings, and pictures stitched from wool by sailors during long voyages, which indicate that Wallis was by no means an isolated eccentric but part of a long and flourishing tradition. Mariners also passed the weary hours carving whales teeth and bones, making collages and ships-in-a-bottle and doing decorative shell work, none of which are included. The curators obviously didn't visit my favourite place, the Glandford Shell Museum in Norfolk, which contains an astonishing array of artefacts made from, or encrusted in shells.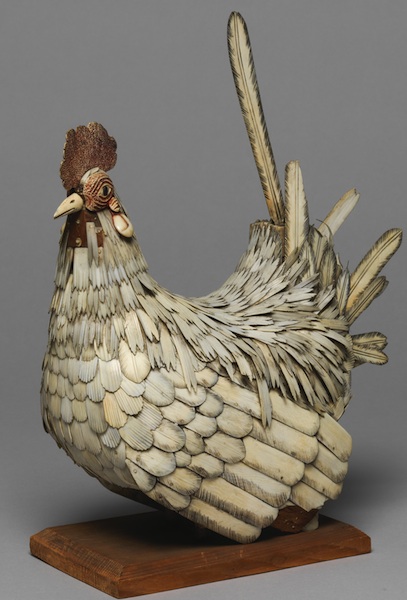 Enforced idleness is a sure fire spur to creativity. A violin and an exquisite cockerel (pictured right) made from bone by French prisoners of war, incarcerated between 1797 and 1814 in the Norman Cross Depot near Peterborough, are all the more remarkable for being crafted without proper tools.
The lavishly illustrated scrap books with which bored gentlewomen filled their empty hours are missing from the exhibition. Instead we have the work of Mary Linwood, who from the 1780s until her death in 1845, enjoyed an international reputation for her needle paintings. These embroidered copies of old masters commanded high prices and were on permanent display in a gallery in Leicester Square. Despite their extraordinary finesse, though, her embroidered renditions of brush marks are rather creepy; she has fallen into obscurity, probably because her work is too sophisticated to be categorised as folk art and not original enough to be considered fine art.
As Alfred Wallis so aptly demonstrates, such definitions are contested territory; so is the distinction between folk art and craft. Quilts are an interesting case in point, especially when they are hung on the wall like canvases. In The Drunkard's Path Quilt, made in Co. Durham in the late 19th century, a bright red jigsaw of irregular shapes is superimposed to dramatic effect over the repeat pattern of the stitching. To our eyes the red stripes of the Northumberland "Strippy" quilt resemble an abstract painting, a frame of reference not available, of course, to the Victorian women who made this handsome item.
The exhibition opens with a visually more complicated quilt made by Herbert Bellamy and Charlotte Alice Springall during their year-long engagement in 1890-1. What a superb way to find out if you are compatible! A rich blue velvet border surrounds five panels decorated with gold stitching and appliquéd with domestic items such as a kettle, coffee pot, jug, bowl, chair and house, with body parts reminiscent of votive offerings and with birds and animals such as a tiger, elephant, peacock, chicken, duck and cow. At the centre of this inventory of shared interests is a comic strip featuring the popular cartoon character, Ally Sloper. This gorgeous affirmation of mutual affection is rounded off with the couple's initials and cryptic comments such as NIL DESPERANDUM (do not despair).
Missing from the show are fairground signs and carousel horses; there are no gypsy caravans or their furnishings, nor the almost ubiquitous rag rugs, doilies and antimacassars. To include everything would have been overwhelming, of course, and where you draw the line is an issue constantly addressed in the accompanying catalogue, along with the question of how you categorise all this wonderful stuff and what happens to our perception of it when it is shown in a fine art context.
Generally speaking, the curators have chosen items intended to be looked at rather than used, though this definition gets shaky especially when it comes to the quilts. I sense a certain nervousness about whether it is appropriate to put artefacts like these on display in the Tate and the exhibition feels a bit like a test run, a hesitant move towards including folk art in the permanent collection.
And why not? Providing a wider social and cultural context for the nation's paintings and sculptures would surely bring everything to life, while fascinating cross-overs like Mary Lingwood's embroideries would open up the debate as to where fine art ends and folk art begins. I'm all for it.
The exhibition feels like a test run, a hesitant move towards including folk art in the permanent collection
Explore topics
Share this article