Donose, Philharmonia, Gardner, RFH |

reviews, news & interviews
Donose, Philharmonia, Gardner, RFH
Donose, Philharmonia, Gardner, RFH
Only the visionary gleam is lacking in a well-sculpted Elgar First Symphony
Edward Gardner: well-sculpted Elgar
Arise, Sir Edward – Gardner, not Elgar, whose First Symphony the former conducted last night. Well, maybe a knighthood's too premature; although the daft honours system has rewarded others in the operatic world for less, and Gardner has already served two brilliant terms at Glyndebourne Touring Opera and ENO, there was just one aspect of the symphony that he didn't seem quite to get last night.
It was the visionary gleam, its flipside the pain of the composer's tortured introspection, which he missed by a centimetre and which knights of greater experience like Sirs John Barbirolli, Adrian Boult, Bernard Haitink, Charles Mackerras and Andrew Davis, as well as the last great interpreter I heard live with the Philharmonia in this colossal masterpiece, Vladimir Ashkenazy, have understood so perfectly. The most bittersweet slow movement squeezed out not a single tear from me last night: a unique experience. Maybe it was just a hint too knowingly sculpted, the near-silences well manoeuvred but not deeply felt.
Which is not to say that Gardner's flexible technique and absolute assurance didn't win him his wings in the turbulence that follows the assured motto theme of the first movement, the helter-skeltering towards march mania in the scherzo and the last victory charge. And one last-minute bid for deeper emotion came as the finale's Wagnerian wanderer is smoothed out into poignant lyricism - never better done, in my experience, than this. Gardner had moulded the Philharmonia strings towards ideal shapeliness and emphasis, second violins crucially to the right in Elgar's wonderful writing for them, cellos centre left, vital double basses behind them on that side (especially theatrical in dialogue with trombones to the right in earlier Berlioz and Wagner – a Rienzi Overture with the perfect early-romantic melody unfurled to noble perfection).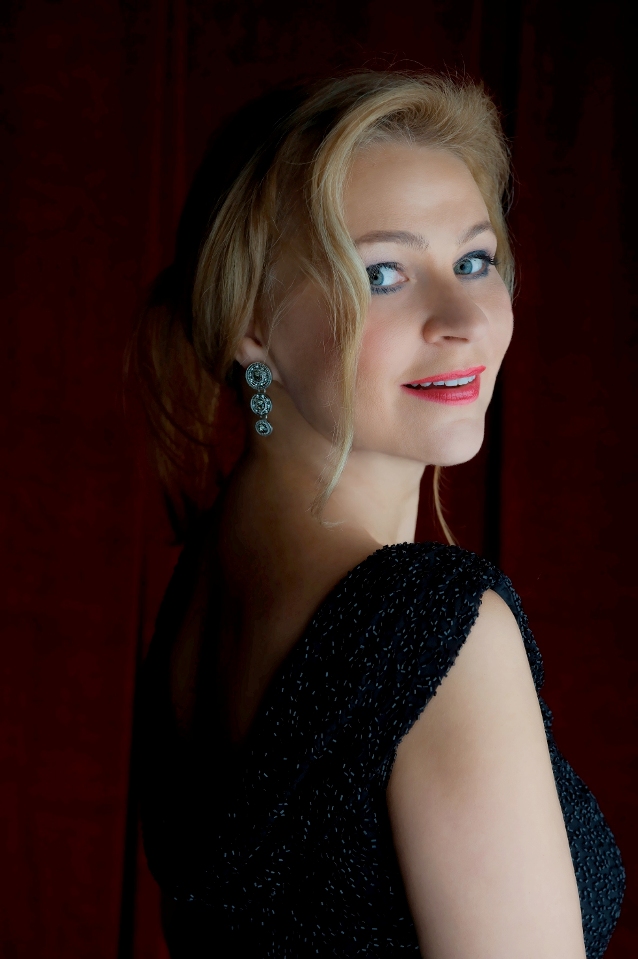 I'm also tempted to say that the Philharmonia brass department is the most sophisticated among London's orchestras, creating in their bigger choruses and rampages the illusion of a resonance which the Festival Hall doesn't actually have. Earlier, the orchestral handsomeness was met but not quite matched by Romanian mezzo Ruxandra Donose (pictured right by Nicolae Alexa) in Berlioz's stupendous early bid for the Prix de Rome La mort de Cléopâtre.
His Egyptian queen is not so much a serpent of old Nile as an African lioness, and Donose's regal bid was just one size too small, without the voluptuous chest tones which still resonate in my ears from Scot Karen Cargill's peerless recording with Robin Ticciati and the Scottish Chamber Orchestra. Donose had all the right moves, though – and the dress played its glittering part, designer of the Novaya Opera's crass orientalia please note – and clasped an invisible asp to her breast at Berlioz's startling orchestral shriek.
The stars, though, were the double basses, plucking support for the trombones in the invocation to Egyptian ancestors, throbbing and ebbing away in the bleakest, most extraordinary death music ever composed. No-one had outstripped Berlioz in orchestral imagination before, none has done more since, and Gardner made the orchestra play it to the hilt. So conducting-wise this was an augury of electrifying things to come in June when he conducts perhaps the ultimate adolescent rebellion opera, that total masterpiece Benvenuto Cellini, in partnership with the wonderful Terry Gilliam.
One last-minute bid for deeper emotion came as the finale's angular Wagnerian wanderer softened into poignant lyricism
rating
Share this article