Nurses go to war in The Crimson Field |

reviews, news & interviews
Nurses go to war in The Crimson Field
Nurses go to war in The Crimson Field
BBC One's upcoming Great War nursing drama depicts life behind the front line
Hermione Norris (left) as Matron Grace Carter and Kerry Fox as Sister Margaret Quayle prepare to admit casualties
It's going to be a long slog through the mud and blood of the Great War commemorations, but we're going to learn a lot along the way. Coming up next month on BBC One is The Crimson Field, a new drama about nurses on the Western Front in 1915.
Specifically, the action takes place in the fictional Hospital 25A near
É
taples, where battlefield casualties find themselves being tended by a mixture of stalwart career nurses and the inexperienced young woman of the Voluntary Aid Detachment (VAD).
Boasting a 24-carat cast which includes Suranne Jones, Hermione Norris, Oona Chaplin (pictured below), Kerry Fox and Kevin Doyle - best known as Mr Molesley, the other butler in Downton Abbey - the series will portray the mounting horror of a war characterised by unimaginable numbers of casualties suffering wounds of a kind hitherto rarely seen. Meanwhile, in the relationships between the very different women thrown together by this historic cataclysm, the vague outlines of a new and different world can be glimpsed taking shape.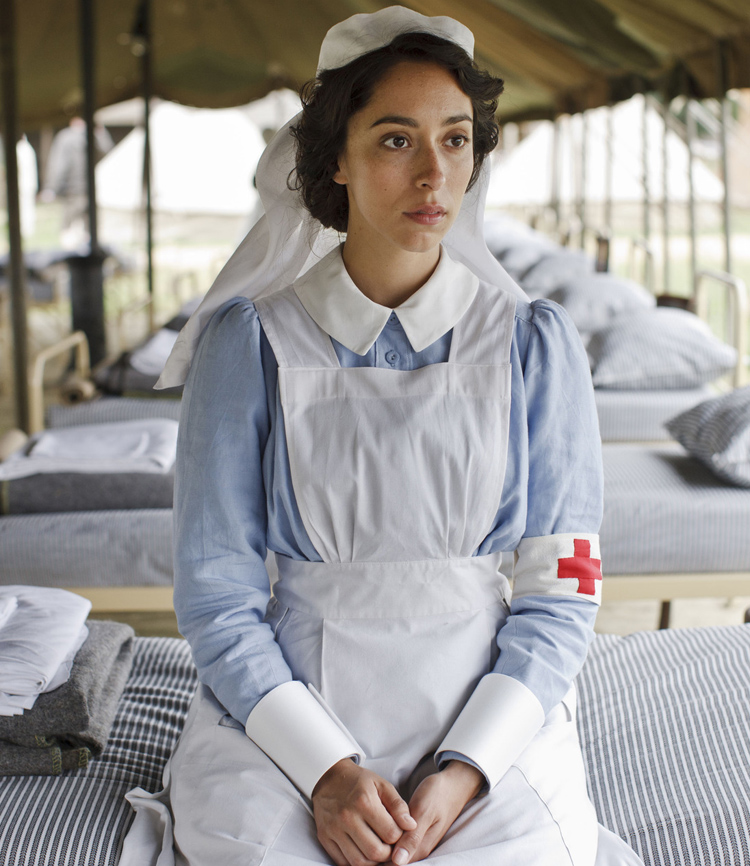 The Crimson Field has been created and written by Sarah Phelps, whose credits include the BBC's 2011 adaptation of Great Expectations and a long string of episodes of Eastenders (including the death of Dirty Den). During her research for the series, she found her initial interest in the Great War blossoming into a fully-fledged obsession.
"You feel you know a lot about the First World War, the injuries and casualties and terrible deaths, but I'd never even thought about the women who'd done the nursing," Phelps admits. Then she read historian Lyn MacDonald's book The Roses of No Man's Land, which "opened a door on to both the military nurses and also these girls who came from these Edwardian drawing rooms and were thrown into this extraordinary explosive and horrifying and exhilarating world."
Thus, Hospital 25A is populated by such stern professionals as Hermione Norris's tight-lipped Matron, Grace Carter, and Kerry Fox's regal Sister Margaret Quayle. They're joined by the VADs, who include eager, naive Flora (Alice St Clair), the prim Rosalie (Marianne Oldham), and Oona Chaplin's aggressively independent Kitty.
Suranne Jones's Sister Joan Livesey makes a dramatic arrival late in episode one, riding a motorbike and sporting progressively short hair (pictured below). "She's quite modern, she's a suffragist, a forward thinker," says Jones of her character. "She thinks it's wonderful that there are VADs, and they should have more work and more chores and be more hands-on. She clashes with Margaret's rules and regulations, so she causes a bit of astir."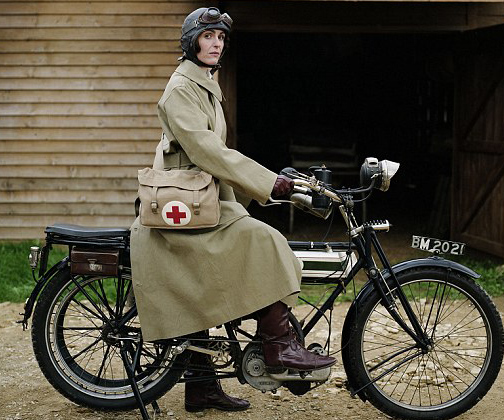 Hermione Norris adds that "I've always had a passion about World War One, it's an absolutely fascinating period of history and a time of huge social change for women in particular. But this wasn't really gender-based for me, it was Sarah's script. The characters were so beautifully drawn. It wasn't about whether this was about the men in the trenches or the women in the field hospital. It was quite visceral and real and it really spoke to me."
After the war ended in 1918, women over 30 were given the vote. It was hardly a case of "job done" though, warns Phelps.
"It was kind of a trade-off, because nobody went 'up the women!' in 1918. They were all back to being barefoot and pregnant in the kitchen so the men could have the jobs back."
The Crimson Field will be broadcast on BBC One in April