Ruin Lust, Tate Britain |

reviews, news & interviews
Ruin Lust, Tate Britain
Ruin Lust, Tate Britain
Poignant, seductive, melancholic – the thought-provoking power of ruins
'The Destruction of Pompeii and Herculaneum' (1822) by John Martin
The first room of Ruin Lust is a knockout. Three large-scale pictures indicate the enduring fascination that ruins have held for artists over the centuries. John Martin's apocalyptic view of Vesuvius smothering Pompeii in a vast cloud of volcanic ash (main picture) is like a vision of Hell. The engulfing dust storm is shaped like a fiery grotto – seductive yet repellent. In its fleshy recesses, the erupting volcano appears like a fire-spurting nipple, while the flames reflected in the water tinge the sea blood red, making it impossible to distinguish the actual waves from the lava swamping everything in its path. In the foreground is a straggle of traumatised people fleeing this seething maelstrom.
By comparison, Jane and Louise Wilson's 2006 photograph (pictured below) of a decaying World War Two bunker in Azeville (2006), France is stark, brutal and grey. Yet this louring hulk could also be the gateway to Hell. Streaked with mould and tufted with encroaching vegetation, the concrete edifice is a monument to human stupidity; it is also an ironic reminder that the brutalist architecture which sprang up after the war, as an embodiment of socialist ideals, had military origins.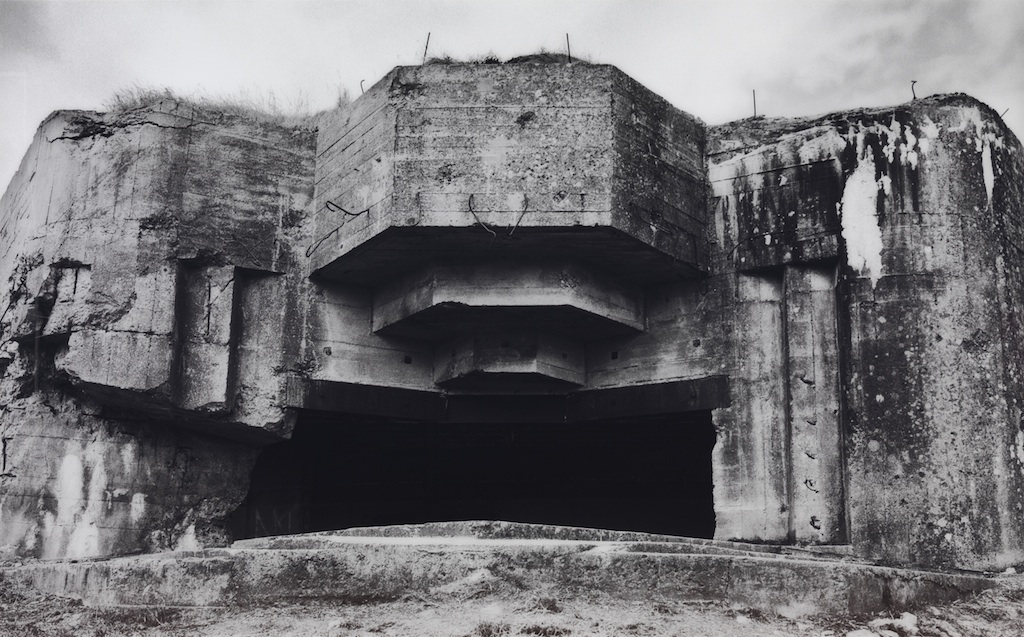 John Constable's Sketch for Hadleigh Castle (1829) is similarly grey, but unlike the deathly stillness of the Wilsons' photograph, which suggests the slow but inexorable march of decay, the canvas is alive with dancing brushmarks. Standing on a bluff overlooking the sea, the ruined castle is exposed to the elements. The artist's wife had died a few months earlier and the painting is often seen as an expression of his desolation, yet the picture pulsates with energy. Scudding clouds, shafts of sunlight and skittering birds create a strong sense of immediacy; you can almost feel the breeze ruffling your hair. But the blustery weather also evokes an awareness of time as a restless continuum of successive moments, cruelly indifferent to the past it erases.
Juxtaposing old and new work, the exhibition goes on to show the many ideas expressed over the centuries through images of ruins. In the 18th century the fashion was to adorn one's country estate with artificial ruins. This maudlin fascination was boosted by William Gilpin's writings on the picturesque, which encouraged artists like Turner and John Sell Cotman to paint deliciously atmospheric watercolours of crumbling edifices (pictured left: JMW Turner's Tintern Abbey, 1794). In the 1980s Keith Arnatt visited many of the sites mentioned by Gilpin, which have since been designated as Areas of Outstanding Natural Beauty. His photographs show them blighted by hideous modern eyesores including waste bins, fences, ugly signage and kids' climbing frames.
In 1830 John Soane commissioned Joseph Gandy to produce a watercolour celebrating the completion of the Bank of England (pictured below right). Gandy's view of the building as a ruin is a cunning device to reveal the complex interior, but is also an extraordinary act of hubris suggesting that the building is destined to become an emblem of Western civilisation, on a par with the classical ruins Soane emulated in the design.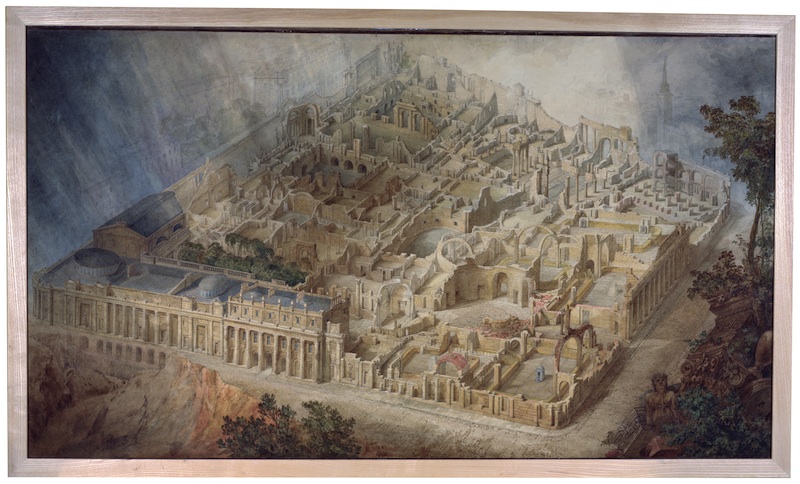 Some 50 years later, Henry Dixon recorded numerous buildings for the Society for Photographing Relics of Old London. These included galleried coaching inns like the King's Head which, made obsolete by the arrival of the railways, had deteriorated into slums and were due for demolition. Over 100 years later, Rachel Whiteread recorded the demolition of two tower blocks on the Clapton Park Estate in east London. Her euphoric photographs (pictured below left) are a stark reminder of the failure of many postwar housing schemes to deliver desirable living conditions.
Keith Coventry's 1994 bronze casts of saplings destroyed by residents on the Burgess Park and Queens Road estates in south-east London are not just records of vandalism. Bronze is associated with memorials to the heroic dead and postwar estates like these were designed to provide "homes fit for heroes" – housing for the families of servicemen returning from the war. Coventry's sculptures bear ironic witness to the spectacular failure of these utopian schemes.
Also from the mid-1990s are Jon Savage's black and white photographs of scruffy corners of London, such as the scrapyards and vacant lots being swept away by the gentrification that is tidying up the city and editing out the unexpected. They filled me with nostalgia for these overlooked and unloved nooks and crannies, and the delights hidden there. My fascination with dereliction is fuelled by memories of the many bomb sites still around in my childhood. Seeing wallpaper flapping in an interior that was once somebody's bedroom or a mantelpiece clinging 30 feet up to a blasted expanse of wall was a magical experience, especially for a child too young to grasp the significance of the destruction.
Such surreal melancholy is perhaps a key to the enduring fascination of ruins; despite being emblems of failure or death, the disasters they encapsulate are far enough removed from the experience and understanding of those who discover them to allow them the unfettered projection of their own thoughts and passions.
In Eileen Agar's Marine Object (1939, pictured right) the neck of a Greek amphora covered in barnacles from centuries spent underwater has been further adorned with shells, a skull and a ram's horn. This collage of found objects is a poetic meditation not just on death and the items we leave behind – whether bones, shells, artifacts or buildings – but on the powerful hold that such relics exert on the imaginations of the many generations who come afterwards.
My fascination with dereliction is fuelled by memories of the bomb sites still around in my childhood
Explore topics
Share this article
Subscribe to theartsdesk.com
Thank you for continuing to read our work on theartsdesk.com. For unlimited access to every article in its entirety, including our archive of more than 10,000 pieces, we're asking for £3.95 per month or £30 per year. We feel it's a very good deal, and hope you do too.
To take an annual subscription now simply click here.
And if you're looking for that extra gift for a friend or family member, why not treat them to a theartsdesk.com gift subscription?