Depeche Mode, LG Arena, Birmingham |

reviews, news & interviews
Depeche Mode, LG Arena, Birmingham
Depeche Mode, LG Arena, Birmingham
Electro-blues from Basildon's finest quietly hits the spot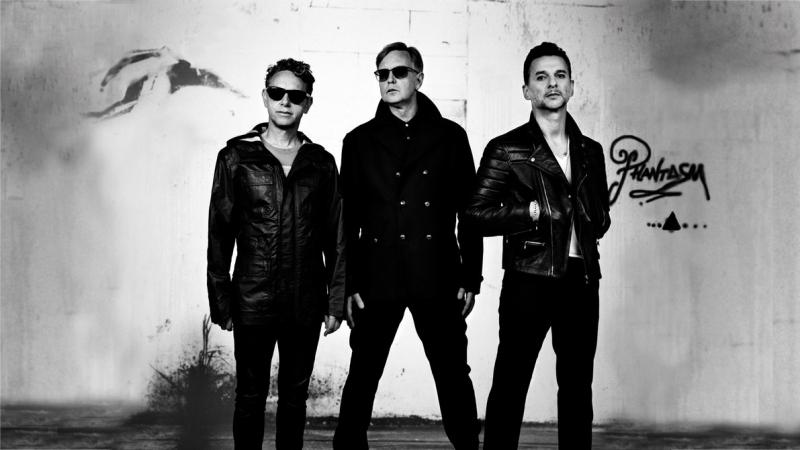 Depeche Mode: triumphant when loud enough
Once upon a time, there was an assumption that the DJs and remixers who emerged in the late 1980s would kill off touring bands like Depeche Mode. As it turns out, nothing could be further from the truth and 34 years since they first got together, Basildon's finest are not only still providing remixers with plenty of raw material for their craft, but they are reproducing their recreations in the live arena.
Last night, Depeche Mode not only played classic after classic in their original recorded form, but also a couple of re-arrangements by way of Goldfrapp's understated reworking of "Halo", from the 1990
Violator
album, and Jacques Lu Cont's re-imagining of "A Pain That I'm Used to".
Dark and electro-blues-tinged as it was, most of Depeche Mode's set was culled from the Alan Wilder years of the mid-1980s to the early 1990s, which took in such classic albums as Music for the Masses, Songs of Faith and Devotion and Violator. "Black Celebration", "Policy of Truth", "Behind the Wheel" and "Personal Jesus" had the audience of 40-somethings bopping along, hands outstretched towards the stage. Dave Gahan, meanwhile, camped it up, shed his shirt more than once and twirled his microphone around in best Rod Stewart style. Not bad for a man who has cheated death more times than just about anyone who has not been in a war zone.
There was also plenty of room for a generous helping from Delta Machine, last year's well-received return to form. In fact, the band opened the show with "Welcome to My World" and "Angel", before reaching back to "Walking in My Shoes" from 1993's gospel-influenced Songs of Faith and Devotion album. Later, they also took in "Should Be Higher" and "Heaven". So, it wasn't the nostalgia show that the band could easily have done and still kept everyone happy.
It was the triumphant last few songs that seriously got the crowd going bonkersThe surprise of the evening was the torch-song intimacy of Martin Gore's slot behind the microphone, with only an electric piano as accompaniment. Taking in tunes such as "Slow", "But Not Tonight" and, during the encore, "Shake the Disease", he came across like Marc Almond but with the high camp dialled down a bit and had the crowd eating out of his hand.
Nevertheless, it was the triumphant last few songs that seriously got the crowd going bonkers, largely because it took until then for the volume to reach an appropriate level for a barn the size of the LG Arena. "Just Can't Get Enough" from 1981's Speak and Spell had Gahan spinning around the stage like some kind of tattooed toreador and "I Feel You" and the anthemic "Never Let Me Down" topped off a cracking evening. It's just a pity that it took so long for the volume to rise to the occasion.
This wasn't the nostalgia show that the band could easily have done and still kept everyone happy
rating
Explore topics
Share this article