Timeshift - How to Be Sherlock Holmes, BBC Four / Sherlock, BBC One |

reviews, news & interviews
Timeshift - How to Be Sherlock Holmes, BBC Four / Sherlock, BBC One
Timeshift - How to Be Sherlock Holmes, BBC Four / Sherlock, BBC One
A history of Holmes from silent screen to 21st century, and an unsatisfying 'Sherlock'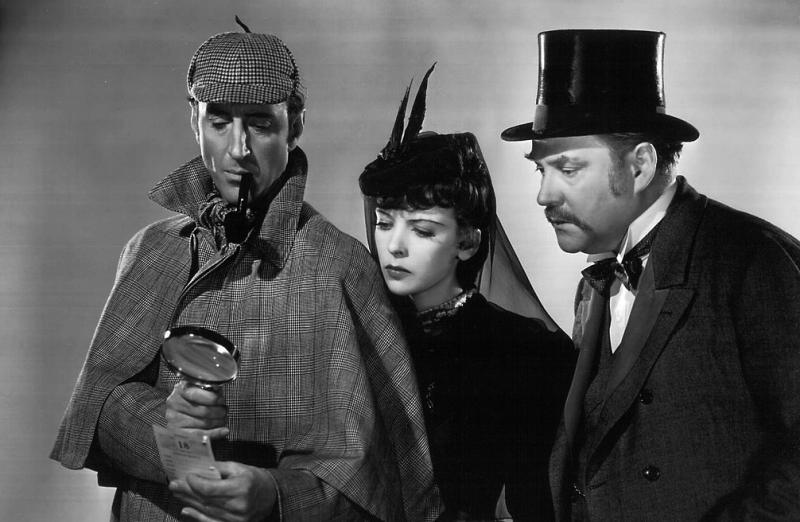 Basil Rathbone (left) as Sherlock Holmes, with Ida Lupino and Nigel Bruce
As Benedict Cumberbatch's Sherlock reached the end of its latest brief span, Timeshift [****] surveyed the history of dramatic interpretations of Baker Street's finest with a wry eye, in a narrative sprinkled with nutritious facts and anecdotes.
The account by Margaret Robinson from the Hammer Films art department of how she designed the latex horror mask for
The Hound of the Baskervilles
(the title role was played by a Great Dane called Colonel) was notably priceless.
Aided by zesty interviews with Christopher Lee, Tim Pigott-Smith, PD James and more, and pinned together by an outrageously fruity narration from Peter Wyngarde, what the film emphasised above all was the marvellous elasticity of Arthur Conan Doyle's creation, and the way that something about Holmes has left him equipped for perpetual reinvention down the decades. The traditional package - deerstalker, pipe, cape, violin and aquiline profile, as depicted in Sidney Paget's original illustrations in the Strand Magazine - still survives intact despite the popularity of recent updates like the Cumberbatch version or the Robert Downey/Guy Ritchie cartoonification. Holmes is the past, present and future Great Detective.
It was in 1899 that the American actor William Gillette first brought Holmes to the stage. Gillette also starred in Sherl's first film incarnation in 1916, but that has been lost, and it's the string of silent pictures starring British actor Eille Norwood that stand as the earliest sightings of Holmes on screen. The ante was upped big time when Hollywood selected Basil Rathbone to portray the insuperable sleuth, who not only seemed to be Paget's drawings brought to life, but brought an air of brusque authority and splendid actorly diction. He was "very smooth and cool, sort of a Bond figure," as Cumberbatch put it.
There were subsequent memorable performances by Peter Cushing, Douglas Wilmer, Nicol Williamson and (still an all-time favourite) Jeremy Brett (pictured above), while Billy Wilder's The Private Life of Sherlock Holmes, starring Robert Stephens and Colin Blakely, was acclaimed as "a masterpiece" by Mark Gatiss. However, it was the 1942 Basil Rathbone movie Sherlock Holmes and the Voice of Terror which had given Steven Moffat, Gatiss's co-conspirator, some cues for the third and final episode of BBC One's Sherlock, subtitled "His Last Vow" [***].
The Voice of Terror was an unabashed chunk of anti-Nazi propaganda, and ended with a Churchillian speech from Rathbone about "an east wind coming... such a wind as never blew on England yet." The ghost of this "east wind" hovered over the new episode like a lingering aroma from Mrs Hudson's kitchen - "the east wind is coming, Sherlock," warned Gatiss's Mycroft, while Sherlock advised that "the east wind takes us all in the end" and Watson brought up the rear with "there's an east wind coming."
However, this invocation of Sherlock Past felt more like a cry for help than a bold stride into the future, and did little to eradicate the creeping sense that this episode amounted to five characters in search of a story. Having hailed the Bollinger-like effervescence of the opening episode, I found myself rowing backwards here as this final one proceeded in circles, or sometimes went sideways, but couldn't get to the point. The defining moment came when Sherlock was shot. The scene was stretched out into a fatuous multi-angled mini-opera that did little more than fill some running time.
Nominally, "His Last Vow" was the story of how Holmes proposed to thwart the blackmail scheme of the sinister newspaper tycoon Charles Augustus Magnusson, though the notion of a "newspaper tycoon" suddenly seems far more antiquated than deerstalker hats or hansom cabs. Though he wasn't given much rope, Lars Mikkelsen was able to imbue Magnusson with a brain-jangling aura of distilled threat, especially in the moment when he leaned over his victim Lady Smallwood (Lindsay Duncan, pictured above with Mikkelsen) and lasciviously licked her face. However, his vaunted super-vault containing the murky secrets of everybody in the world turned out to be the planet's dampest squib - there was no vault, he could just remember everything - and all the potential of Mikkelsen's character was lazily squandered. It would be the crime of the century if Sherlock degenerated into a Doctor Who-style orgy of gimmickry.
Basil Rathbone was 'very smooth and cool, sort of a Bond figure,' as Cumberbatch put it
Share this article