Matisse: The Essence of Line, Marlborough Fine Art |

reviews, news & interviews
Matisse: The Essence of Line, Marlborough Fine Art
Matisse: The Essence of Line, Marlborough Fine Art
Prints that show off the French artist's extraordinary range and skill, wit and playfulness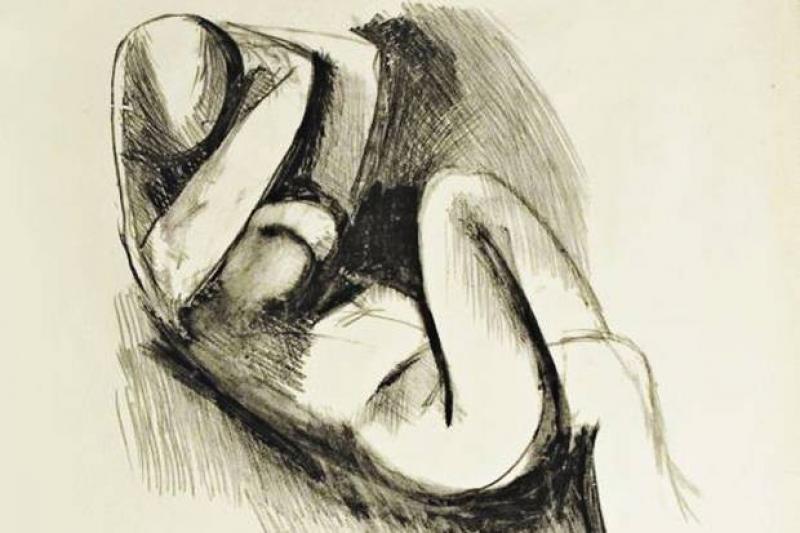 Le grand nu, 1906
The photographs of Henri Matisse at work show, over the years, a sober, suited, bearded and dignified figure; there is also a charming series of Matisse in a white coat, as though he were a doctor, sitting in his studio and thoughtfully examining in close-up a curvaceous naked young woman, his model. In his maturity, he looks almost like the stereotype of the upper middle class professional, the lawyer that he once almost was.
Of course, what happened is that he became, against family opposition and with an almost life-long struggle, one of the most dominant and adored artists of the last century. Belying his unusually conventional appearance, he was an artist peculiarly gifted at conveying a complex yet paradoxically almost innocent celebration of the most profound sensuality, whether directed at a vase of flowers, a captivating interior, a landscape glimpsed through a window, people sitting in a garden, and above all else, women, both clothed and unclothed.
It is intriguing, even irresistible, to be so convinced by his extraordinary wit and playfulness with minimal means
The current show of prints at Marlborough Fine Art shows us just this last aspect. Here is Matisse at his finest as a magical art conjurer: a handful of curving lines, a smudge of shadow and shading, and a seductive, plump odalisque appears, relaxed sexuality incarnate.
Matisse made some 800 prints in his lifetime as well as illustrating some superb artists' books – livres d'artiste in the French tradition. A very fine selection is on view in this museum-worthy show, curated by the Picasso scholar Marilyn McCully, showing us in about 50 examples the extraordinary range and skill of his visual imagination.
Imagery is almost exclusively restricted to renderings of the artist's models, languorous creatures, reclining in positions so flexible it is as though these voluptuous creatures have not a bone in their body; or casually stretching their well-rounded bodies in unselfconscious poses, happy in their bodily selves. (Below: Odalisque, brasero et coupe de fruits, 1929)
Here Matisse is the master of line. It is intriguing, even irresistible, to be so convinced by his extraordinary wit and playfulness with minimal means – a dozen lines or so to convey a fully fleshed out female body. And in black and white, Matisse also manages to convey the colourful patterns of the textiles he collected and adored, as backgrounds to the women draped every which way, sitting, lying, whimsical, wistful, alluring, insouciant, a huge spectrum of moods persuasively visualised. Great swathes of shadow, particularly in the portraits of women all dressed up, make convincing depths to the images.
He was also an inveterate explorer: he began with etchings and drypoints, set up his own printing press and expanded his technical expertise and collaborations with printers with lithographs, linocuts, and the famed illustrated books.
All is not only in the fascinating spectrum of blacks, whites, deep greys on white and ivory papers. In the wintery greyness of the English winter, one glorious sunshine burst of inventive form and colour, brilliantly integrated, can be seen in the dancing forms based on his cut outs, when illness affected his sustained ability to consistently wield brush and pencil, and he turned to scissors and coloured papers, for his book Jazz (published 1947). A sense of life captured comes across in the abstracted images of Jazz suggestive of menageries, and circuses.
What is also unusually vivid in this concentrated anthology is Matisse's immersion in dance, not only as a designer for ballet, and a knowledgeable admirer of the skills of dancers, but in his deployment of the expressive possibilities offered by an understanding of rhythm. Beat, pulse, pause are evident in images created over 50 years, in which joyful exuberance is tempered by an acute sensibility concerned to capture the essence of a living, breathing being.
A sense of life captured comes across in the abstracted images of Jazz suggestive of menageries, and circuses
Explore topics
Share this article