10 Questions for Cellist Oliver Coates |

reviews, news & interviews
10 Questions for Cellist Oliver Coates
10 Questions for Cellist Oliver Coates
Serial postclassical collaborator emerges as solo artist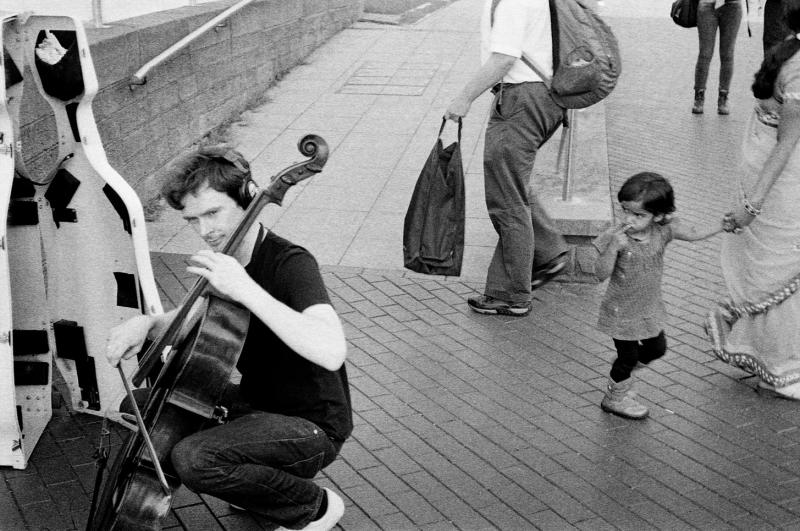 Oliver Coates: crossing boundaries
Oliver Coates is the very model of a modern musical generalist – able to jump, or ignore, the boundaries between musical categories yet retaining deep understanding of the nuances of each category or genre. He has feet firmly in both the concert hall and the artier side of the electronica world, and has collaborated broadly over recent years – though is only now emerging as a solo artist.
In the classical world, his cello has taken the lead in concerto performances with the BBC National Orchestra of Wales, the BBC Scottish Symphony Orchestra and the Britten Sinfonietta, performed Music for 18 Musicians with Steve Reich, and collaborated closely with Helmut Lachenmann and Thomas Adès. Elsewhere he has played with Massive Attack, Radiohead's Jonny Greenwood, rapper DOOM, electronica producer Mira Calix, field recordist Chris Watson, and experimental pop artist Micachu – and as Artist in Residence at the Southbank Centre he has overseen many other collaborations and postclassical boundary-blurrings.
His new album Towards the Blessed Islands is released on PRAH Recordings – a new experimental offshoot of the successful and eclectic Moshi Moshi label – on 25 November, and features interpretations of tracks/compositions by Iannis Xenakis, Squarepusher, Max de Warderner and Roy Harper via This Mortal Coil among others. We have an exclusive first play of "Cellos and Autoharps" from the album below.
JOE MUGGS: As your album release approaches, how are you feeling about putting yourself out there as a solo artist?
OLIVER COATES: This is my first relationship with a label as a solo artist. It's exciting to share this material which genuinely feels like a new area of music. The record also reflects the aesthetics of my live performing with collaborations and approaches to my instrument over the last couple of years so I'm very happy.
Did you have a conceptual plan for this album before embarking on making it, or did it come together naturally?
Stephen from the label was interested in recordings of my work and I sent him four tracks which had not been released. He then talked about my releasing an album and wondered if I could find four more, so I set about making new recordings of music I love, then thinking about how to structure the whole project. There is a poetic sensibility which binds these pieces together in this order and under this title, but I don't want to impose it on the listener.
Listen to Coates's "Cellos and Autoharps" (composed by Max de Warderner)
You've done some radical interpretations of other people's work on this record - how (if at all) do you retain the essence of a piece or composer while putting your own spin on?
I can feel a kind of disbelief in my body parts
The majority of tracks on this album are première recordings of works written for and in collaboration with me. There are no re-workings in that sense, only readings. I worked closely with the composers Fennessy, de Wardener, Crane and Goves on their music (which is notated) and the recording process. Other versions of these pieces do not yet exist. The performance of Xenakis's classic 20th Century work Kottos is taken from a live concert. I followed as best I could the composer's monstrously difficult instructions; his metronome marks, dynamics and microtones as closely as possible.
I can feel a kind of disbelief in my body parts during the latter stages of the piece as it really starts to take off. The two remaining tracks are covers where I tried to remain faithful to my aural transcription of the music. Squarepusher's Tommib Help Buss is a repeating melody work on guitar which I transcribed for cello because I had a feeling it might be successful with the cello's plucked timbre. "Another Day" is an arrangement of This Mortal Coil's version of Roy Harper's song. I recreated the strings with four cello parts and transposed the song up a semitone to better suit the singer's range. We tried to stay as close as possible to this version and worked hard at both the surface detail and the deep well of emotion the song evokes.
How (if at all) do you define yourself if, say, someone you meet at a party asks what you "do"?
I say I'm a musician. Then, if there's a pause, I say I play cello. People normally at that point want to say something about orchestras. Or maybe they feel they ought to. I love the cello when it's heard individually and I know people share this feeling when they get close to it.
You're always up to something new: how do you manage the balance between spending time seeking out interesting projects and actually executing them?
I let love for music and people dictate how I spend my time. I discover new sounds or approaches to musical structure, new works. They sort of inform what I should do next. Once I feel it's a good thing, then I look for a way for everyone to share it and express their thoughts on it too. So the stream seems to flow. There's never a plan. Right now I'm obsessed with the work of a minimalist composer called Andrew Hamilton and trying to figure out how to get more people to hear his work.
You seem readily able to traverse between the concert hall, the art gallery, the gig and the nightclub as it were - is it easy to move between musical worlds or do you find yourself having to change your methodology?
It's funny, you do need to be able to read different situations. I'd argue each kind of venue or space has its own ritual where people turn up and expect to behave in certain ways. The methodology is how to exist within that ritual, then surprise listeners with music that feels like a revelation. This year I performed through an incredible PA at 2am in a warehouse in Moscow before Heatsick did a long joyful set. I was entirely responding to what felt like a ecstatic thirst for new sounds in which they could let go and be free - I gave them this continuous pure thing with throbbing pitch-beatings in the bass register. I've amassed much varying music over the years - playing the cello in different spaces and responding to the environment is what I love most.
Are there any other musicians/composers currently working that you would flag up as sharing your ability to move in this space between traditionally delineated areas, and what do you like most about their ways of working?
Sebastian Rochford glides effortlessly between being a producer to a live musician in many different capacities - hip-hop, metal, free music, jazz, Indian or African music. I don't think he intellectualises distinctions. The abundance of music in his life allows him to throw off ego: he's a very peaceful musician to be around.
As a serial collaborator with other musicians, who would be your dream team-up?
May I have more than one? Right now I'm enjoying Rashad Becker a lot in electronic music and I wonder what he'd do in response to me. In the visual arts I always go to see anything made by Mike Nelson so one day... [wistful pause] Elizabeth Fraser's singing style is a big influence on my cello playing so it would be amazing to accompany her in something. These dreams are largely unrealistic.
Which do you prefer - stage or studio, and why?
I like setting up a simple mic in my tiny flat and recording things. It doesn't feel like a studio. My partner makes jewellery in the same room and it feels great to make stuff with our backs to the world. Equally I love walking on stage and carrying the responsibility of many peoples' experience of music for an evening.
Where would you most like to think of people listening to your album?
I wish people had time and space to put on vinyl at home and listen though gorgeous big speakers. With some whisky. There are lots of fat warm chords so maybe this is OK for escapism in busier places too. There's something about a remote Scottish island at the heart of the record. That might be the place.
Towards the Blessed Islands is released on 25 November
This year I performed through an incredible PA at 2am in a warehouse in Moscow
Explore topics
Share this article