Popcorn and Polymorphia: Jonny Greenwood meets Penderecki |

reviews, news & interviews
Popcorn and Polymorphia: Jonny Greenwood meets Penderecki
Popcorn and Polymorphia: Jonny Greenwood meets Penderecki
Adventures in sound with Radiohead's multi-dimensional guitarist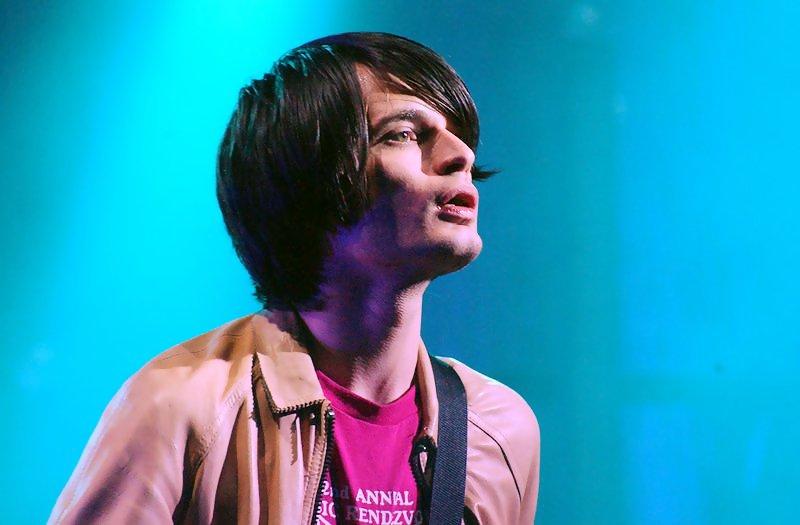 Greenwood: 'In Radiohead we think of ourselves as arrangers, and we'll use whatever we can to make that arrangement work'
Krzysztof Penderecki's Polymorphia for 48 string instruments dates back to 1962, and still stands as one of the grand milestones of the avant-garde. It epitomised the Polish composer's technique of "timbre organisation", in which the plucking and bowing of strings was merely a small part of an astounding array of effects.
"I had to develop some new techniques to produce this kind of sound, using different kids of vibrato," Penderecki explains, down the phone from Kraków. "Using the tailpiece to play on with the double basses and celli, also playing directly on the bridge using the highest possible pitch. Of course, I used micro-tonality also in this piece. Maybe even now it still sounds scary to some people, but it was a new sound."
Yet one of the most startling moments in Polymorphia arrives at its conclusion, where Penderecki deploys a massive C major chord. Its outrageously lush and resonant tonality stands in stunning contrast to what has gone before. "It was a kind of solution, or catharsis may be a better word," the 78-year-old composer (pictured below) reflects. "For some people it was very unexpected. For some of my colleagues, very avant-garde composers of the 1960s, it was impossible to use tonal solutions."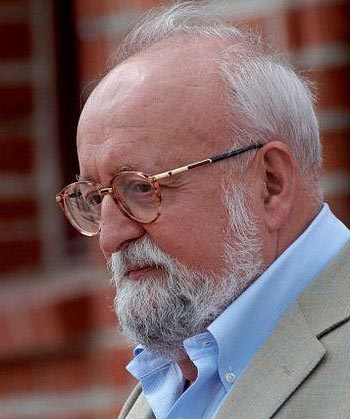 It was from this C major chord that Jonny Greenwood, Radiohead's guitarist and BBC composer in residence, began when he composed his 48 responses to Polymorphia. It will be performed at the Barbican Hall this week by Poland's AUKSO Chamber Orchestra, along with Penderecki's Threnody for the Victims of Hiroshima and Greenwood's Popcorn Superhet Receiver. All these pieces also appear on a new Nonesuch CD.
"Penderecki told me that he'd written Polymorphia backwards, and had started with C major," Greenwood explains, as we drink tea in his management's offices in Abingdon. Now 40, he still sports his familiar luxuriant mop of black hair, atop a face sculpted with striking architectural boldness.
"Some people say it's a joke or a big controversial ending, and it certainly is a surprise," he continues. "He played it to me at his house in Poland, and it was funny because it was like somebody playing you their demo tape. All the way through he kept saying things like 'these should be a bit louder here' or 'you can't quite hear what the violins are doing here'. The fact that he was still so keen and interested to get it across properly was really cool."
Greenwood's objective was "to write 48 very short pieces of music all starting with C major, and just distorting the chord in different ways. But that started to feel like an exercise more than music-writing, so instead it all started to focus on this Bach chorale style that has lots of C major chords in it, and just various distortions to that. Penderecki was talking about how he used to study electronic music in Warsaw, and I think he realised that all these sounds could be made with an orchestra, or could be done better and developed with an orchestra, so he turned his back on the electronic stuff and went instead to an orchestra, which I still think is a very modern thing to have done."
Penderecki can affirm that Greenwood's account sums up his journey through experimental electronica pretty accurately (Greenwood at the controls, pictured below).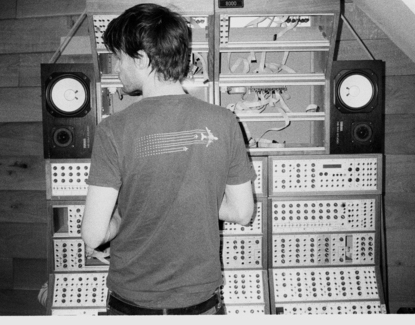 "The music is very much inspired by electronics. I went to Warsaw to work in an electronic studio, I think it was 1957, and I fell in love with electronics which was for me the terra incognita, because I never heard such sounds. Of course the equipment at that time was very primitive and very simple, because Poland didn't have much contact with the Western world. But this was a great inspiration for my later music and these pieces were not directly, but kind of, transcriptions from the electronics, from their abstract sounds to sound made by live musicians. I wrote three pieces, the Threnody for the Victims of Hiroshima, Polymorphia and the Canon for string orchestra and tapes. I was very young and rebellious. I was rebelling against my professors of course because they were writing very academic music, and I really wanted to do something unexpected."
Penderecki turned his back on the electronic stuff and went instead to an orchestra, which I think is a very modern thing to have done
Share this article
Subscribe to theartsdesk.com
Thank you for continuing to read our work on theartsdesk.com. For unlimited access to every article in its entirety, including our archive of more than 10,000 pieces, we're asking for £2.95 per month or £25 per year. We feel it's a very good deal, and hope you do too.
To take an annual subscription now simply click here.
And if you're looking for that extra gift for a friend or family member, why not treat them to a theartsdesk.com gift subscription?