Middlemarch: Dorothea's Story, Orange Tree Theatre |

reviews, news & interviews
Middlemarch: Dorothea's Story, Orange Tree Theatre
Middlemarch: Dorothea's Story, Orange Tree Theatre
George Eliot's novel gets the theatrical treatment but lacks drama
Saturday, 26 October 2013
Dorothea (Georgina Strawson) and Rosamond (Niamh Walsh) share confidences and hair stylists
Adapt a Jane Austen novel for the stage and you have a generous handful of characters and a selection of drawing rooms in which to put them. Adapt a George Eliot novel and you're faced with a whole town of people – figures from grand houses, workhouses and everything in between. It's quite a task, but one that Geoffrey Beevers has made his speciality. He's already tackled Silas Marner and Adam Bede but now, in a new triptych of plays for Richmond's Orange Tree Theatre, he takes on the big one: Middlemarch.
In the age of the TV series and the box set, theatre's claim on literary adaptations is surely becoming questionable. Why, when the realist minutiae of the 19th-century novel can be lovingly crafted over 10 or more hours on location in high-definition, would we want a stylized theatrical echo instead? The recent Gatz found a new way to make this transition, and to make it count. But Fizgerald's tight prose and slim novel are a long way from Middlemarch. So why, then, try it?
The adaptation is elegantly done. The question of whether it is worth doing remains unresolved
For Beevers the answer seems to be one of tone. His programme essay suggests that the comedy of the novel (greatly evident in the production) is lost at reading pace, and needs to be spoken to be truly heard. Eliot's characters are certainly no less vivid than Dickens's and her narrator no less sardonic than Trollope's, but I'm still not convinced that Beevers's aim – or his theatrical solution – is the right one.
His cast shift fluidly between dialogue and narrative observation, generating some beautiful frictions between self-deception and objective reality, and between speech and thought. It's funny, and theatrically playful, but with each descriptive sentence passed between 5 or 6 voices the pace gets a bit break-neck and coherence of thought suffers. There's also the problem (exacerbated by the enforced intimacy of the Orange Tree's stage-space) of artifice intruding into the already uncomfortably hyperbolic emotions of the piece. Dorothea is a hard enough heroine to swallow for a contemporary audience without the easy default to laughter each time we're dragged out of the emotional moment and into omniscient observation.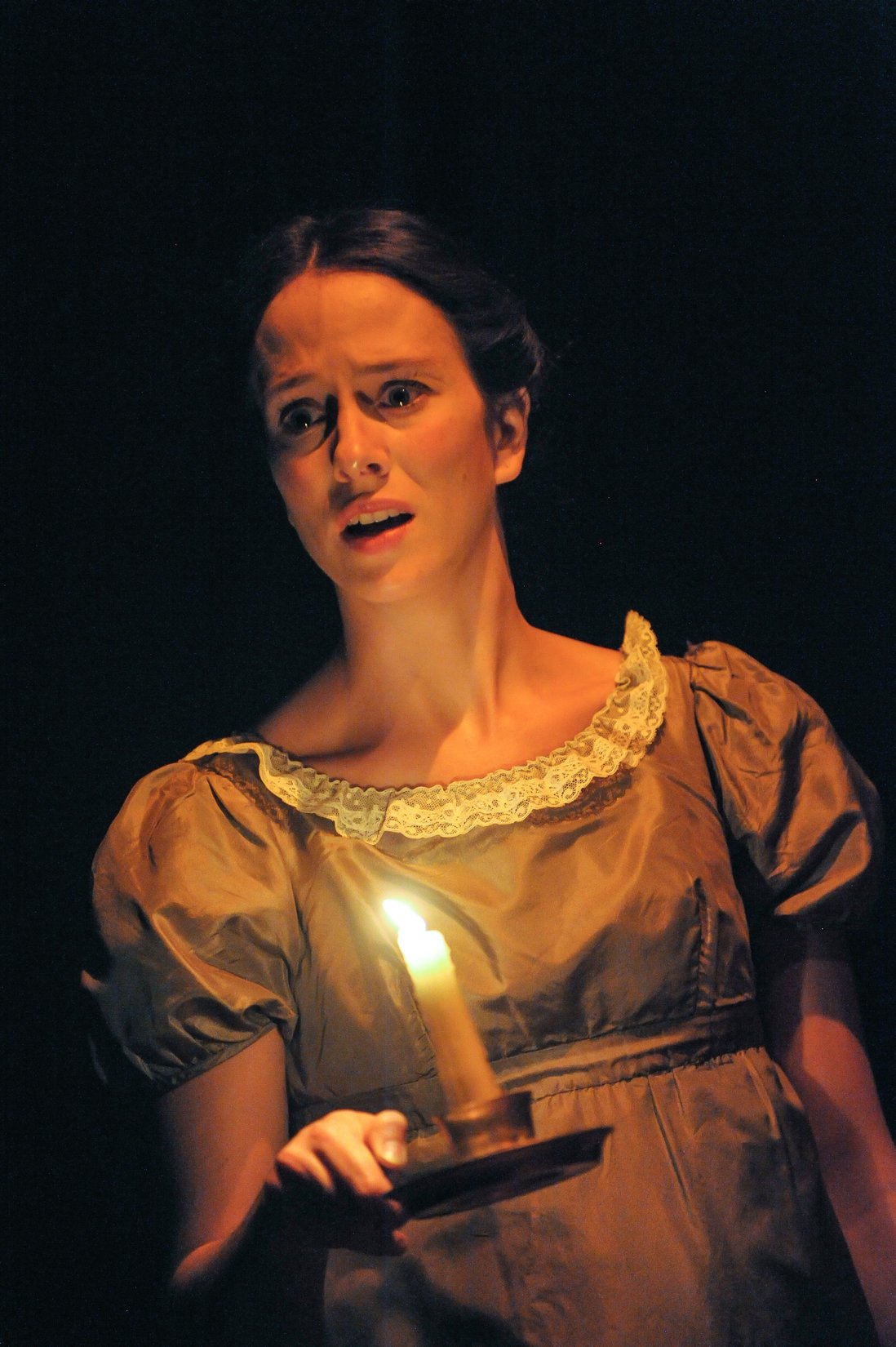 There's also an awful lot of plot to get through, and by separating the adaptation into three strands focusing variously on Dorothea, Dr Lydgate and Mary Garth, Beevers forces himself to reappraise each character's centrality in each of the three variant versions of the tale. This theatrical Alexandria Quartet however risks reducing to caricature any figures not absolutely central. Here, for example, Christopher Ettridge's Bulstrode gets the York Notes treatment to the detriment of the play as a whole.
Running at two and a half hours, Dorothea's Story is too long. Aware of its distant destination, each scene races desperately forwards, creating such a uniform sense of speed that, like being on a very fast train, you're numbed to the pace and time passes slowly. There's also the issue of dress. Why the costumes place us in the Napoleonic Wars while the politics of the text insist on the 1830s is unclear.
Beevers's cast, however, cope well. Georgina Strawson (pictured right) tackles the thankless Dorothea with a fervency and ardour that sit just the right side of sanctimony, reminding us just how young the heroine is, and just how naively self-deceiving her motives. Ben Lambert's Ladislaw has a nice line in controlled rage, striking sparks off the Dickensian horror of Jamie Newall's Casaubon (never overdone), and both Daisy Ashford's Celia and Christopher Naylor's Sir James jolly us into the wholesome, good-humoured tone of the evening.
The adaptation is elegantly done, though Beevers's too-great affection for his material occasionally shows in his insufficiently ruthless editing. The question of whether it is worth doing, however, remains unresolved. We have two more episodes in which to decide, so for now at least it can remain that way.
Geoffrey Beevers's Middlemarch triptych runs until 1 February at the Orange Tree Theatre, Richmond
Georgina Strawson tackles the thankless Dorothea with a fervency and ardour that sit just the right side of sanctimony
rating
Explore topics
Share this article