I Puritani, Grange Park Opera |

reviews, news & interviews
I Puritani, Grange Park Opera
I Puritani, Grange Park Opera
A too-complex treatment mars the simple beauty of Bellini's score
It's hard to improve on Puritan chic, but the production finds new Victorian ways to curb aesthetic delight
Apparently Bellini's I Puritani was Queen Victoria's favourite opera. That wasn't quite reason enough for director Stephen Langridge to condemn the cast of his new Grange Park production to this extraordinarily ugly sartorial era, but unfortunately he found his justification nonetheless – looking across the Channel to the scientific explorations and experiments of Paris's notorious hospital la Salpêtrière.
André Brouillet's painting Une leçon clinique à la Salpêtrière sees a half-naked women slumped in a faint while all around her medical students, starched, wing-collared and suited to a man, look on with predatory professionalism at their specimen. This image is surely the idée fixe behind Langridge's aggressive reworking of Bellini's opera (pictured below), a meditation on the 19th century obsession with mental health and its dangerous implications for women.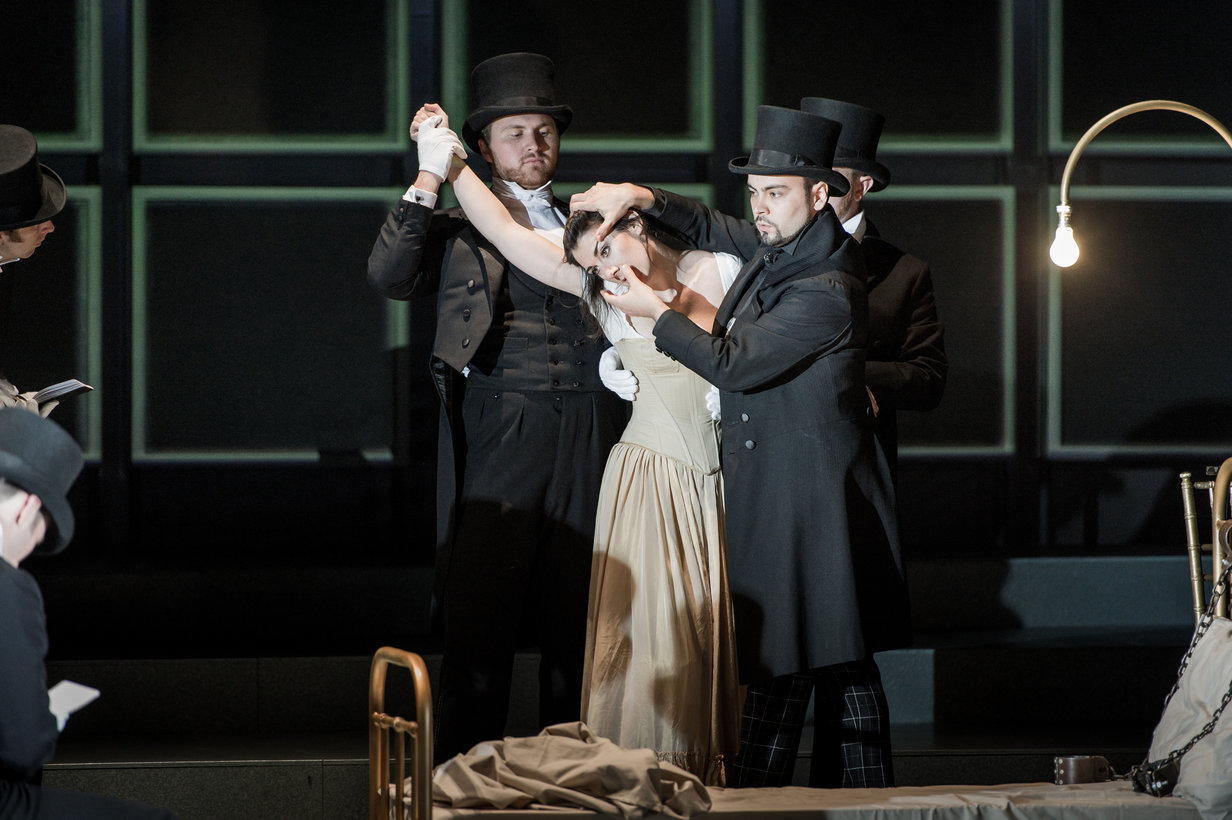 There is of course a mad scene or two for heroine Elvira in the original, along with some extended head-shaking and objectifying from her male friends and relations, but otherwise Bellini's last opera seems to offer a singularly unhelpful basis for what might otherwise be an interesting concept. Lucia di Lammermoor, Anna Bolena, even Bellini's own La Sonnambula all seem better equipped to offer Langridge the traction he needs for his gender politics. As it is, his freewheeling discourse on the birth of psychology feels like a tumorous growth on an already rather unhappy operatic patient.
A Civil War opera peopled with Puritans and Cavaliers finds itself desperately in search of a director here, as Langridge disregards the plot-significant roles of Cromwell and Queen Henrietta Maria to romp associatively from 19th century lecture-hall and theatre to First World War battlefields. It's Regietheater-lite, half-heartedly getting all meta after the interval as the chorus stare disdainfully back at the audience through their opera glasses, but otherwise never quite committing to its transposed milieu.
We don't see 'I Puritani' nearly often enough for so radical a rethink to be either necessary or enlightening
There's a lot of by-play with chairs and light-boxes, a little dancing and a maddeningly intrusive digital screen that lights up whenever things get a bit dull (yes, it's used a lot), but none of this can quite distract from Bellini's score, which is something of a melodious gem.
Big tunes rather than fancy coloratura are the emphasis here, though the latter does get its time in the sun in big Act III arias for Arturo (Jesus Leon) and Elvira (Claire Rutter), making it rather more palatable than either Donizetti or Rossini for a psychologically-minded contemporary audience. And for those missing blunt, brassy, major-key frolics, there's always Walton's big martial number.
After a timid and unfocused start from the male chorus, Grange Park's Puritani gains musical momentum. Claire Rutter is an anchor, secure in her coloratura and bringing an innocence to Bellini's rather undeveloped heroine that might yet blossom into depth if only Leon's Arturo (pictured below) would let it. His is a light but agile tenor voice, coming into its own in Act III, but offers little by way of light and shade. He has to fight to recover from costuming that has him channelling Civil War S&M (patent leather armour, red flowing hair), and despite some attractive singing never quite connects.
Some of the evening's best work comes from Damiano Salerno as Riccardo, offering both the darker, baritonal shades that bring interest to Arturo's conflicted rival, but also an unexpectedly powerful top to the voice. His late duet with Christophoros Stamboglis's Walton is a highlight, and draws some of the most fleshy richness from the orchestra. Conducted by Gianluca Marciano (who seems to love this work as much as Langridge hates it), the band offer a lively and vividly articulated account of the score. And if subtlety is often jettisoned in favour of primary-coloured drama, then it's a trade-off that Bellini's own score fully licences.
We don't see I Puritani nearly often enough in production for so radical a rethink to be either necessary or terribly enlightening. There's intelligence here, and a lovely eye for movement (the chorus choreography is particularly effective), but also an excess of ideas that never quite cohere into an argument, or an emotional encounter. Some of the fault is certainly Bellini's, but rather than trust to the instincts of 19th century opera's Byronic hero, Langridge fatally tries to compensate for a lack of substance with more ideas than the average season in a German opera house. The result doesn't see either director or composer at their best, sadly.
Claire Rutter is an anchor, secure in her coloratura and bringing an innocence to Bellini's undeveloped heroine
rating
Explore topics
Share this article