The Challenger, BBC Two |

reviews, news & interviews
The Challenger, BBC Two
The Challenger, BBC Two
William Hurt gets under NASA's skin in efficient telling of the 1986 shuttle disaster
'How's your integrity?' William Hurt as Professor Richard Feynman in 'The Challenger'
When the NASA space shuttle Challenger fell out of the Florida sky on the morning of 28 January 1986 after 73 seconds, killing all seven astronauts, the Nobel-winning theoretical physicist Richard Feynman was the only independent scientist appointed to the investigating panel. He duly made a nuisance of himself, asking awkward questions, ignoring protocols, disobeying instructions and generally making damn sure the appliance of science would dig up the truth protected by vested interests.
Feynman has been portrayed onstage by Alan Alda, and on the radio by Alfred Molina, but when you want someone who really knows what it means to piss people off and not give a tinker's cuss, there is just the one go-to actor.
The Challenger might have been written for William Hurt. Erect, gimlet-eyed and adamantine, he doesn't do cuddles, or doubt. He does withering impatience and intellectual self-belief. He does mean stares and snorts of derision. The sort of qualities that get you slung off Hollywood's A-list for a decade or two, or gives NASA a bloody nose. "How's your integrity?" was his first question for a fellow physicist now working for the government.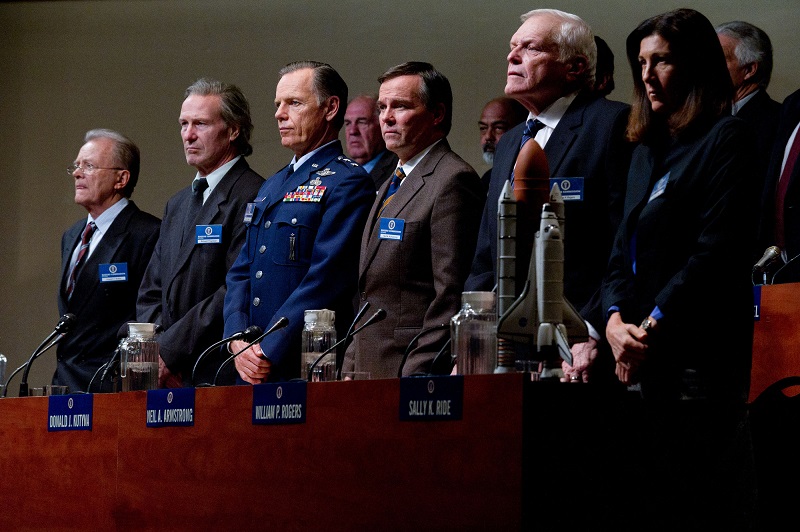 The integrity of the script is another thing. The usual caveat came up on screen in a caption before the shuttle had even taken off: to paraphrase, all of this happened - apart from the stuff we've made up. Usually one accepts the push-me/pull-you of dramatic licence, but it gives you pause in a story about provable facts. There were quite a lot of chance meetings in corridors and phone calls and one egregious cab ride that didn't have the ring of truth. And yet thanks to Hurt, at no point was your belief in Feynman's determination to root out the truth shaken.
For anyone who didn't know the story – the finer details were still coming out quite recently – Kate Gartside's script accentuated the idea of one man against an establishment cover-up. The Rogers Commission, headed here by a pugnacious Brian Dennehy (pictured above), was all in the know about NASA's desperation to get the shuttle in the air after several cancelled flights, even at the risk of launching in dangerously cold weather. Hints having been dropped by a friendly general passing on info from another mole, Feynman somewhat clunkily twigged. He went on to demonstrate in front of the bereaved families how a vital component – one of more than two million parts of the shuttle – became unreliable below freezing.
Gartside is a British actress-turned-writer whose previous scripts include episodes of Lark Rise and Mistresses. An interesting departure then. Nor does the British element end there. Hurt's Yorkshire-born wife was played by Joanne Whalley. Henry Goodman popped up as Feynman's doctor bearing bad news about a rare cancer type swimming around the professor's blood cells, the result of attending the birth of the Manhattan Project. Eve Best wandered in and out of shot as first female astronaut Sally Ride, who barely said anything at all. It turned out there was a dramatic reason for that, though it seems odd to make a wallflower of such an actress.
But this was Hurt's gig. "For a successful technology," he sighed, shaking his head at state-sponsored obfuscation, "reality must take precedence over public relations, for nature cannot be fooled." Feynman's concluding maxim could be usefully applied elsewhere.