theartsdesk Q&A: Actor William Hurt |

Film reviews, news & interviews
theartsdesk Q&A: Actor William Hurt
The Hollywood contrarian who would never button his lip explains all
'This waspy damn face is the only reason they let me do it': William Hurt in 'The Kiss of the Spider-Woman'
No actor had a classier time of it in the Eighties than William Hurt (b. 1950). Ramrod tall, blue-eyed and aquiline, with a high forehead swept clear of thin fair hair, he was a brash decade's intelligent male lead. Those years in the sun began promptly in 1980 with Altered States, continued with the steamy noir thriller Body Heat (1981), then steered him into ensemble comedy in The Big Chill and Soviet sleuthing in Gorky Park (both 1983). Hurt won an Oscar for the prison drama Kiss of the Spider Woman (1985). Broadcast News (1987) and The Accidental Tourist (1988) completed a remarkable run. But that, in terms of lead roles in films that people wanted to see, was that.
At 38, Hurt had somehow contrived to match the career longevity of a pretty young actress. He did plough on. The Nineties had him in sci-fi, slapstick, romantic comedy, none of them genres that agreed with the cool intensity of his Nordic demeanour. It may also be that the industry as a whole stopped making the kind of films that suited his performing style. There was a touch of the Cary Grant about Hurt, a besuited civility. The all-new buttock-baring leads went to the more animal Michael Douglas.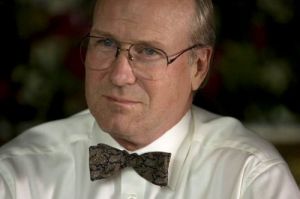 Even so, pedigree will out. Since 2005 Hurt has been eye-catchingly cast by David Cronenberg in A History of Violence, by Robert De Niro in The Good Shepherd and Sean Penn in Into The Wild - note that two of those directors are actors. Endgame, a compelling British television drama, found Hurt playing Willie Esterhuyse, apartheid's intellectual figleaf (pictured right), in an account of the secret negotiations which preceded the freeing of Nelson Mandela. As Captain Ahab, he has lately been shooting a $25 million TV miniseries version of Moby Dick with a starry cast. He's even popped up in Damages.
And now Hurt is part of the heartbeat of Hollywood again. He played an evil master controller-type baddie in The Incredible Hulk, and he's next in Ridley Scott's Robin Hood. There's less hair and more midriff these days. But the hallmarks of his finest performances are there: the moral intelligence, that almost physical air of watchfulness, the careful delineation of speech and gesture. Even if he insists he's never been away - and he would, being a world-class contrarian - it's been good to have him back. He talks to theartsdesk.
JASPER REES: You have always had an unusual quality among leading actors. Does the sense of separateness go back to childhood?
WILLIAM HURT: I lived with my father in Lahore for a year and a half in the late Fifties so that was only ten years after partition. I lived in Khartoum with him in the early Sixties, I lived in Mogadishu with him not too long after the Italians were out of there, before the militants were getting the tribal stuff organised and Ethiopia was not too hot then. I've seen a lot of Eastern Africa, when I was a kid when your balls haven't dropped and you don't have a passport. They treat you as human. You see an immense amount when you're young that you can't see when you're past puberty because by then you represent something. But before then you don't. Before then you're everybody's kid. Hopefully. Unless things are really bad, which they can be.
So also I grew up in the South Pacific for the first six years of my life. I spoke sentences of Guamanian before I spoke English because we lived there too. I was best friend with guys on dirt floors. And then we were living in Spanish Harlem. I don't have a problem with poor people. I don't have a problem with black people. I was living in, on and around them from the time I was a baby. So I didn't see any difference. I just didn't see my best friends as black or white. So all those people can go screw themselves. They don't get it. I'm not a very exciting interview, I'll tell you that.
Did that homelessness or nomadism in your childhood shape the choice you made to do what you do?
I don't know how to say in terms of a cause and effect summation. I do know that people completely fascinate me. I really do revel in individuals. Even if you were to offend me tonight, I don't care. It won't matter. I will have been studying you the whole time. My bumper sticker was, "I like people, just not in groups."
Does that remain the case?
It's pretty close. It's one of my bumper stickers. The other one is "I feel so much better since I gave up hope." People are like "Oh but you're so despairing!" I'm not despairing at all. I don't believe in hope. I don't believe in something I don't have. I believe in something I can. I believe in fate and I believe in work. I don't believe in the second car I don't have yet or the picket fence I don't have yet or the lottery. It's all trash. It's disgusting.
How long have these beliefs need to formulate?
I think they formulated early. The problem was confirming them. Good sense is probably almost everybody's property. It's when they get convinced that something else is true that clashes with their good sense. And confirming their own good sense is really the issue in most of our lives. That's the hard part. But you can get there.
Was becoming an actor good sense?
Yeah yeah. For me it's been a great choice. But I don't look at it like a lot of people do. I don't look at it like being the centre of attention. I really don't. I had to turn that corner early. For me the first great issue was between acting and acting out and that took about 10 years of careful study. Because if you're not going to act out you're standing up against your entire culture. Thinking that you're the guy.
Did you have to learn that before you made it?
Well, no. Yes of course I did. Because you're always dealing with that "Am I doing it for them or am I doing it for some better reason? Am I doing it to get attention or am I doing it to pay attention?" That issue starts early. It's the monumental issue.
All the good actors are doing it for the latter reason?
Any person who is doing anything well is doing it for the latter reason. Anybody who is doing anything halfway decent has enough confidence to pay attention. Which means they talk about something that they've been studying and that they would like to share commentary about.
Does this mean that you were a bad actor to start with?
I may still be one! I don't know.
You're manifestly not.
I don't know that. You go ahead. I just do it. I do what I can. And if I'm lucky enough to get an opportunity I do that. I'm glad to have the privilege.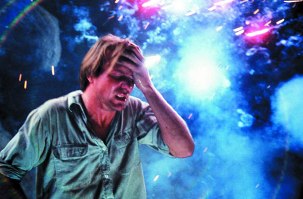 It took a while for you to land that great role in Altered States (pictured left).
I didn't land that role. I fought that role. I tried to not make that movie. I tried to get out of it.
Presumably because of Ken Russell?
No no no. Arthur Penn was the original director. I tried to get out of it because I didn't want to make movies. I didn't want to be famous. It's not good for some people. It hasn't been good for me. Fame is not a happy condition for me. I'm not looking a gift horse in the mouth. I'm just saying I'm very happy to be allowed to do what I do but there are aspects of fame that are not pleasant.
Such as?
Having people generalise about you with any information about you whatsoever. Contempt prior to investigation. It's a remarkable prejudice. "Aren't you who I think you are?" "No, ma'am. I don't know anything for sure in life except one thing. I'm sure I'm not who you think I am. I'm positive of that. Now can I go my wandering way?" I know that.
How did you get to a point where you were being offered a film that you couldn't get out of?
What happened with Altered States was I was in an elevator in a building in New York to go to a theatre audition. I was happy. I was doing ensemble repertory work. I was happy.
In New York?
Yeah.
You know the joke about actors? How many actors does it take to screw in a light bulb? One to screw in a light bulb, and 24 to say, "I could have done that better." Well, I'm not one of those 24
Share this article
Subscribe to theartsdesk.com
Thank you for continuing to read our work on theartsdesk.com. For unlimited access to every article in its entirety, including our archive of more than 7,000 pieces, we're asking for £2.95 per month or £25 per year. We feel it's a very good deal, and hope you do too.
To take an annual subscription now simply click here.
And if you're looking for that extra gift for a friend or family member, why not treat them to a theartsdesk.com gift subscription?