Joyce DiDonato, Il Complesso Barocco, Barbican Hall |

reviews, news & interviews
Joyce DiDonato, Il Complesso Barocco, Barbican Hall
Joyce DiDonato, Il Complesso Barocco, Barbican Hall
Italian Baroque rarities brought to life by American mezzo
Thursday, 07 February 2013
Joyce DiDonato: a 'resonant, creamy voice'
It may look like a sure-fire hit to let Kansas mezzo Joyce DiDonato rip through the drama-queen repertoire of the Baroque. But last night's exploration of the dustiest, most overgrown byways of 17th and 18th century Italian opera needed every drop of DiDonato's star musical talents – not to mention those of her backing band Il Complesso Barocco – to convince us of the worth of these rarities. The audience bought it. I remain on the fence.
Prepared in conjunction with that great scholar of this period, Alan Curtis, the concert didn't disappoint in certain key respects. In mood, narrative flow and emotional variety, the programme was pretty impeccable. As was DiDonato. Her resonant, creamy voice was well suited to the lusty opener, Intorno all'idol mio ("Hover around my beloved"), from Antonio Cesti's Orontea. She was matched every step of the way by Il Complesso Barocco, who, between verses, would carry forth the sultry tumescence exquisitely.
Temporarily, the queen was deposed. The usurper? Principal violinist Dmitry Sinkovsky
Via a typically turbo-charged piece by Domenico Scarlatti (the overture to Tolomeo ed Alessandro), the orchestra rocketed us to a more complicated number from Monteverdi's L'incoronazione di Poppea, Ottavia's breadown, Disprezzata regina ("Despised queen"). This delicate bit of word-painting is musically on the other end of the scale to most of what was on offer, and requires a very different set of vocal skills. DiDonato had to work hard to control and slow the generous flow of her sound to be able to deliver the ornamentation. But control it she did. And when she did, the passaggi flowed with real feeling - something period specialists often lack.
More heartfelt tenderness followed in Germiniano Giacomelli's Sposa, son disprezzata ("As a wife I am despised") from Irene, an ode to the battered wife, an aria made famous by Cecilia Bartoli. DiDonato engaged an emotional narrative drama where Bartoli offers a textural one. It was more traditional and beautiful but no less piercing.
Then, temporarily, the queen was deposed. The usurper? Principal violinist Dmitry Sinkovsky (pictured below). It was a short but electrifying reign. His eyes spinning, his legs jiving, his body staggering about the stage like a drunk, Sinkovsky scurried around his instrument like a man possessed. Every bit of extended technique Vivaldi's score allowed him was deployed, turning the instrument into a one-man percussion band and the Concerto for violin and strings, RV242, into something phantasmagoric.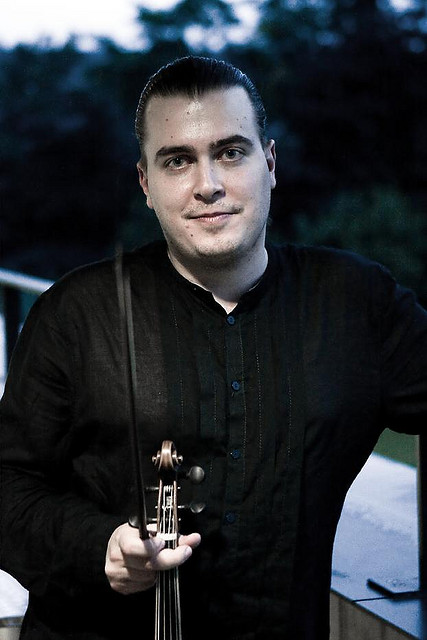 Anything you can do… DiDonato returned to regain her crown with a saucy number from Giuseppe Maria Orlandini, Da torbida procella ("I am tossed like a ship"), colouring the narrative with coquettish little legatos, switching from head to chest, from chest to head with ease. A cheeky, sexy end to the first half.
For the second, bigger battles, bigger dresses. Cleopatra was up first. Ignore the fiery pride of the words of Johann Adolf Hasse's Morte col fiero aspetto ("Death's grisly aspect holds no horror for me"); the music told a different story – one of fragility and fear – one DiDonato was all too capable of telling. We'd had glimpses of DiDonato's sotto voce earlier in the evening but only with the Handel (Piangero la sorte mia) did it appear in all its spectral beauty.
She does the luxurious stuff so well, it's easy to forget what a delicate thing her voice can be when hushed to a sotto, or mezza, voce. Both flicker with a vulnerability born of a delicate vibrato. This came out in the Ifigenia in Aulide aria from Giovanni Porta, Madre diletta, abbracciami ("Dearest mother, embrace me"). Her soft enunciation of the opening Madre was a masterclass in musicality. A smattering of Gluck (ballet music from his Armide) gently escorted us to the close, a coloratura-packed Handel aria from Alessandro, Brilla nell'alma ("My soul is trembling").
All in all, a tremendous night for the performers. Reservations, however, remained about the value of certain compositions. The word-painting's always a little pat in this second-rate Italian repertoire. I can't deny that I would have preferred to hear DiDonato traverse a single masterpiece by a single composer rather than several middling works by several middling composers.
A mention for Christopher Cook's superb programme notes, a virtuoso traversal of the period itself. I loved listening to DiDonato talk at the end. Until I didn't - too much Will & Grace, too much talk of the lousy Vivienne Westwood and her lousy dress.
I would have preferred to hear DiDonato traverse a single masterpiece by a single composer rather than several middling works by several middling composers
rating
Explore topics
Share this article