Rizzle Kicks, Brighton Centre, Brighton |

reviews, news & interviews
Rizzle Kicks, Brighton Centre, Brighton
Rizzle Kicks, Brighton Centre, Brighton
Dogged by a dodgy live sound, pop duo are still good value on their home turf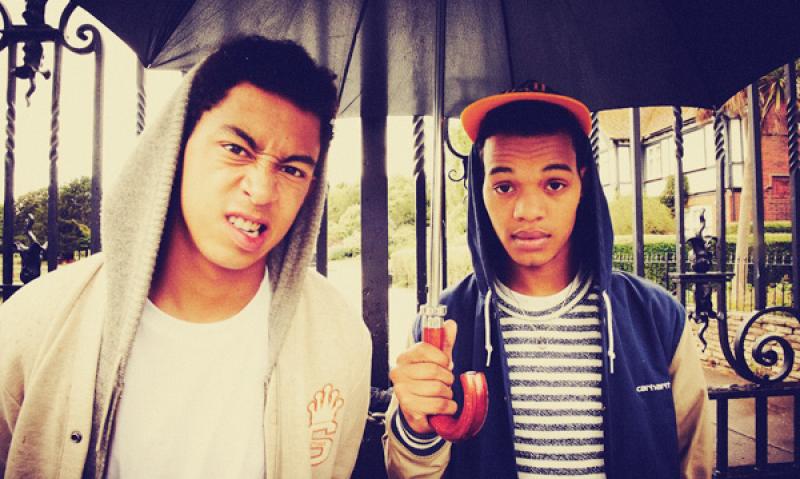 Rizzle Kicks' Jordan Stevens and Harley Alexander-Sule
Usually when a band playing a venue the size of the Brighton Centre asks if the crowd would like to hear a new song the response is somewhat muted. However, this is a crowd of eager fans, average age around 17, and they yell back affirmatively with all their might. Rizzle Kicks are in their home city and it shows (especially when they later lead a chant for Brighton and Hove Albion FC – "Seagulls! Seagulls").
The song in question, "That's Classic", turns out to be a corker, built round a steel drum motif from Latin standard "Aquarela do Brasil" - the one repeatedly played in Terry Gilliam's film
Brazil
- and grounded in relentlessly funky hip hop beats. The energy they generate is impressive and makes me eagerly anticipate how the bouncing mass before them will greet an encore of better-known tunes.
The last couple of years have been a whirlwind for Jordan Stevens, 20, and Harley Alexander-Sule, 21. Over the course of them they've sold well over a million singles/downloads and a few hundred thousand albums. Twenty-twelve saw them consolidate their chart success by building a live reputation. When I first saw them in concert back in April they were playing the 1200 capacity Brighton Dome but now here they are performing two nights at the 4,500-capacity Brighton Centre. They spent the summer slaying the festival circuit and proved conclusively they were no gimmicky teenbop fad, of choreographed routines and backing tapes, but a genuinely thrilling night out. However, since I've seen them three times already this year, each time a blast, it'll be interesting to see if they can match what came before.
The songs are upfront, cheerfully obvious and catchy
Rizzle Kicks definitely pass muster. They now have fully developed stage personas: Stevens is the wacky, spontaneous ball of energy who does all the inter-song talking and a greater percentage of the rapping. He's also liable to suddenly appear wearing a fancy dress bear's head. Alexander-Sule is quieter but has a better singing voice and occasionally plays the guitar, a patient smile upon his face. They make a great team, especially supported by a very snappy live band with whom they constantly interact, berating the drummer at one point for drinking Alexander-Sule's birthday champagne. Unfortunately the gig's problem, taking it down from a 4 star to a 3 star show, is the poor sound which is murky and flat. The pair's rapping is often impossible to decipher, the differentiation between the instruments is dire and the wonderful trumpet-player is usually lost amidst cavernous noise. This is a great shame but, happily, the crowd don't seem to mind and the vibe in the venue is loud and ebullient. In fact, in the early part of the evening, ear-piercing Beatles-esque teen screaming is very much on the agenda.
The set runs through Rizzle Kicks's debut album, Stereo Typical, hitting the cheery ode to childhood, "When I Was a Youngster", early, Stevens leaping about like an excited labrador in his "I Heart Beer & Rap" tee-shirt. And there's plenty of audience call'n'response action, as well as apparently spontaneous gestures such as dragging a photographer from the pit onto the stage to do a "photo-shoot" or silliness such as Stevens wearing a builders' hard hat and brandishing an inflatable hammer for "Demolition Man". The songs are upfront, cheerfully obvious and catchy, especially "Stop With the Chatter" and "Even on a Rainy Day", and Stevens's mum comes on for a little boogie at the end of the roof-raising hit "Mama Do The Hump".
They return for an encore featuring an impromptu rendition of the Beastie Boys' "(You Gotta) Fight For Your Right (to Party!)" before breaking finally into the one everybody's secretly been waiting for, the euphoric dancefloor monster "Down With The Trumpets". Due to the sound quality, it is the least satisfactory live rendition I've heard, the key instrument of the song's title missing any piercing clarity, but the sheer verve with which it's delivered carries the young crowd along, and me with them.
Watch the video for 'When I Was a Youngster'
Rizzle Kicks definitely pass muster but the gig's problem is the poor sound which is murky and flat
rating
Share this article