Frieze Masters Art Fair, Regent's Park |

reviews, news & interviews
Frieze Masters Art Fair, Regent's Park
Frieze Masters Art Fair, Regent's Park
Frieze Masters charms, thrills and impresses with art from ancient to modern
Saturday, 13 October 2012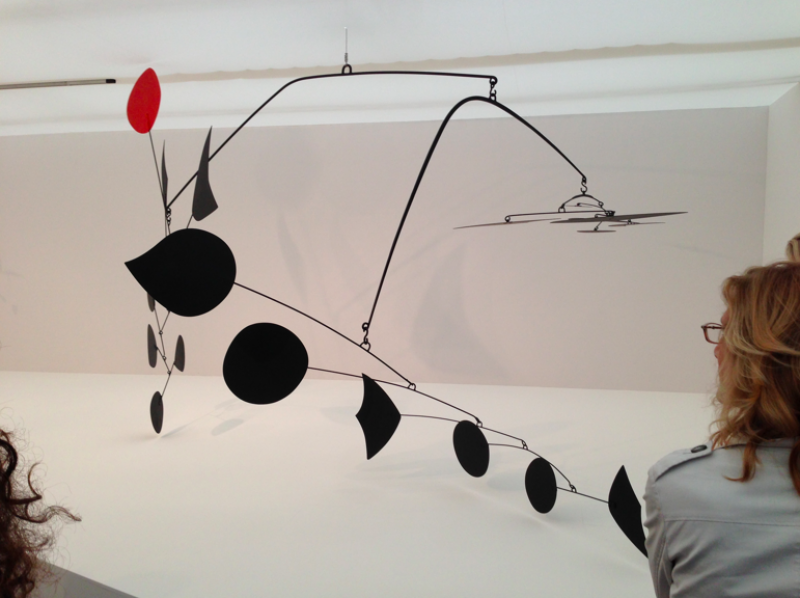 You spin me right round, baby: Alexander Calder's mobile on Helly Nahmad's stand
Things have come to a pretty pass when the old is a breath of fresh air and the new just old hat, but the Frieze Masters art fair in Regent's Park, which closes this weekend, is just that. New sister to Frieze London, which features art since 2000, Frieze Masters is about the best of what came before. And boy is that good.
If you've ever been around Frieze London, with its shiny artworks and 170 galleries and thousands of connoisseurs, collectors, rubberneckers and art-world hangers-on committing visual and aural assault on the innocent art-lover, you'll probably fear Frieze Masters as a similar kind of barrage. Allow me to dispel any scepticism and say that it is probably the finest non-contemporary art fair you'll find in the country.
With galleries from Rupert Wace with his antiquities via Brimo de Laroussilhe's medieval artefacts (reliquary pictured below) and Lowell Libson's Old Masters to Acquavella's museum-quality Modern and Lisson Gallery's John Lathams, there is certainly an engaging span of art, almost none of which requires you to nod your head dutifully while a gallerist explains about the artist responding to Obama's election through the medium of feathers, as happens at Frieze London.
Despite its title, the fair does really feel a lot more about modern art (ie art of the twentieth century) than its capacious chronological aim might suggest. There are few - but well-chosen - dealers in work before the last century, and the rest have concentrated on the big hitters. This is not to say they are gaudy or trashy - far from it; most of the stands have put on museum-quality shows.
For example, Acquavella at the front of Frieze Masters is perhaps the single best encapsulation of the wonders of modern art that you'll see, and almost in itself a reason to go. (Tickets are £27, so probably not an entire reason…) It has a beautiful Warhols, a rainbow Chairman Mao starting at yellow; Bacon's Studies for the Heads of George Dyer and Isabel Rawsthorne, perfectly executed in swirls and voids; three Freud nudes; works by Hans Arp, Jasper Johns, Degas, Dubuffet; and it sold a Picasso for £5.9 million before the fair even officially opened. What makes this is all the more impressive is the way that it tries to impress the visitor with quality, not bravado, as is common at contemporary fairs.
The fair is - and this may seem an odd thing to say - a pleasant place to be
There are lots of other galleries worth seeing. In brief: Pace, with Kurt Schwitters collages (he has a show at Tate next year, so expect to hear a lot more about him soon); Galerie Gmurzynska; Gagosian, which has Avedon's Wild West portraits; and Helly Nahmad, which has the most extraordinary Alexander Calder mobile (see main picture), stretching from floor to ceiling (or ceiling to floor), each rotation making Calder's revolution in sculpture that much clearer. In fact, I'd head for Helly Nahmad first.
Just as Frieze London introduced Frame, for single-artist shows by young galleries, so Frieze Masters has Spotlight, with single-artist shows by lesser-known artists. (Well, except for two American galleries who thought Bruce Nauman and Sigmar Polke were not sufficiently well-known.) Most of the artists are from the Seventies, so often they are saying interesting things about technology, for example Paulo Bruscky (pictured below), a Brazilian exploring the performance of art by using Xerox machines and machines which measure your heart-rate.
I also particularly enjoyed Osvaldo Romberg, who takes art-history classics and deconstructs them, considering their colours and their content, seeing if language is a sufficient tool to evaluate art.
The fair is - and this may seem an odd thing to say - a pleasant place to be. With its welcoming gallerists, spacious booths and walkways, elegant grey carpet and unpressured atmosphere, you can spend hours here without ever feeling you're an obstruction. I wonder if anyone will even go to Frieze London any more when such a different - and enjoyable - fair is available 15 minutes through the park.
It tries to impress the visitor with quality, not bravado, as is common at Contemporary fairs
Share this article