theartsdesk Olympics: En Garde! Fencing on Stage and Screen |

reviews, news & interviews
theartsdesk Olympics: En Garde! Fencing on Stage and Screen
theartsdesk Olympics: En Garde! Fencing on Stage and Screen
An esoteric sport finds its niche courtesy of Shakespeare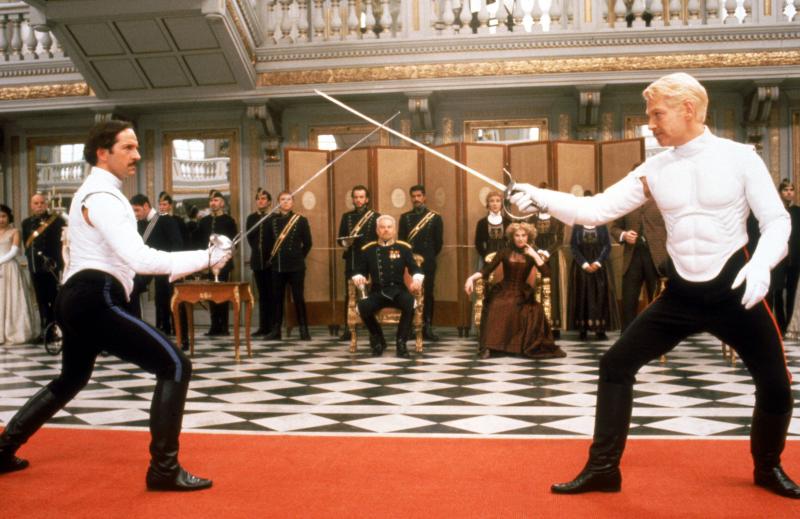 Foiled again: Michael Maloney and Kenneth Branagh face off in Branagh's 1996 film of Henry V
Is that a sabre you see before you? It could be if you're talking any of multiple stage and screen versions of Hamlet, the Shakespeare play that puts centre-stage arguably the most esoteric of all Olympics activities: fencing. (Well, OK, beach volleyball is possibly just as rarefied, though it's hard to imagine Hamlet and Laertes having much truck with that.)
Hamlet may in fact represent most culture vultures' first (only?) exposure to a sport that seems to belong to a select few, bringing with it a self-enclosed language that left even the BBC flummoxed one recent evening as a commentator admitted that she had never before heard the verb "flunge". Scrabble enthusiasts take note.
Nor until this year's Games had I clocked the difference between the epee, foil and sabre, though each apparently comes with specific rules of its own. What I can vouch for is that the parries and thrusts allowed by fencing make the heart race. Think back, for starters, on the swordplay of Laurence Olivier (pictured right) and Kenneth Branagh, the cinema's two most formidable Danish princes: the first a noble Hamlet whose passion spilled over into some notably vivid aggression, the second a less romantic figure who made his rapier wit an extension of the thrusting implement itself.
In stage terms, I particularly recall the fevered interplay between Ralph Fiennes and a (very) pre-Homeland Damian Lewis in the Jonathan Kent-directed Hamlet that played the Hackney Empire and then Broadway in 1995, winning Fiennes a Tony Award. Keen, Fiennes told me at the time, for the play's climactic duel to be "as pure as possible", the two men's face-off spilled well beyond the rectangular mat on the floor, weaving among the chairs of Claudius's dismayed court. To up the ante, the foils were made of strengthened steel, not the more traditional weapons that had been deployed in the Peter Hall/Stephen Dillane Hamlet a season before.
Both productions owed their keen sense of daggers drawn to a fight director, William Hobbs, who knew his way around film as well, having put John Malkovich and Keanu Reeves (of all unlikely combatants) through their paces in Dangerous Liaisons, to cite just one of Hobbs's various credits; the Tim Roth film Rob Roy was another. But it's the visceral charge of the stage combat between Fiennes and Lewis that to this day I still recall. "A hit, a very palpable hit," cries the courtier Osric. In other words: gold medals all round.
It's the visceral charge of the stage combat between Fiennes and Lewis that to this day I still recall
Explore topics
Share this article