theartsdesk Olympics: Love all tennis movies? |

reviews, news & interviews
theartsdesk Olympics: Love all tennis movies?
theartsdesk Olympics: Love all tennis movies?
Poor shot: films set in the world of tennis serve up nul points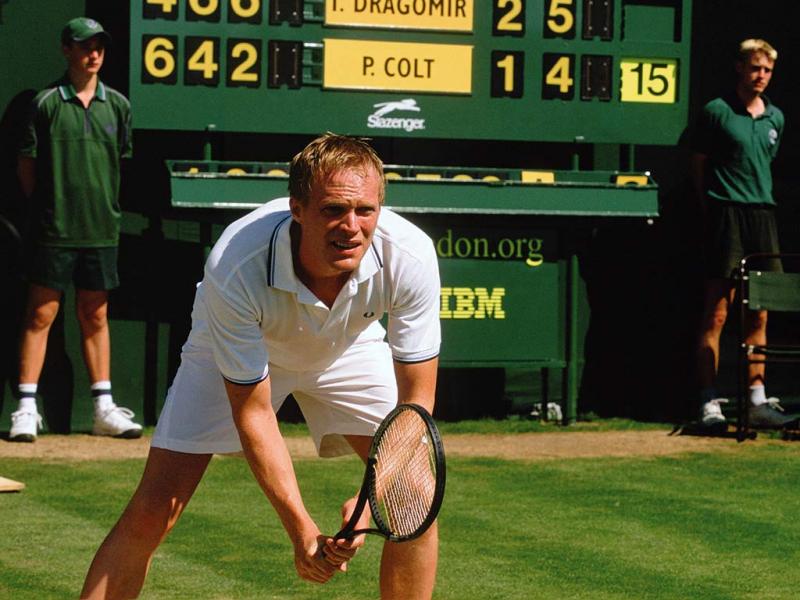 Paul Bettany as a middling tennis pro who finds success through love
Making fictional movies about sport is the devil's own job. They generally don't appeal to non fans while those who follow the game in question spend their time mocking the action scenes as actors pretending to be sportsmen and women usually fail to convince - as is the case with the stars of Wimbledon (2004) and Match Point (2005).
In Wimbledon, Paul Bettany is a thirtysomething middling British tennis pro who is sliding well past 100 in the world rankings. He gets a wild card for Wimbledon, where he meets fellow player Kirsten Dunst. They fall in love, boff a bit - which enhances his game no end while wrecking hers - fall out, split and reunite on Centre Court when she returns (after being knocked out of the tournament) to see him recover from two sets down to take the title. This all takes place within the space of two weeks, and that's some dramatic licence, even if Goran Ivanisevic was a wild card when he came back from injury to win Wimbledon in 2001 - but he had previously been world Number Two.
The tennis scenes were filmed in front of fans who sat on Centre Court after the 2003 Championships had ended and lobbed in the "oohs" and "ahs", but Wimbledon never really takes fire as a sports film. Despite appearances by tennis greats - chief among them John McEnroe and Chris Evert playing themselves - lending heft to the film, some of the tennis scenes are clearly digitally enhanced and Bettany, while a very fit bloke (in all senses, as we see a lot of him in the locker room) is not a decent enough player to pull it off. But as a romcom, it's nice enough.
Match Point, made during Woody Allen's extended fallow period, wisely takes the precaution of having its protagonist retire from the game before the film opens, so we don't get to see if Jonathan Rhys Meyers (pictured right with Scarlett Johansson) is as good a sportsman as he is a swordsman in this roman-à-quatre.
Rhys Meyers, by now an impoverished tennis coach on the make, meets rich-boy Tom (Matthew Goode), marries his sister (Emily Mortimer) and has an affair with Tom's girlfriend (Johansson). The crux of the film is whether Rhys Meyers's character will do the right thing by the two women, but as none of the main characters is sympathetically drawn, we don't really care.
Most of the action takes place not on court, but between Rhys Meyers and Johansson in a sub-Ripley thriller in which Allen over-extends the tennis metaphor (he starts the film with a slow-mo of a tennis ball balancing on the net – which side will it drop?). As an examination of fate and choice in an emotional rather than a sporting context, Match Point relies way too heavily on chance happenings – and as tennis pros will tell you, you make your own luck in this game.
Watch the trailer to Wimbledon
It wisely takes the precaution of having its protagonist retire from the game before the film opens
Explore topics
Share this article