theartsdesk Olympics: Robin Hood aims true |

reviews, news & interviews
theartsdesk Olympics: Robin Hood aims true
theartsdesk Olympics: Robin Hood aims true
England produced the greatest archer in history, so where are the medals?
Errol Flynn: 'a graceful and exciting archer'
Reason dictates that Britain should win the four archery competitions at the Olympics, although we have accrued only two gold medals (both in 1908), two silvers, and five bronzes in the 14 Olympiads in which the sport has hitherto been included. So why the confidence? It is dictated by the aura of Robin Hood. One only has to turn to the opening verse of the poem Arthur Conan Doyle (himself a Scottish footballer, first-class cricketer, and golfer) included in The White Company, his 1891 novel of the Hundred Years War: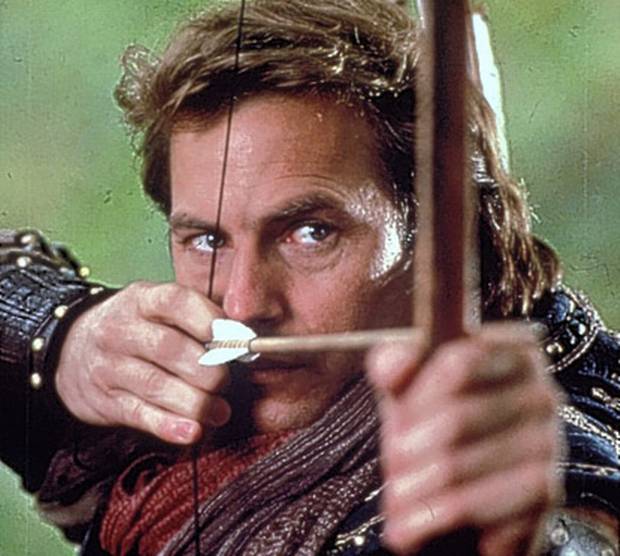 What of the bow?
The bow was made in England:
Of true wood, of yew wood,
The wood of English bows;
So men who are free
Love the old yew tree
And the land where the yew tree grows.
Cinema has endorsed this jingoistic sentiment, specifically through the numerous Sherwood movies and TV series. Although some of these have been regrettable, notably those starring Kevin Costner (pictured above) - truly a Robin from a different planet - and Russell Crowe, the Michael Curtiz classic with Errol Flynn (1938) and the socialistic ATV series with Richard Greene (1955-60) deserve their legendary status – the gorgeously Technicolored Flynn adventure being unimpeachable.
Those with Sean Connery (1976), David Warbeck (Wolfshead, 1973), Martin Potter (1975), and Michael Praed (1984-86) are also worthy. Yes, Robin of Sherwood had its own melancholy integrity and as much mud as mysticism. (In contrast, the dreadful series launched by the BBC in 2006 made unforgivable concessions to modishness.)
The bow work in these films is less memorable than the characterisations and greenwood ambience, but Flynn proved a graceful and exciting archer, notably in the great sequence during which his besequinned Robin escapes from Nottingham Castle after taunting Prince John and Guy of Gisborne, and during the montage when he and his fellow Saxons fight back against the Norman persecutors (a pre-emptive allegory of resistance in World War II). Many Brits have fond memories of the title sequence of the Richard Greene show in which his Robin (seemingly AWOL from the RAF) looses an arrow, announced by a clarion call, that swishes through the air before thumping into a tree (see clip below).
The absurd shot in which Costner's SoCal Robin accurately fires two arrows simultaneously was thrilling in 1991 and has been copied in subsequent movies; the film was dire, of course, although there are some pleasing scenes in Robin's camp that look like they might have been influenced by Daniel Maclise's magnificent 1839 painting Robin Hood and His Merry Men Entertaining Richard the Lionheart in Sherwood Forest. The only other artists to do Robin justice were American illustrators - Howard Pyle and especially his more famous pupil N.C. Wyeth (see gallery below). Walter Crane's static Arts and Crafts pictures err on the side of "illusionistic", as his biographer Isobel Spencer has put it.
Further endorsement for Britain's archery credentials are Robert Louis Stevenson's underrated novel The Black Arrow, which owes much to Robin Hood and was exquisitely illustrated by Wyeth, the swarm of arrows fired by the English archers at Agincourt in Olivier's Henry V (pictured above), and the arrow that thuds into a roundel in the logo of Michael Powell and Emeric Pressburger's film company, the Archers. This year (perhaps with the Olympics in mind) Hollywood has come up with two doughty female archers – Katniss Everdeen in The Hunger Games and Merida in Pixar's Brave, but at least the latter is a medieval Scot.
Archery on the London 2012 website
Follow Graham Fuller on Twitter
Click on the images to enlarge
Subscribe to theartsdesk.com
Thank you for continuing to read our work on theartsdesk.com. For unlimited access to every article in its entirety, including our archive of more than 10,000 pieces, we're asking for £3.95 per month or £30 per year. We feel it's a very good deal, and hope you do too.
To take an annual subscription now simply click here.
And if you're looking for that extra gift for a friend or family member, why not treat them to a theartsdesk.com gift subscription?