Spooks terminated |

reviews, news & interviews
Spooks terminated
Spooks terminated
Top Beeb spy drama bites the dust
With theartsdesk readers still reeling from the demise of Italianate sleuthing series Zen, now comes news of the axing of glossy MI5 drama Spooks. The BBC has announced that the show's 10th series, starting next month, will be its last, though it seems the decision to pull the plug was taken by production company Kudos rather than by the Corporation.
"We didn't want to get to the point where the BBC said we really don't want another one," said executive producer Jane Featherstone. "We wanted to kill it off in its prime."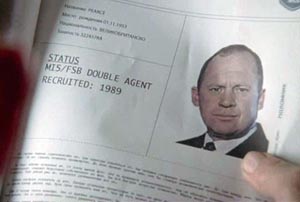 Spooks was originally launched in the wake of the 9/11 attacks in New York, and reflected a new era of paranoia, sophisticated covert activity and global uncertainty. Series one kicked off in the spring of 2002, starring Matthew Macfadyen as the frankly rather dull Tom Quinn alongside Keeley Hawes, David Oyelowo (now featuring in the new Rise of the Planet of the Apes movie) and Peter Firth as Harry Pearce (pictured above). Applications to join the real-life intelligence services soared after the show's launch.
Down the years, Spooks became increasingly taut and slick, while gaining renown for the casual brutality with which it killed off its leading characters. Helen Flynn (Lisa Faulkner) notoriously had her head shoved into a deep-fat fryer, Adam Carter (Rupert Penry-Jones, pictured below), Ros Myers (Hermione Norris) and Connie James (Gemma Jones) all died in bomb blasts, and at the end of series nine Lucas North (Richard Armitage) perished by jumping off a roof.
The chief emotional thread running through Spooks has been the subtle but enduring relationship between Harry Pearce and Nicola Walker's Ruth Evershed, of whom Ms Featherstone says: "We've followed the arc of their personal story and I think they've brought us to a natural end."
Of course, this may all be an elaborate cover story, and Spooks will continue to live a clandestine existence under another name in an unspecified foreign country. Meanwhile, Kudos has a new spy drama called Morton in production for BBC One.
Share this article