Sarah's Key |

reviews, news & interviews
Sarah's Key
Sarah's Key
Kristin Scott Thomas's latest mixes the harrowing and the hokey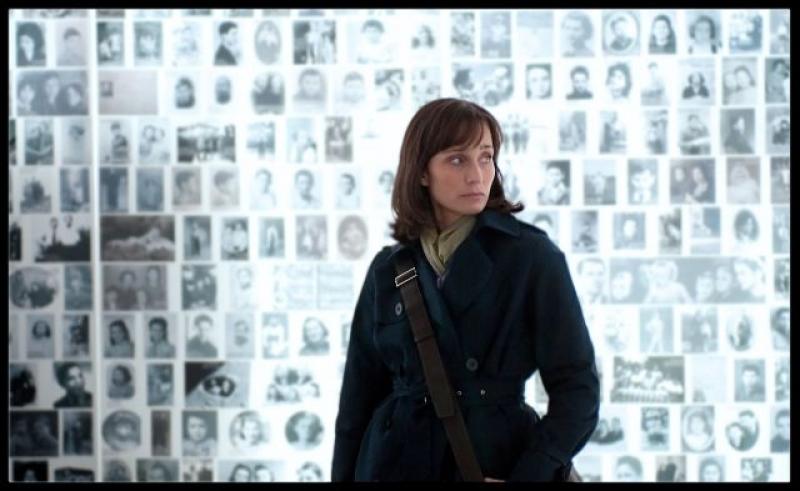 A one-woman Babel: an English actress plays a French-speaking American
History rears its harrowing head in Sarah's Key, a sometimes galumphing film that lingers in the mind not least because of the terrible tale it has to tell. Reminding us that the atrocities of the Holocaust weren't any one country's exclusive preserve, the film chronicles both the eponymous Sarah, a young girl who survives the French internment camps, and Julia, a Paris-based American journalist in the modern day whose life is taken over by Sarah's story.
Are the film's two parts of equal value? Let's just say that fiction yet again is trumped by fact.
That the contemporary sequences achieve the resonance they do owes everything to Kristin Scott Thomas, an Englishwoman playing an American who speaks French - which must represent some sort of multinational first. An actress apparently incapable of falsity, Scott Thomas keeps Gilles Paquet-Brenner's film on course even when it gets mired in contrivance and the sorts of bromides ("we're all a product of our history" goes one representative example) not needed by fine journalists, among whom Julia surely includes herself. The material deserves better than the cornball voiceovers, for instance, bookending a narrative defined by grief. When the movie isn't wagging a finger at us, it packs a wallop, indeed.
Scott Thomas's natural intelligence and restraint keep mawkishness at bay
Most of that power lies in the wartime account of Sarah Starzinsky, the 10-year-old who one summer day in 1942 is bundled off with her parents to the Velodrome d'Hiver, a Paris way station en route to the camps. Amid the sudden trauma, Sarah manages to lock younger brother Michel away for safe-keeping (or so she hopes) in her family's Marais apartment and to hang on to the key: hence the film's title. It just so happens that the same flat more than a half-century on has come into the possession of Julia's French husband Bertrand (Frédéric Pierrot), with whom she is on the outs. And whose father knows more than he has long been prepared to tell.
Given over with near-rabid commitment to piecing together Sarah's fate, Julia evinces a passion for the truth that is fairly thuddingly contrasted with the ignorance of her younger journalist colleagues (self-evident stand-ins for the audience though they are). Adapted from the Tatiana de Rosnay bestseller of the same name, Paquet-Brenner and Serge Joncour's script cuts between the hurtling story of what happened then and the comparatively stilted events unfolding now. Those last include an unexpectedly pregnant Julia trotting between Florence, Brooklyn and an upscale bar overlooking Times Square en route to a denouement that finds room for life as well as death and that is affecting in spite - not because - of certain cues to grab for the Kleenex that Scott Thomas gracefully rises above. (We'll ignore the inevitable close-up of the tear rolling down her cheek.)
Paquet-Brenner is at his best in those passages during the Nazi occupation of Paris that show neighbour cruelly pitted against neighbour, from which Sarah is later granted a second chance in the company of an initially reluctant but ultimately kind-hearted couple that take the runaway child in; Niels Arestrup is especially good as the farmer who against expectation becomes a de facto father. Aidan Quinn turns up in the here-and-now portion of events to embody the resistant conscience that exists to be broken down. And to allow Julia happier prospects than the script itself bothers to relate, since the ending - seen coming a mile away - is hokey enough as it is.
In performance terms, the film belongs to its two central women: one celebrated, the other all but unknown. Scott Thomas's natural intelligence and restraint keep mawkishness at bay while gathering the audience on the side of a journalistic crusader who wants to get at a reality beyond the statistics, grievous enough though those are: 13,000 Parisian Jews were rounded up on that one July date in 1942. (The film, incidentally, doesn't say much for Time magazine, here said to have allotted half a page to the historical reckoning to which Julia's subsequent editor at a different publication agrees to 10 pages.)
And playing a girl swept up in a ferocity that Paquet-Brenner's camera makes frighteningly vivid - the early scenes of collective panic may be hard for some to take - Mélusine Mayance (pictured above with Arben Bajraktaraj as her father) captures with unforced clarity the strength of a child forced by events to become a woman before her time. Mayance, like Scott Thomas, conveys a force field of feeling that belongs to a landscape beyond speech. "Truth has a price, whether you like it or not," Julia remarks at one point in a movie that doesn't need such bald-faced admonitions. The eyes - not for the first time - have it.
Watch the trailer for Sarah's Key
Director Paquet-Brenner is at his best in those passages during the Nazi occupation of Paris that show neighbour cruelly pitted against neighbour
Explore topics
Share this article