The South Bank Show: Nicola Benedetti, Sky Arts 1/ The Good Guys, Sky 1 |

reviews, news & interviews
The South Bank Show: Nicola Benedetti, Sky Arts 1/ The Good Guys, Sky 1
The South Bank Show: Nicola Benedetti, Sky Arts 1/ The Good Guys, Sky 1
On tour with Scotland's virtuoso fiddler, and two Texas cops get the Peckinpah treatment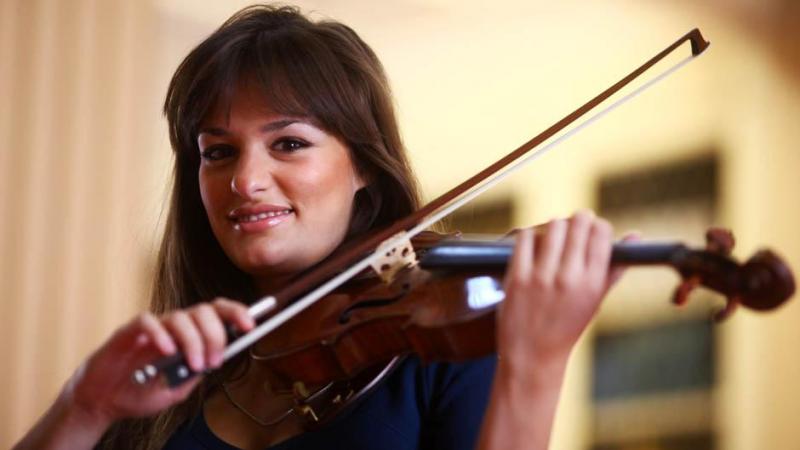 Melvyn Bragg profiles Nicola Benedetti, queen of the Stradivarius
There are worse assignments than making a film about Nicola Benedetti, and the glamorous 25-year-old violinist had clearly entranced Lord Bragg. Mind you, you'd struggle to find much to dislike about her. She's funny and articulate and has a billion-watt smile, while being an utterly dedicated musician whose playing mixes technical command with potent emotional expressivess.
It would also seem that she's driven by a mission to educate and inspire young(er) musicians so both they and classical music itself may have some prospect of future survival. She made the pointed comment that classical musicians have become "slightly removed from community and a little too precious."
If I had a complaint about this last film in the South Bank Show's comeback season, it would be that it could have done with more about the inner workings of Benedetti the musician and a little less about her educational outreach activities, commendable though these may be. For instance, she revealed how she'd decided to leave the elite Yehudi Menuhin school when she was 15 instead of carrying on for another three years. This was a fairly momentous decision for a teenager to make, and one which surely throws light on her steely self-belief and inner sense of how she saw her career developing, but all we saw was Benedetti's rather shrugging disclaimer that she'd just felt it was the right thing to do at the time.
Again, she was quite frank about how the home she grew up in in Ayshire with her Italian-born parents, Gio and Francesca, was an entirely music-free zone, so it was a shame that there wasn't more exploration of how she'd been fired up to make the vast leap from this unpromising state to the front rank of classical soloists. Her own early experiences surely have some bearing on her enthusiasm for bringing music to kids, and we saw her at work with the Big Noise project in run-down Raploch in Stirling, where children are taught to play in an orchestra using the El Sistema method pioneered in Venezuela. In contrast, later scenes of Benedetti visiting a youth orchestra in a Rio de Janeiro slum made the film begin to feel like a promotional travelogue, as if Benedetti was a sort of musical Angelina Jolie. Which, I'm fairly certain, is not how she sees herself .
Make the most of The Good Guys, bought in by Sky 1 from Fox in the States, because it was axed after its first series. This is a shame, because it's a chaotically enjoyable cop show which amuses itself vastly by stealing, borrowing and parodying all kinds of fun stuff from anywhere that takes its fancy. It was created by Matt Nix, mastermind of the spendidly deadpan Burn Notice.
The lead duo are one of those odd-couple detective pairings we know and sometimes love. Jack Bailey (Colin Hanks) is a priggish, uptight college graduate, while Dan Stark (Bradley West Wing Whitford) is an old-school hellraising legend, who doesn't trust new-fangled stuff like DNA or computers but prefers fast cars, booze, babes and firearms. He enjoys listening to Foghat. The straitlaced Bailey has been assigned to babysit the unstable Stark in the nowheresville of Dallas's Property Crimes Department, where in theory they can't get into much trouble (pictured above, Whitford, left, and Hanks).
So naturally, in this opening episode an inquiry into a small-scale burglary involving the theft of a humidifier led our protagonists into a wild ride featuring a Peruvian drug kingpin and his squad of assassins. This lot were chasing their embittered ex-colleague Escalante, who had gone on the run with a stack of the boss's money after unsuccessfully undergoing plastic surgery to make himself look like Erik Estrada. It's more about the tone than the content, and the piece was shot like Bring Me the Head of Alfredo Garcia, with guns blazing, cars roaring and squealing under desert skies and thunderous cantina music raging on the soundtrack. The patently fake stunt work merely amplified the absurdity. Loved it.
The Good Guys returns at 11pm on Friday 6 July on Sky 1
Watch video clip of Nicola Benedetti talking about the soloist's life