Silk, Series 2 Finale, BBC One |

reviews, news & interviews
Silk, Series 2 Finale, BBC One
Silk, Series 2 Finale, BBC One
Shock, trauma and tragedy in concluding episode of Peter Moffat's drama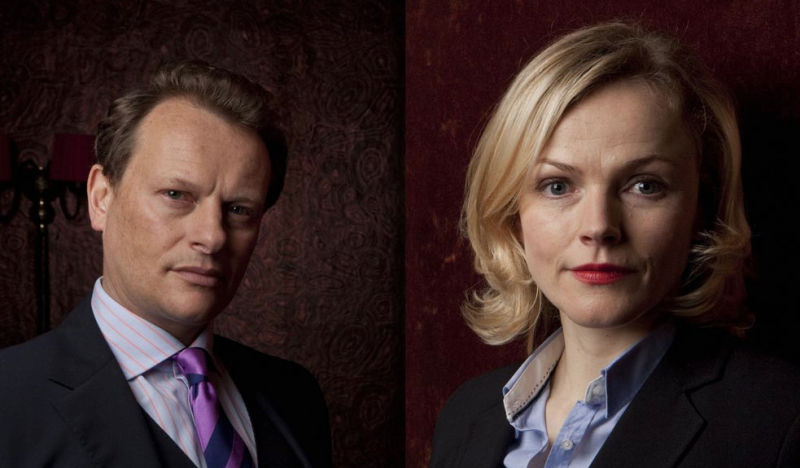 Billy Lamb (Neil Stuke) and Martha Costello (Maxine Peake) explore the dark side of the law
And so we came to episode six, where all the plotlines that have been hovering like vultures since the opener came screaming down to beat the closing deadline. Would Clive Reader's career be terminated by the Bar Standards Board? How would Martha Costello cope with being manoeuvred into defending the evil Jody Farr? Could Shoe Lane Chambers ever prise themselves loose from the malign tentacles of solicitor Micky Joy?
All this and more was duly resolved, in an episode that gripped ferociously from the opening seconds and hauled us over some scorching dramatic coals. Silk is almost unfailingly watchable, though whether its careering plot twists and outrageous behaviour by scions of our august legal system bear much resemblance to reality I wouldn't know. Do barristers really drink and smoke even more than the cast of Mad Men? Whatever, this episode punched hard and hit where it hurts, and plumbed some harrowing personal and professional depths.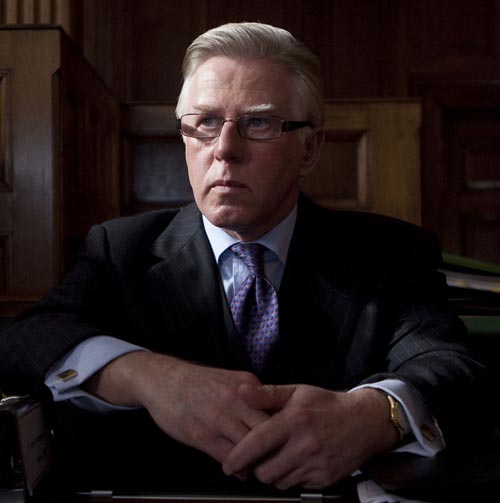 Apart from anything else, the degree of cynicism about the law and law enforcement expressed through Peter Moffat's script was frequently breathtaking. "Every police officer's born bent," snarled Micky Joy (possibly the greatest milestone yet in Phil Davis's career of evil). "It's always personal." And so it proved as the action developed, with the cops squarely in the frame for fitting up the despicable Farr (Finbar Lynch). Then again, if there was ever anyone who deserved fitting up... (Phil Davis, pictured right).
But it's not as if police corruption is entirely new on TV. A legal profession rotten to the core with gross moral turpitude, on the other hand, is not quite so routine. As Silk has progressed, Clive Reader (Rupert Penry-Jones) has proved to be a bit of a choirboy - albeit one with a borderline sex addiction - with an Old Harrovian's commitment to playing up and playing the game, when in series one Moffat seemed to be lining him up as an absolute rotter with the morals of a spin doctor. Maxine Peake's Martha Costello is unswerving in her dedication to defending her clients to the bitter end.
But leaving them aside, their Shoe Lane law practice has been revealed as morally bankrupt and almost exclusively profit-driven, and to hell with getting a few innocent victims banged up. For that matter, the wider profession of the law as seen in Silk-world has little to recommend it, as we were shown in the episode where a squad of sneering and wildly over-priced barristers were hired to defend a bunch of arrogant rich kids accused of sexual harassment. Perhaps ex-barrister Moffat has a few axes to grind.
At the core of this jurisprudential heart of darkness lurks Shoe Lane's senior clerk, Billy Lamb (Neil Stuke). Peake's formidable performance tends to attract most of the plaudits in Silk, and justifiably so (her expression of flesh-creeping disgust at having to engage with the murderous Farr was yet another highlight). But Stuke (pictured left) has been steadily upping the ante, and in this concluding instalment Lamb's character and anguished dramatic predicament assumed near-tragic proportions.
It's Lamb's ambiguity which has made him so compelling. He's an aggressive bully who terrorises not just his own staff but the lawyers who supposedly employ him (a baffling state of affairs for the non-legally trained viewer). As we now know, he has sold his soul to the mephistophelian Joy in exchange for brown envelopes stuffed with used notes. Yet he genuinely believes he's doing it all for the good of the practice and its barristers.
Moffat had written him a superb scene on the witness stand, where Lamb was supposed to play out his pre-ordained role in getting drug potentate Farr off the hook, but it turned into a full-scale soliloquy. He expressed his pride at getting his protégés, Reader and Costello, to their elevated positions within the legal trade, and he freely confessed that "ducking and diving is what I do." But he also had a sharp retort to Reader's accusation that he consorted with criminals: "It's the sacrifice I make to bring in work so you can consort with them."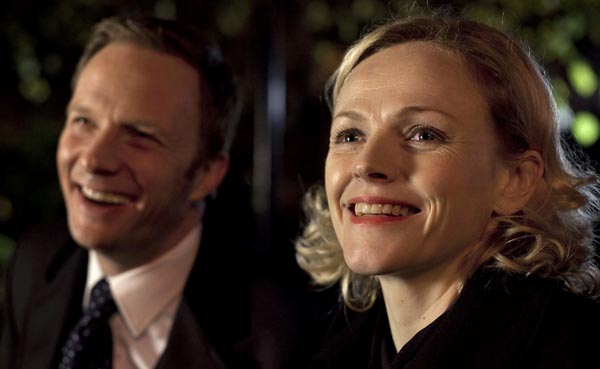 This was even better than his put-down of a tabloid reporter, whom he was bribing with an offer of material that would enable her to write a bestseller: "Don't tell me you lot don't dream of being proper writers." Underpinning Billy's odyssey on the stand was our knowledge that he was facing a battle with prostate cancer, though he hadn't divulged this to any of the other characters (Rupert Penry-Jones and Maxine Peake, pictured right).
The ending was a Götterdämmerung of betrayals, twists and revelations which left your reviewer feeling battered and weak. To some extent, this was the result of cramming too much action into too few episodes - I won't keep banging on about the virtues of 22-part American series - which causes everything in Silk to take place in a bizarre hyperactive whirl. But it made a hell of a climax.