Cendrillon, Royal Opera |

reviews, news & interviews
Cendrillon, Royal Opera
Cendrillon, Royal Opera
Massenet's discreet sensuality strains to charm, but stylish pleasures abound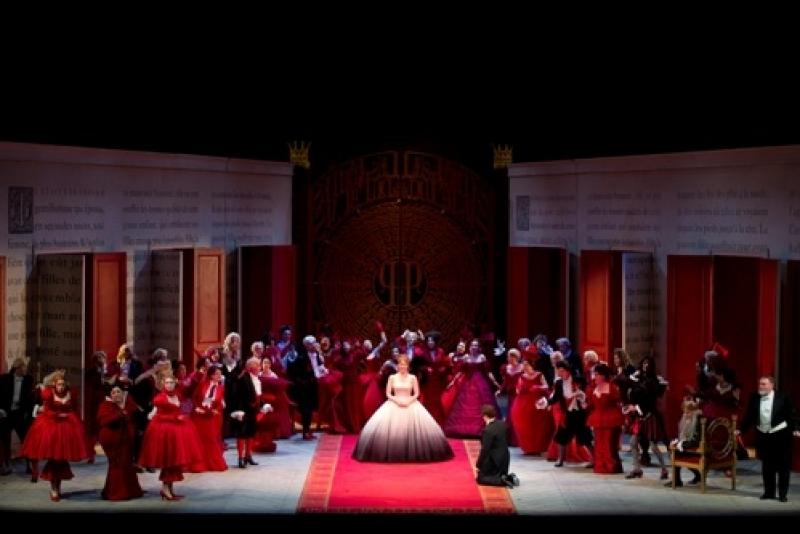 Joyce DiDonato's sympathetic but slightly underpowered Cinderella amazes the ball-goers in Act II of Laurent Pelly's stylish production
After a heap of ashen revivals, it was time for the Royal Opera to take us to the ball in style. Which it does, for the most part. Of course, Massenet's "fairytale after Perrault" isn't Aida, Butterfly, Fidelio, Macbeth orTosca, all of which have deserved better from the house.
Though spun out at less than heavenly length and, sometimes, so much per yard, it does have the composer's special brands of discreet charm and gentle humour, especially well served by two world-class voices out of the four leads. And director Laurent Pelly knows how to scintillate in all but one of this small diamond's many facets.
I confess a special love for Massenet's pretty melodising and chameleonic orchestration which dates back to well before my none too glorious cameo role in what I think we can call the Covent Garden premiere (City Literary Institute, 1986; though this is the first time the French Cinderella has been seen at the Royal Opera and Ballet, joining better-known quantities by Rossini and Prokofiev). I can sit almost equably through the far too over-extended aftermath of the ball - always a problem; remember Ashton simply cut Prokofiev's Act III divertissement - knowing that the best is yet to come for our two lovers, a duet which extends the Tristanesque overtones of Massenet's most Wagnerian opera, Esclarmonde.
That, in fact, was the only false note struck by Pelly's production and the otherwise ingenious set designs of Barbara de Limburg, both first seen at Santa Fe in 2006. Smoking chimneys are no substitute for a heath by the sea covered in flowering broom, with a great oak at the centre by which a distraught Cinderella and Prince Chaming are destined not, at first, to meet. The natural element is important, especially since Massenet had just moved to an old mansion not far from Fontainebleau, and worked his renewed love of nature into the later stages of the score. It seems a shame for the production to exclude it, even in the sweet balcony scene where our heroine welcomes in the scents of April.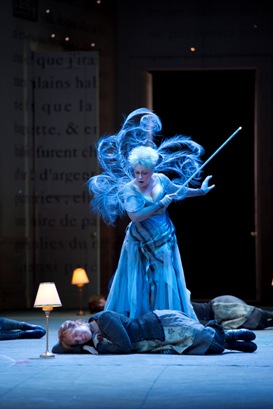 Otherwise, though, lovers of traditional fairytale moonshine and quaint comedy will not feel violated by Pelly's and Limburg's engagement of a giant book with the text of Perrault's 1697 tale which opens out for the walls of the Chateau Pandolfe, nor by Pelly's own fantastical costume designs which bring so much fun to the ballet sequences. These are nearly all intact, thankfully - though were they saving on castanets by snipping a few bars from one of Massenet's most delightful lollipops, the Marche des Princesses? - and wittily sustained by Pelly's regular choreographer Laura Scozzi. The Fairy Godmother looks like some lilac Third Empire courtesan, and sounds a bit raddled too as sung by Eglise Gutiérrez (pictured above right with Joyce DiDonato's sleeping Cinders/Lucette), who has the coloratura top notes but not the crystalline quality needed for the rest of the part. Her elves and sprites are multiple Cinderellas with lamps; the magic comes from the darting fireflies in the dark sky above the page-walls.
So much was expected of DiDonato, and she brings her trademark affability and pathos to a Cinders who looks the part but doesn't always sound it. There's an impossible benchmark here - DiDonato's idol Frederica von Stade (who recorded the role with - horror of horrors - a tenor rather than a travesti prince, Nicolai Gedda). They share a fast vibrato, but with von Stade it was always part of a unique instrument, and I'm not sure that vocally speaking I'd be able to pick DiDonato out in a crowd. Shorn of the virtuosic Italian runs and flashes in which she's most often seen and heard, she makes a paler than intended impression to start with, and the pianissimo singing sometimes feels under-supported.
It's as well that she's such a good foil for Alice Coote's supercharged Prince (pictured left), truly a voice in a thousand. There's authentically dark, languishing colour in her/his plaints, but also the fullest top I've ever heard from a genuine mezzo. So, another great performance to set beside Christine Rice's on-the-edge Marguerite in the ENO Damnation of Faust - and has any other female singer so looked the part? The same was true of Coote's Hansel, and I can't wait to encounter her Octavian and Composer - for this is surely Strauss's as well as Massenet's ideal.
The oldsters are similarly a mixed bag. You perhaps wouldn't guess from Jean-Philippe Lafont's gruff portrayal that the role of Cinderella's father Pandolfe was written for a master bass-baritone. Lafont barks his way through the opening scene, and settles - but not quite enough - for the sympathetic commiseration with his unhappy daughter in Act III. It's reading far too much into the part, as Massenet scholar Clair Rowden does in the programme, to suggest that Cinderella/Lucette needs to detach herself from Oedipal attachment to a clingy dad, but there's more here for the singer to get his teeth into than Lafont finds - and those later home-and-hearth scenes really do need all the help they can get.
Praise be, though, to the cult Polish contralto Ewa Podleś for stepping out of her serious diva status into the comic role of stepmother Madame de la Haltière, so written that any note in chest voice can just about stop the show. And she does, well foiled by two of the house's Jette Parker Young Artists, Madeleine Pierard and Kai Rüütel, as her strutting-chicken daughters (all three pictured right). Their pastiche 18th-century bustle is energetically paced by conductor Bertrand de Billy, who knows that the score can quickly pall if not given an extra helping hand, and despite a few slightly contrived tempi, he brings out many of its most poetic colours in dance and dream. I'm sure that the close-ups of the live screening on 13 July will keep a larger audience happy, too, especially given DiDonato's simpatica demeanour. No reason why this shouldn't be enjoyed by everyone from five to 100: take the kids along to the big screen, but perhaps let them sit out the first 20 minutes of the second half and come back in time for the lovers' next, and most impassioned, duet, one of Massenet's truly great creations.
It's as well that DiDonato is such a good foil for Alice Coote's supercharged Prince, truly a voice in a thousand
Explore topics
Share this article