The Village Bike, Royal Court Theatre |

reviews, news & interviews
The Village Bike, Royal Court Theatre
The Village Bike, Royal Court Theatre
Penelope Skinner's new play is a great mix of laughs and embarrassment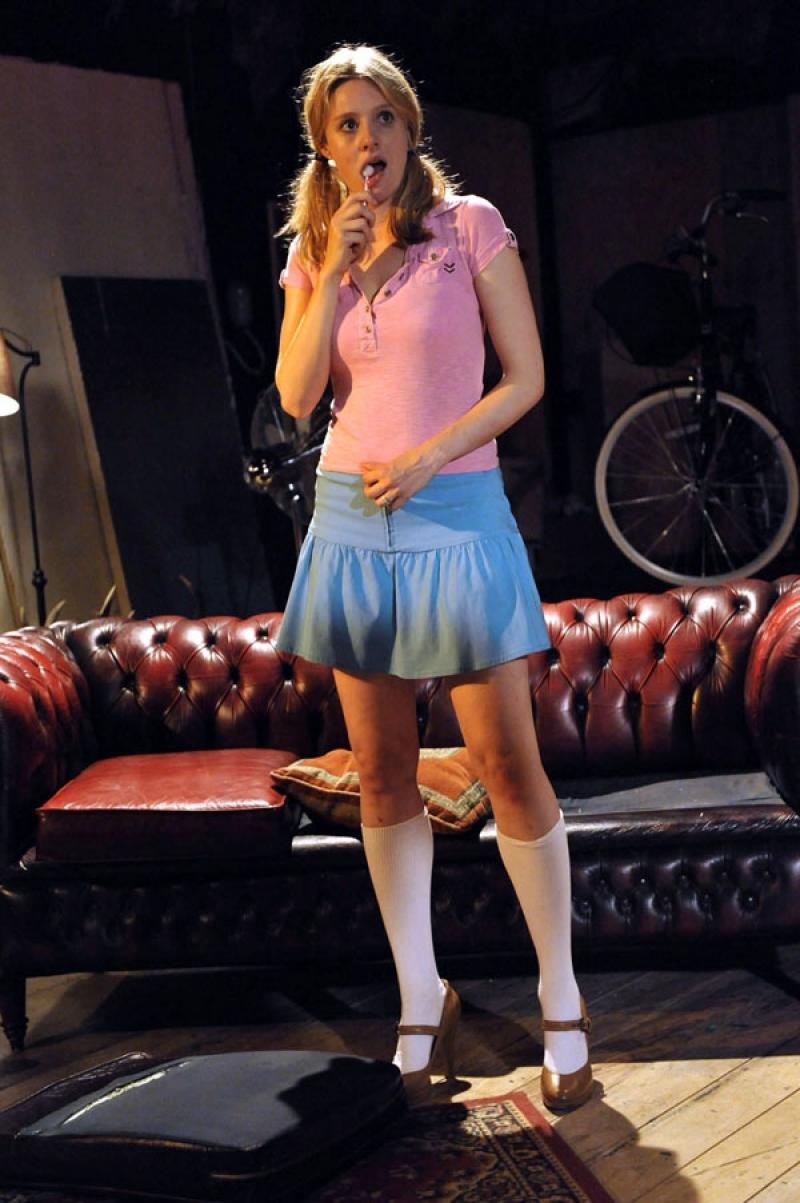 Suck it and see: Romola Garai in 'The Village Bike'
For a couple of years now British theatre has been harvesting a new crop of young female talent. Market leaders such as Lucy Prebble (Enron) and Polly Stenham (That Face) have made a splash in the West End, and where they led many others have followed.
Earlier this week, Lou Ramsden's excellent horror story,
Hundreds and Thousands
, premiered at the Soho Theatre. And last night Penelope Skinner's superb new play, which stars Romola Garai, opened at the Royal Court Theatre.
Becky (excellently played by Garai) is pregnant. According to John, her husband, she is therefore hormonal, and a bit weird. Actually, she just wants to have sex, occasionally at least. But he doesn't feel like it at all. He's more interested in reading books about babies. During a summer heatwave, her frustration rises with every leap of the thermometer. At first, she has recourse to his stash of porn DVDs. Then she starts making eyes at Mike, the plumber, and at Oliver, who sells her a second-hand bike.
Set in a village of renovated cottages, this anti-pastoral is a feast of puns and double meanings. The bicycle of the title, of course, refers to any local slut and, after Becky watches some porn, the arrival of the plumber results in a cascade of double entendres, which have the effect of being both quietly joyful and emotionally desperate. As well as puns, there is also a strong metaphoric content in the play's vision of contemporary Britain, a place of emotional aridity and sexual extravagance. In this metaphoric landscape, the deftly drawn Becky - who combines a desire for sexual adventure with a consciousness of stunted feelings - quickly inspires sympathy. By contrast, her husband is a bit of a prat and Jenny, her neighbour, too nice by half.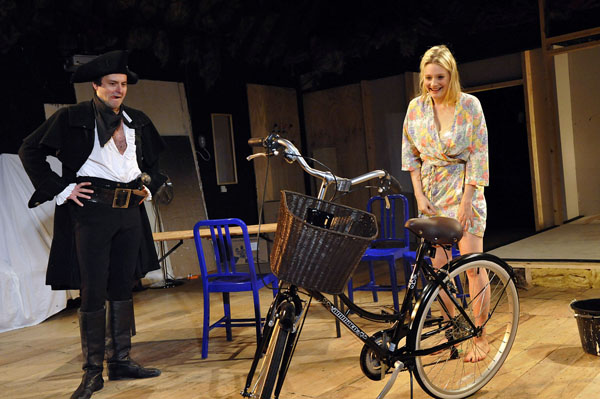 As in her previous play, Eigengrau, Skinner excels at mixing belly laughs with excruciating embarrassment (there are several explicit moments guaranteed to make you cringe). And few other playwrights understand the sadness of sex (in one brief scene Becky masturbates joylessly) as well as the power of desire. But while the story - which pedals towards its frightening climax with a good mixture of uphill heave and downhill rush - is as clear as a summer's day, occasionally the sky darkens with the clouds of larger themes.
The contrast between porn (with its enthusiastic but fake couplings) and reality (with its unfulfilled longings and sexual misery) suggests a larger concern with the power of images in our society, and Jenny's advice carries a distant echo of the wisdom of the agony aunt. The clash between fantasy and everyday existence - Oliver arrives on stage from an amdram rehearsal in a highwayman's outfit (pictured above right) - goes through the play like a drop of sweat running down the back of his broad back.
As a comedy of manners, The Village Bike is acutely observed and often hilarious, and its themes of sexual bravado, domestication of porn and the power of body image blend into a story of surreptitious pleasure and gnawing guilt. At its centre is Garai, now sulky grey, then radiantly sunny, and completely convincing whether she is begging for sex or expressing other needs. Similarly, Nicholas Burns's overprotective John is suitably annoying, while Dominic Rowan's sultry Oliver oozes sexuality. Alexandra Gilbreath's Jenny and Phil Cornwell's Mike round out the cast, and Joe Hill-Gibbins's production is bright and intelligent. All in all, it's a great ride.
Skinner understands the sadness of sex (in one scene Becky masturbates joylessly) as well as the power of desire
Share this article