Knussen Sixtieth Birthday, CBSO Centre, Birmingham |

reviews, news & interviews
Knussen Sixtieth Birthday, CBSO Centre, Birmingham
Knussen Sixtieth Birthday, CBSO Centre, Birmingham
BCMG celebrate one of their great supporters in new works by other composers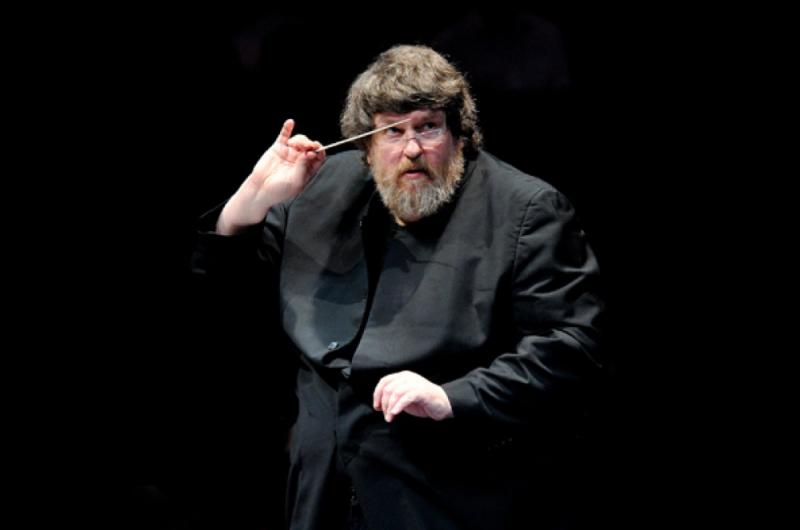 Oliver Knussen at 60: conductor, guru and composer of dazzling brilliance
Ask any young composer in this country who is the most important figure in modern British music, and the answer is likely to come back quick and sharp: Oliver Knussen.
Ask any young composer in this country who is the most important figure in modern British music, and the answer is likely to come back quick and sharp: Oliver Knussen. Himself a composer of dazzling brilliance when he gets round to it, and a conductor who gets far too much work for the peace of mind of those who want him to write more music, Knussen has also for years been a kind of guru figure to generations of young and not-so-young composers, sacrificing his own creative time and energy in their interests, advising, promoting, performing.
At 60, after a spell of poor health and visibly in less than perfect shape, Knussen is still hard at work on other composers' behalf, and it was entirely typical of him that the birthday concert he conducted with the Birmingham Contemporary Music Group this Friday included only three short pieces of his own, but three much longer works by younger colleagues. This turned out to be in some ways a mixed blessing .
For the occasion, BCMG were fielding a largish ensemble by their standards, a small orchestra (of 20 or so) in the case of Magnus Lindberg's Souvenir, 16 for American composer Sean Shepherd's These Particular Circumstances. In his programme note, Lindberg calls this sort of group a "sinfonietta", and talks about his nostalgia for it after years of writing for standard symphony orchestras. The point about it is, of course, that you've got one of everything: take five strings (with two violins), four woodwind, one of each brass instrument, percussion (maybe two players), harp and piano, and a sinfonietta is what you end up with. It costs less than a full orchestra, invites a colourful approach to scoring, and above all looks and sounds "modern" in a Sixties kind of way.
Souvenir is essence of something or other, a kind of musical chicken stockTo write well for it is another matter. Lindberg's piece – a three-movement, 20-minute score dedicated to the memory of the French spectralist composer Gérard Grisey – revealed the problems of balance that well up if you write for a small orchestra as if it were a big one. In such a work, the brass (here including a tuba) dominates, the upper woodwind will hold their own, and the strings will vanish unless you give them solos, as Lindberg does at one point. A generalised fruity sonority is the result, like that of some idealised big band.
As for ideas, these are in distinctly short supply in Souvenir. The work is "essence" of something or other, a kind of musical chicken stock, flavour without substance. These Particular Circumstances is the opposite: too much substance, too many ideas flashing past. Shepherd has been praised in New York for his "kaleidoscopic use of orchestral colour". To me this is lack of restraint, and in the end it makes for exhausting listening, as one tries to extract a consistent thread from the tapestry of brilliant colours. The situation is made worse by the quotations that pop up, for no obvious reason, at a couple of points: I noticed Holst's "Mercury" and Ravel's Tombeau de Couperin, and perhaps there were others. They suggest that Shepherd is easily distracted by his own versatility. For the audience they turn the work into a guessing game.
Of all these three non-Knussen pieces, the most interesting by far was Nature, a completely new piano concerto from Tansy Davies (pictured above right) : a risky title, perhaps, but it can safely be ignored. Reviewing her Falling Angel in a BCMG concert a year or two back, I remarked on her ability to take visual impressions and transmute them into purely musical ideas and structures. And the same is true here. She talks about "the edge of a wilderness where man meets Nature or the Supernatural… living alongside vampires, swimming with sharks," and so on.
The music is entirely self-forming. The piano, very intricately and delicately composed, runs through the whole work with scarcely a break, joined by other creatures along the way, who travel with it then branch off: a harp, an alto flute, a bass clarinet. The scoring (for 10 instruments plus piano) is transparent and restrained; the material, for all its flickering complexity, is conceived and deployed economically, with much recurrence and self-reference. It's a work that will need rehearing to get its full measure, but that seems to be a journey well worth making.
Huw Watkins was the dedicated, sensitive pianist here, and he also played Knussen's haunting solo piano piece Ophelia's Last Dance, based on unused material ("homeless fragments", he calls them) from various earlier works, some as far back as the 1970s.
One can see why the main theme never found a home. Its inward, reflective style, with a hint of soft jazz, is quite out of keeping with the ebullient modernity of the Third Symphony (its original goal), or the nine-instrument Ophelia Dances, which Knussen had just conducted in this BCMG concert. Its charm is elusive, perhaps regretful in some way, and none the less for that. Its nearest relation might be the violin and piano piece Autumnal, beautifully played here by Watkins with BCMG's leader Alexandra Wood. But even that is, comparatively speaking, "difficult" modern music. The main problem about Ophelia's Last Dance, for some, might be its lack of "difficulty"; for others, its touching eloquence is enough.
At 60 Knussen is still hard at work on other composers' behalf
Explore topics
Share this article